Two War Photographers On Their Injuries, Ethics
Two War Photographers On Their Injuries, Ethics
Joao Silva/AP

Greg Marinovich/AP

Greg Marinovich/AP

Greg Marinovich/AP

Joao Silva/AP

Joao Silva/AP

Joao Silva/AP

Joao Silva/The New York Times

Greg Marinovich/AP
Combat photographers Tim Hetherington and Chris Hondros were killed Wednesday in Libya, and two more photographers were seriously injured. On Thursday's Fresh Air, we air an interview taped Tuesday with combat photographers Greg Marinovich and Joao Silva, both of whom have been seriously injured in the field.
Marinovich has been shot and wounded four times while covering conflicts in South Africa and Afghanistan. Silva lost both of his legs in a land mine explosion in Afghanistan last October while working as a contract photographer for The New York Times.
Silva has photographed wars in Afghanistan, Iraq, the Balkans, the Middle East and southern Africa. On the day he stepped on the mine in Afghanistan, he was embedded with a unit of the 4th Infantry Division and a New York Times reporter. Two other people and a minesweeping dog walked through the area where the mine was just before he approached.
"I was like third man in line, and I just happened to put my foot maybe a little more to the left or a little more to the right, and bam," he tells Fresh Air's Terry Gross, speaking from the Walter Reed Army Medical Center, where he is recovering. "Basically I heard the metallic sounds — bang — and got thrown over. My initial reaction was to ask the guys around me for help. The guys around me were a little bit dazed from the explosion, but they grabbed hold of me pretty quickly and dragged me away from the kill zone."
While he was being dragged away, Silva continued to snap photographs. He asked the New York Times reporter, Carlotta Gall, for a satellite phone to call his wife.
"I called my wife. I told my wife, because I had seen my legs were gone, I told my wife, 'Listen. Legs are gone. But I think I'm going to be OK. I think I'm going to live.' "
Silva's Recovery
Soon after, a medevac helicopter landed on the scene. Silva was transported first to Germany and then to Walter Reed, where he spent three weeks in the intensive care unit. In February, he took his first steps at the hospital using two prosthetic legs.
The Bang-Bang Club On The Web
"I walk between parallel bars and use a walker when I walk longer distances," he says. "So I'm not quite balancing on my own yet, but I'm sure that will come in time."
But Silva has also suffered medical setbacks. After surgery to repair his rectal cavity and urethra, he picked up an infection and has been battling constant fatigue and pressure.
"The side of my face feels like it's the size of a melon," he says. "My eye's completely closed. There's a lot of pressure from the swelling. My white blood count has risen, so the rest of my body does feel it."
Silva faces more reconstructive surgeries to repair his urinary tract and intestinal cavity and will very likely spend several more months at Walter Reed. He hasn't picked up a camera since the incident.
"Right now, I'm focusing on my recovery. I'm either wheelchair-bound or I'm lying on my back," he says. "It's really difficult to shoot in those kind of circumstances. Bottom line, I don't feel the need. I don't want to. I have no need to. Maybe later on, closer to the end of my rehab when I'm a bit more mobile. And I might do it before everything closes up. But right now, no. I need to be more mobile."
Greg Marinovich
Marinovich has visited Silva several times in the hospital. The two photographers are good friends and two of the four members of "The Bang-Bang Club," a group of photographers who documented the final bloody years of South African apartheid before the 1994 elections.
Marinovich stopped shooting in the field after his fourth gunshot injury, which took place in Afghanistan. He had previously been shot three times in South Africa.
"After Afghanistan, I realized that this was just not productive," he tells Fresh Air's Gross. "After several weeks [after being shot for the fourth time], it just dawned on me that I don't want to do this anymore, and I don't want to be injured anymore."
In 1994, Marinovich was shot and his friend Ken Oosterbroek, another member of the Bang-Bang Club, was killed while covering a battle in South Africa.
The Bang-Bang Club
By Greg Marinovinch, Joao Silva
Paperback, 296 pages
Basic Books
List Price $16.99
"I thought [the bullet] had gone through me," Marinovich says. "Nobody wanted to look. I wasn't breathing properly and all sorts of things because my lung had been punctured. And there were a couple of other wounds, rather embarrassingly, in my buttocks and in my hand."
In his memoir, The Bang-Bang Club: Snapshots from a Hidden War, which he co-wrote with Silva, Marinovich describes thinking his injury in South Africa was it.
"I had paid my dues," he wrote. "I had atoned for the dozens of close calls that had always left someone else injured or dead while I emerged from the scenes of mayhem unscathed, picture in hand, having committed the crime of being the 'lucky voyeur.' "
And that sensation of guilt, Marinovich says, stayed with him while covering other war zones.
"Just seeing someone — especially a mother over a young child or a young fighter or a young civilian who's being killed — and that look they give you as you come to photograph them, while you're kind of apologizing about photographing," he says. "And people want you photographing to show what's happened, but that look of hatred — that sometimes you get from a mother — is just so disturbing."
Marinovich received the Pulitzer Prize in 1991 for Spot News Photography. He later became the Associated Press' chief photographer in the Middle East. Joao Silva has received numerous awards, including the World Press Photo award. Silva and Marinovich collaborated on the The Bang-Bang Club book, which has now been made into a film starring Ryan Phillippe and Taylor Kitsch. The film tells the stories of the four combat photographers who risked their lives to capture the atrocities committed during apartheid.
---
Related NPR Stories
Interview Highlights
Joao Silva on photographing wars
"I have this fascination to be on the cutting edge of history [and] witness history firsthand. I've always wanted to show those that are fortunate enough not to live in a war zone the realities or certain realities of war zones, which is ultimately the point. We go out and we expose ourselves believing somehow that we have an impact on society."
Greg Marinovich on interceding
"Journalism is not a profession. It's a craft. So you don't need any training to become one. You can just do it ,which is the route that I came. And so ethics and morality and the kind of New York Times set of rules about what you can and can't do and the guidelines that you receive there wasn't a part of my background. I came to it more as a citizen and as a person than a photographer. So my thoughts about interceding and not interceding — whether it was characters or a photographer — were unformed and they became formed. And what I stuck to was really, why does it matter if you intercede to save somebody or not? And I did, on many occasions, attempt and sometimes succeed and sometimes not. It's a very strange thing. It varies from day to day with what you're thinking and what you're feeling and what the situation is. To intercede, to change the picture, is unethical. To intercede at the cost of doing your job as a journalist, I think that's a personal choice you make. And I have no issue with people on the other side of that divide."
Joao Silva on voyeurism
"Somehow the camera gives us access to the most intimate moments in peoples' lives. And you do feel out of place when you're photographing a mother cradling a dead son or whatever the case may be. Or a young Marine helping an injured friend — you do feel like you're somewhat out of place. But at the same time, you know that it's important to do it. It's what you're doing there. Otherwise, stay home and hang out with your PlayStation. ... You gotta learn to live with yourself and what you do. When you take pictures — and these are extreme situations — you are intruding. You're very fortunate to be able to record somebody else's history. I've always maintained that the true heroes are the people around me. ... I always understand that it's the history that I'm documenting — that's the whole point of being there."
Greg Marinovich on the ethics of war photography
"The other thing that photographers struggle with is the setting up of pictures. And by that, I mean, where the photographer interferes in the scene to make it a better picture — where essentially fiction and nonfiction blur — that we have real problems with. I remember a very famous New York-based photographer was at the funeral of Chris Hani, the communist leader who was assassinated by white extremists. He was directing the show to make for a better picture, and we all immediately wrote to his employer — his contract employer at the time was Time magazine — and he was pulled off the job immediately. And this other photographer we spoke about — the right-winger — he would hire a Mercedes-Benz and drive into the township and drive up and down the volatile areas until people started stoning his cars so that he could get the pictures."
Greg Marinovich on the difficulties of publishing his 1991 Pulitzer Prize-winning series of photos, which showed a man attacked with a machete and then set on fire in South Africa
"I didn't try and get it published. At the time I was freelancing, and I was shooting for the AP and also for Sigma, the photo agency. And so I had two separate cameras. One had color negative for AP and one had color slide for Sigma. And the AP put the pictures up. They put up 18 pictures in all. And newspapers complained about the graphic nature of those pictures, and many didn't publish those pictures. It wasn't that the 'burning man' wasn't widely published at all — certainly not in South America and not in America, and I can understand that; they are very disturbing pictures, and that's up for a newspaper to decide what they want to publish — but the tangential argument from that is that it's not up to us as photographers to censor that. It's not up to us to not shoot it because it's too graphic or too disturbing. It's not up to us to not edit that and put that in the take, and it's certainly not up to the distributing agency to decline to put those pictures in the take because of their graphic nature. In fact, it was the New York office of the AP that almost didn't want to move those pictures on. Because London had taken them in ... and in New York, it was difficult. They almost didn't move the picture."
Excerpt: 'The Bang-Bang Club'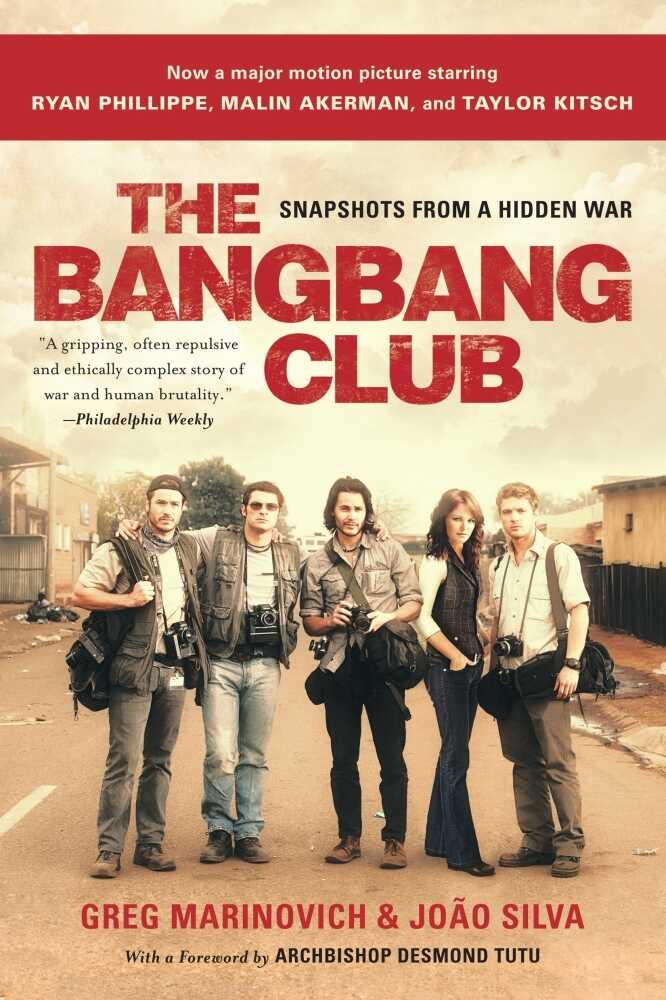 The Bang-Bang Club
By Greg Marinovinch, Joao Silva
Paperback, 296 pages
Basic Books
List Price $16.99
LANGUAGE ADVISORY: This excerpt includes language that some readers may find offensive.
'Not a picture,' I muttered as I looked through my camera viewfinder at the soldier firing methodically into the hostel. I turned back towards the line of terrified, unwilling and poorly-trained soldiers taking cover alongside the wall next to me. Their eyes darted back and forth under the rims of their steel helmets. I wanted to capture that fear. The next minute, a blow struck me — massive, hammer-like — in the chest. I missed a sub-moment, a beat from my life, and then I found myself on the ground, entangled in the legs of the other photographers working beside me. Pain irradiated my left breast and spread through my torso. It went far beyond the point I imagined pain ended. 'Fuck! I'm hit, I'm hit! Fuck! Fuck! Fuck!'
As automatic fire continued to erupt from along the wall, Joao and Jim desperately dragged me by my camera vest closer to the wall, seeking shelter next to the soldiers and out of their line of fire. Then an anguished voice broke through the cacophony: 'Ken O is hit!' I struggled to turn my head through the tangled cameras and straps around my neck. A few yards to the right, I could see a pair of long skinny legs that were unmistakably Ken's protruding from the weeds flourishing against the concrete wall. They were motionless and at an improbable angle to each other. Jim ran over to where Gary was clutching Ken, trying to find a sign of life. The sporadic crack and rattle of high-velocity automatic gunfire reverberated through the air around the huddle of journalists and soldiers trying to flatten themselves against the wall. Blood seeped from the gaping hole in my T-shirt. I clamped my hand over the hole to stop the bleeding. I imagined the exit wound of the bullet as a deadly, gaping hole in my back. 'Look for an exit wound,' I said to Joao. He ignored me. 'You'll be OK,' he said. I reasoned that it must be bad if he didn't want to look, and as though this was all happening in some feeble movie, I asked him to give a message to my girlfriend. 'Tell Heidi I'm sorry . . . that I love her,' I said. 'Tell her yourself,' he snapped back.
Suddenly a sensation of utter calm washed over me. This was it. I had paid my dues. I had atoned for the dozens of close calls that always left someone else injured or dead, while I emerged from the scenes of mayhem unscathed, pictures in hand, having committed the crime of being the lucky voyeur.
Jim returned, crouching under the gunfire and murmured softly in my ear, 'Ken's gone, but you'll be OK.' Joao heard and stood up to rush over to Ken, but others were already helping him. He lifted his camera. 'Ken will want to see these later,' he told himself. He was annoyed that Ken's hair was in his face, ruining the picture. Joao took pictures of us both — two of his closest friends — me sprawled on the cracked concrete clutching my chest; Ken being clumsily manhandled into the back of an armoured vehicle by Gary and a soldier, his head lolling freely like that of a rag doll and his cameras dangling uselessly from his neck. Then it was my turn to be loaded into the armoured car; Jim had my shoulders and Joao my legs, but I am large, and Heidi's pampering had added more kilos. 'You're too fat, man!' Joao joked. 'I can walk,' I protested, trying to laugh, but strangely indignant. I wanted to remind them of the weight of the cameras.
After four long years of observing the violence, the bullets had finally caught up with us. The bang-bang had been good to us, until now. Earlier that morning we had been working the back streets and alleys of Thokoza township's devastated no-man's-land that we — Ken Oosterbroek, Kevin Carter, Joao and I — had become so familiar with over the years of chasing confrontations between police, soldiers, modern-day Zulu warriors and Kalashnikov-toting youngsters as apartheid came to its bloody end.
Kevin was not with us when the shooting happened. He had left Thokoza to talk to a local journalist about the Pulitzer Prize he had won for his shocking picture of a starving child being stalked by a vulture in the Sudan. He had been in two minds about leaving. Joao had advised him to stay, that despite there being a lull, things were sure to cook again. But Kevin was enjoying his new-found status as a celebrity and went anyway.
Over a steak lunch in Johannesburg, Kevin recounted his many narrow escapes. After dessert, he told the journalist that there had been a lot of bang-bang that morning in Thokoza, and that he had to return. While driving back to the township, some 16 kilometres from Johannesburg, he heard on a news report on the radio that Ken and I had been shot, and that Ken was dead. He raced towards the local hospital we had been taken to. Kevin hardly ever wore body armour, none of us did, and Joao flatly refused to. But at the entrance to the township, before reaching the hospital, Kevin dragged his bullet-proof vest over his head. All at once, he felt fear.
The boys were no longer untouchable, and, before the bloodstains faded from the concrete beside the wall, another of us would be dead.
Excerpted from The Bang-Bang Club: Snapshots from a Hidden War, Movie tie-in edition, by Greg Marinovich and Joao Silva. Available from Basic Books, a member of The Perseus Books Group. Copyright 2011.