Volkswagen Puts U.S. Plans Into Overdrive
Volkswagen Puts U.S. Plans Into Overdrive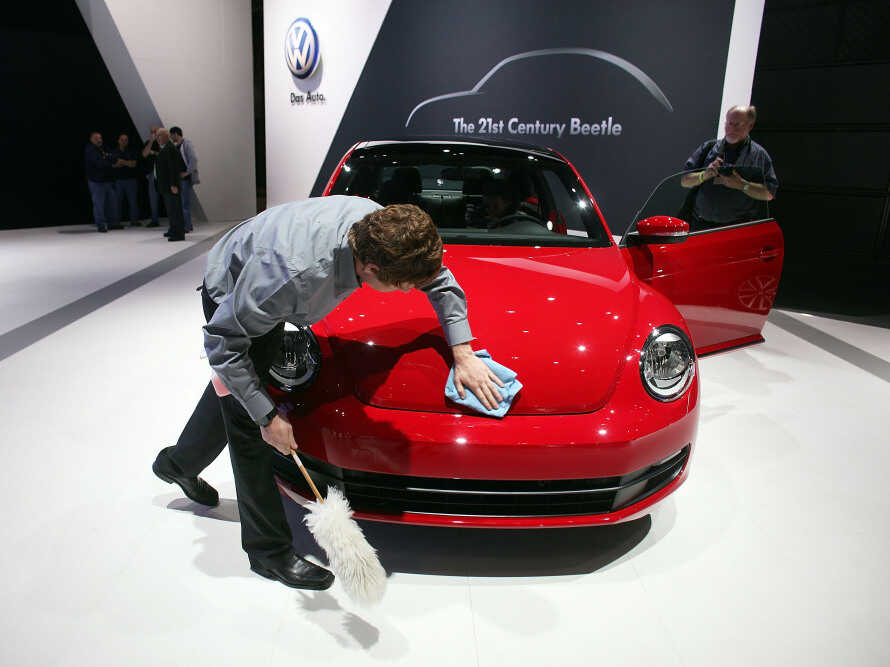 Spencer Platt/Getty Images
The newly designed Volkswagen Beetle is the darling of this week's New York International Auto Show. The sleek, more masculine Beetle is not just a new version of an old car; it's part of a new strategy.
Germany-based Volkswagen has a long history in the U.S. market — 55 years to be exact. Most of us have a connection to VW cars; remember Herbie?
It's been a long time since Herbie the Love Bug drove his way into the hearts of Americans. But it wasn't just the Beetle. Remember the microbus? Fahrvergnugen, anyone? There were a lot of cars, but also a lot of problems.
Lost In America
"The Volkswagen brand went through a period where perhaps you could say [it] lost its way a little in the U.S. marketplace," says John Browning, CEO of the Volkswagen Group of America. He's alluding to the company's problems with quality, reliability, marketing and image.
Volkswagen couldn't turn the love for Herbie into a dominance of the U.S. car market, and Browning says that's because the company hasn't always understood the American consumer.
That's going to change, he says.
"We're really focusing on the U.S. market as an integral part of our global strategy. Now, to achieve that, we're going to have to step up our game in the U.S. market," Browning says. Part of stepping up the game means spending money in the U.S. — and a lot of it.
"We're making the investment in production. We're making the investment in the products for the U.S. consumer. Importantly, investment that was made in the U.S. market even through the depths of the recession," he says.
Volkswagen spent more than $5 billion on a new car plant in Chattanooga, Tenn. The first car, a Passat, rolled off the line this week.
Aiming For No. 1 In America — And The World
The investment in the U.S. is important if Volkswagen wants to be the No. 1 car company in the world.
"What Americans don't realize is how enormous this company is," auto analyst Rebecca Lindland says.
"They are so enormous in all the other parts of the world. They're the biggest seller in China," she says. "Their factory in Wolfsburg produces 800,000 vehicles a year — one factory."
Lindland says to win the global race with Toyota and GM, Volkswagen has to sell a lot more cars in the U.S.
Jessica Caldwell, with the car website Edmunds.com, says the company has had some success, especially on the coasts and with young people.
"They're definitely targeted at a younger demographic, and I think it's served them well with that demographic, but definitely, as their designs have matured, you can say that it's ... alienated some of those people," she says. "It's not quite quirky enough to work for everyone; it's not quite mainstream enough to work for everyone. So it's kind of somewhere in between."
It Takes Time To Be The Best
That quirky in-between means it could be harder for the company to stake its claim on the U.S. consumer. Caldwell says the American car market has become more competitive with more global players making serious investments.
"It's harder to break through and become that one big car like the Ford F150 or Toyota Camry," she says. "It's more difficult today than it ever has been."
Related NPR Stories
So Volkswagen may have a harder time reaching its goal of selling a million cars a year in America in the coming decade.
Caldwell says she's skeptical that Volkswagen will meet this lofty goal. "It comes down to good product. If you have good product, people will come and they will buy your brand, but it's something that's going to take a long time."
"It can't happen in a few years," she says. "You can't grow yourselves by 400 percent in five years' time."
Volkswagen executives say with higher gas prices — and their smaller cooler cars — they hope the new Herbie will be as loved as, say, the Toyota Camry.