'Born Organizer': Barbour Fell For Politics At 20
Shortly after this story was published, Gov. Haley Barbour announced he decided not to seek the Republican nomination for president.

In the 1960s, Mississippi Republicans could convene in a very small space. That's because, like the rest of the South at the time, just about everyone was a Democrat.
But Clarke Reed — chairman of the Mississippi Republican Party from 1966 until 1976 — and a handful of other GOP pioneers were determined to build a second party as a way of getting attention from Washington.
"So, here we'd been — the South had been really just cut out," says Reed, 82. "We told one party, 'We'll never go with you'; we told the other party, 'You got us no matter what happens.' "
The problem was convincing folks to help the Republican Party.
"You couldn't get traditional Mississippi leaders, so we had the young Jaycee types," Reed says. "Young people."
In 1968, Reed recruited a young man named Haley Barbour, who had just helped out with his older brother Jeppie's successful campaign for mayor of their hometown, Yazoo City. Reed convinced Barbour, then 20 years old, to prolong a break from his studies at Ole Miss and help with the Nixon campaign. Reed was impressed with his new hire.
"He knew what to do, and it showed very quickly," he says. "He just showed up on the scene, working part time down there, and showed his ability and savoir-faire and all right away. He was a born organizer and a workaholic, and he just got it done."
Cultivating Loyalty
Today, as Barbour, now Mississippi's governor, tests the waters for a White House run, he recalls that "spark" that first drew him into presidential politics.
"I dropped out of college in 1968 and ran 30 counties for Nixon in the presidential campaign, and I've been involved in every presidential campaign since," he told Iowa Republicans last month.
People who have been following his career since those early days in the fledgling Mississippi Republican Party are not surprised to see Barbour on the national stage today.
They watched him work in his home state and around the region to convince traditional Southern Democrats that their home was in the GOP. He later used that base to catapult himself to the Reagan White House and the chairmanship of the Republican National Committee.
"I think Haley learned in the early days that people aren't going to agree on everything, and the way to win is to find as many points of agreement as possible," says Sid Salter, a political columnist and journalist in residence at Mississippi State University. "And I think that's what he'll bring to the campaign."
He also brings a deep Rolodex and the ability to raise a lot of cash. Some of those connections come from a year when he ran one of the most powerful lobbying firms in Washington, D.C., and represented lucrative industries, like energy and tobacco. During the last election cycle, he brought in a record $117 million as chairman of the Republican Governors Association.
Back in the 1970s, Gilbert Carmichael — now an 83-year-old businessman in Meridian, Miss. — ran for Senate and governor when Barbour was executive director of the state party. It was a great training ground, says Carmichael, who loves to tell the story of how Barbour won his loyalty.
Barbour and his wife helped Carmichael's campaign when he was still in law school. "He and Marsha were at Ole Miss, and they put on a fundraiser for me at Ole Miss," Carmichael recalls.
"And I remember Marsha taking out her checkbook and writing a hundred-dollar check out of their personal accounts for my campaign. Well, I've given that hundred-dollar — what I call the Haley Barbour hundred-dollar check — I've given it to probably 40 Republican candidates through the years, because that's the Haley hundred-dollar bill."
Cultivating that kind of loyalty as a young man helped Barbour later on.
'Best Political Strategist In The Country'
In 1982, when Barbour ran unsuccessfully for Senate, President Ronald Reagan cut a television ad.
"I'd like to take a moment to talk with you about our country's future and a very special leader, Haley Barbour," Reagan said in the ad.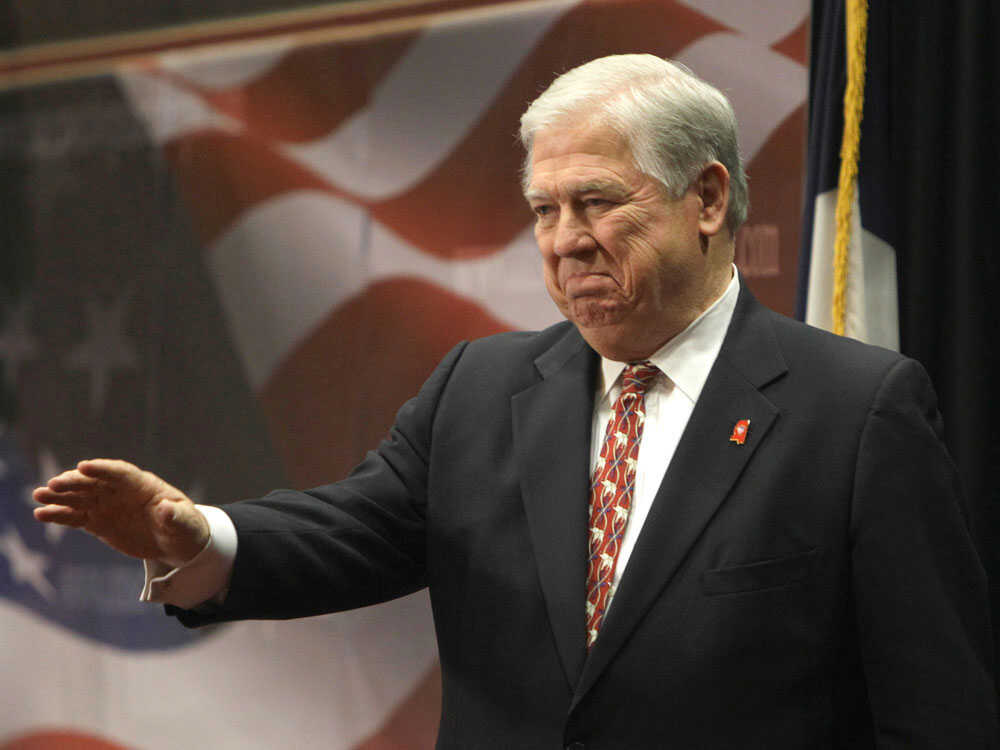 Years earlier, Barbour had stuck with Reagan when the rest of the Mississippi delegation swung its support to Gerald Ford in a last-minute convention deal.
Reagan campaign manager Ed Rollins and his deputy, the late Lee Atwater, turned to Barbour for help with the Southern base during Reagan's re-election bid in 1984. Rollins then brought Barbour in as White House political director.
"I knew from the first day I worked with him that this guy had as good a skills as anybody I'd ever seen in politics," Rollins says. "I today think he is by far the best political strategist in the country."
But being an insider is a liability in today's political climate. And Barbour has already had to maneuver difficult questions about his state's racist past. Should he decide to run, the scrutiny will only escalate. Rollins says the question is whether he can handle it like a candidate.
"I think Haley would rather run a campaign than be a candidate, although he's a great candidate. The key thing, obviously, is when you've been an operative," he says, "can you step aside and be the candidate? Can you let someone else run your operation for you? So you know that'll be a test for him."
Whether or not Barbour maneuvers himself on a path to the White House, Rollins says he'll be a player.
"Whoever the nominee of our party is," he says, "the first call you want to make is Haley Barbour."