Tornado Survivors Pick Up Pieces As Obama Visits
Gas station lines, reports of looting and the discovery of smashed heirlooms sapped survivors' energy Friday around cities shattered by the deadliest tornado outbreak in nearly four decades. President Obama arrived in devastated Alabama to console victims, while authorities worked to overcome damaged infrastructure and even a shortage of body bags in one town.
As Obama stepped off a plane at the airport in hard-hit Tuscaloosa, rescuers and survivors combed the remains of neighborhoods pulverized by Wednesday's outbreak that killed at least 329 across seven states. In one of its first official assessments of the tornadoes' strength, the National Weather Service gave the worst possible rating to one that raked Mississippi and said it was the strongest to hit the state since 1966.
After witnessing the damage in storm-wracked neighborhoods, Obama said he's "never seen devastation like this."
Heard On 'Morning Edition'
Around the Nation
NPR's Debbie Elliott On Tuscaloosa's 'Dazed' Survivors
Tornado Outbreak Leaves Wide Path Of Destruction
Around the Nation
Birmingham Reporter: Parts Of City 'Like A War Zone'
Obama To Tour Alabama's Tornado Damage
Around the Nation
Stories From The Storm: Home 'Reduced To Studs'; 'We Survived'
Storm Tales: Home 'Reduced To Studs'; 'We Survived'
He promised residents: "We're going to make sure you're not forgotten."
The situation was dire about 90 miles to the north in the demolished town of Hackleburg, Ala., where officials were keeping bodies in a refrigerated truck amid a body bag shortage. Officials said at least 27 are dead there, and searches for the missing continue. Town officials say they need everything from portable showers to tents and flashlights.
The only grocery store, the fire and police departments and the school are destroyed. There are no power, communications, water or other services. Fire Chief Steve Hood said he desperately wants flashlights for the town's 1,500 residents because he doesn't want them to use candles that could start fires.
"We don't have water to put out any fires," he said.
People have looted a demolished Wrangler plant, and authorities locked up drugs from a destroyed pharmacy in a bank vault, said Stanley Webb, chief agent in the county's drug task force.
"If people steal, we are not playing around. They will go to jail," he said.
Elsewhere, drivers hunted for fuel for cars and generators after many gas stations were shuttered by widespread power outages. Others trickled back to their homes, ducking police roadblocks and fallen limbs and power lines to reclaim their belongings.
They struggled with no electricity and little help from stretched-thin law enforcement. And they were frustrated by the near-constant presence of gawkers who drove by in search of a cellphone camera picture — or worse, a trinket to take home.
Search and rescue teams fanned out to dig through the rubble of devastated communities that bore eerie similarities to the Gulf Coast after Hurricane Katrina in 2005, when town after town lay flattened for nearly 90 miles. Authorities in Concord and elsewhere even painted the same "X" symbols they did in New Orleans to mark which homes they searched and how many survivors were found.
Jeff Gentner/AP

Charles Dharapak/AP

Jeff Gentner/AP

Dave Martin/AP

Mark Almond/AP

Jessica McGowan/Getty Images

Jeff Gentner/AP

Les Neuhaus/Getty Images

Jessica McGowan/Getty Images

Jay Reeves/AP

Jessica McGowan/Getty Images

Jay Reeves/AP

Virginia State Police/AP

Rogelio V. Solis/AP

Jessica McGowan/Getty Images

Butch Dill/AP

Greg Bluestein/AP

Rogelio V. Solis/AP
The storms did the brunt of their damage in Alabama. More than two-thirds of the victims lived there, and large cities bore the scars of half-mile-wide twisters that tore through. The high death toll seems surprising in the era of Doppler radar and precise satellite forecasts. But the storms were just too wide and too powerful to avoid a horrifying body count.
As many as 1 million homes and businesses there were without power, and Bentley said 2,000 National Guard troops had been activated to help. The governors of Mississippi and Georgia also issued emergency declarations for parts of their states.
Stories From The Storm
Listeners who witnessed the storms called in to NPR's Morning Edition to share their stories. Here's a sampling:
I was actually watching the news, so we were tracking the storm and we realized it was coming right for us as it was headed for downtown. We went into the back of the building and ... by the time we got into cover, we felt the storm hit. Um, we could feel the pressure change and we heard a huge crack! And I thought it was a tree coming down outside ... but it ended up being my upstairs neighbor's roof caving in on them, and then immediately water started pouring down through our ceiling. Our insurance put us up in a temporary hotel until we kind of figure out what's going on because our condo has been reduced to studs. So we're looking at maybe on the outside of six to eight months of reconstruction. We're just taking it day by day now.
— Jennifer Swift, Raleigh, N.C.
I had the family in the bathroom, tiny bathroom downstairs, and the cushions over their heads and answering their questions as to what was going on, because I was looking out the windows. The trees were moving in ways I've never seen them before. And ... we survived. But people just a couple of miles down from us didn't. I remember late that night, I was standing on my front porch and I watched the funnel cloud go past. You get that impression that you don't know whether or not you're next ...
— Stephen McAmis, Cleveland, Tenn.
The storms seemed to home in on populated areas by hugging the interstate highways and obliterating neighborhoods and even entire towns from Tuscaloosa to Bristol, Va.
Alabama emergency officials raised the state's death toll to 238 on Friday. There were 34 deaths in Mississippi, 34 in Tennessee, 15 in Georgia, five in Virginia, two in Louisiana and one in Kentucky. Hundreds if not thousands of people were injured, 900 in Tuscaloosa alone.
Officials said at least 13 of Mississippi's deaths were in the town of Smithville, where winds ripped open the police station, post office, city hall and an industrial park with several furniture factories.
Jones County Sheriff's Department spokesman Lance Chancellor described the devastation Friday on NPR's Morning Edition.
"There are brick structures [in Smithville], brick homes that were reduced to nothing left but the slab. And the carpet that was glued down on that slab was actually sucked up by the tornado," Chancellor said.
The police department lost all of its patrol cars — they were all slammed into the building and crushed by a fallen communications tower, he said. And the only thing left of the U.S. Post Office is a 20-foot section of brick wall.
"There's ... just debris everywhere you look in every direction," he said.
Interactive Graphic
Click on the map below to see images from the massive storm system and learn how a tornado is formed.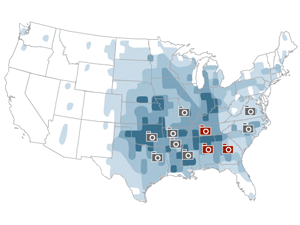 Smithville Fire Department Assistant Chief Tim Coker told NPR that the storm and its aftermath are "pretty traumatic for everybody" in their small town.
"We're all kind of like a small family more than a community because we all kind of grew up together and we all know each other," Coker said. "The hardest thing probably about being a volunteer is it's always people you know. That's kind of the tough part. So, you just kind of put the walls up and, uh, move on. It's going to sink in later, usually."
At Smithville Cemetery, even the dead were not spared: Tombstones dating to the 1800s, including some of Civil War soldiers, lay broken on the ground. Brothers Kenny and Paul Long dragged their youngest brother's headstone back to its proper place.
The National Weather service said the Smithville tornado was an EF-5 storm, with top winds of 205 mph. Meteorologist Jim LaDue at the weather service's Storm Prediction Center in Norman, Okla., said he expects "many more" of Wednesday's tornadoes to be rated EF-5, the worst rating in the tornado measurement system.
This story contains material from The Associated Press