An 'Untouchable' Sister Act, Affectionately Drawn
The Topp Twins: Untouchable Girls
Director: Leanne Pooley
Genre: Documentary
Running Time: 84 minutes
Not rated; adult themes
With: Jools Topp, Lynda Topp
One of New Zealand's most popular live-entertainment acts is a set of small-town lesbian leftist twins who've been involved in just about every political issue that roiled their homeland over the past three decades, from apartheid to the nuclear-free zone to Maori land rights. (And, unsurprisingly, gay rights.) Yet somehow Jools and Lynda Topp remain about as controversial as Bert and Ernie.
The Topp Twins: Untouchable Girls, an affectionate portrait from filmmaker Leanne Pooley, isn't very interested in analysis. It interviews only the sisters' parents, lovers and a few professional colleagues. But one secret to the Topps' widespread acceptance is in plain sight: their remarkably old-fashioned act.
The sisters describe their music as "country and western," and say "we're not really comedians — we're singers who are funny." Their style does draw on the early Nashville sound, and Lynda yodels in the manner of "singing brakeman" Jimmie Rodgers. Truth be told, their songs more often resemble pre-Beatles rock 'n' roll, with close harmonies that suggest the Everly Brothers. Unlike the Everlys, though, the Topps can be a little brassy — think Appalachian folk-rock with a twist of Ethel Merman.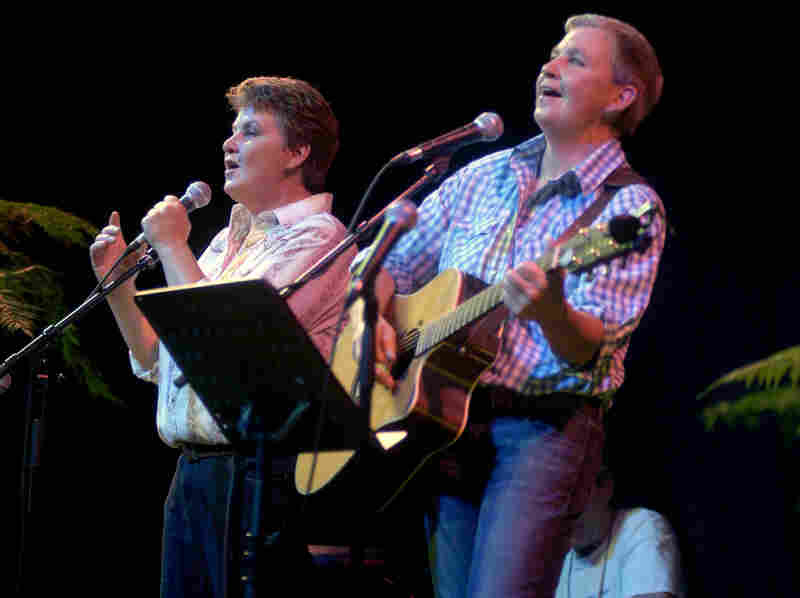 British punk-folkie Billy Bragg approvingly calls the Topps' act "an anarchist variety show." Yet it's not anarchic in a disruptive way. The sisters work in the tradition of English music-hall acts, whose mayhem never rumples the existing order. (Americans trying to get a fix on the sisters' style can think of them as a set of Carol Burnetts, though they're closer to a pair of Tracey Ullmans.)
The Topps' stock characters, who include pub-frequenting farmers Ken and Ken and lunch-going society matrons Prue and Dilly, aren't etched with acid. Indeed, the twins' involvement in protest campaigns seems less a natural outgrowth of their performances than a way of adding an edge to their otherwise comfy personae.
One reason the Topps are untouchable in New Zealand (and Australia) is that they never pulled up their rural roots. They frequently perform at the Down Under equivalent of county fairs, and once did a tractor-driven tour of tiny Kiwi towns. When not on the road, Jools and Lynda live — with respective partners Mary and Donna — on horse farms.
It's not entirely a charmed life. The sisters' supportive parents, Jean and Pete, admit to initial shock that their twins were gay. (So is their other child, a son.) More wrenchingly, the documentary recounts Jools' treatment for breast cancer. The film doesn't dwell on such unpleasantness, however.
A Topps collaborator mentions that the sisters sometimes fight bitterly, but they don't in this movie. Nor does Pooley allot any screen time to detractors, which leaves her portrait feeling unfinished. Have the twins actually charmed every single person in New Zealand — even racist, pro-nuke homophobes — or is the director simply accentuating the positive?
"They are the least professional people I've ever met," says writing partner Paul Horan, who doesn't mean it as a criticism. He means that the Topps reveal themselves on stage, rather than cloaking themselves in shtick. Maybe so, but this surface-skimming documentary doesn't illustrate that. The Topp Twins: Untouchable Girls is an entertaining concert film, but not an incisive character study.