Gabriel Metsu: The Dutch Master You Don't Know
Gabriel Metsu: The Dutch Master You Don't Know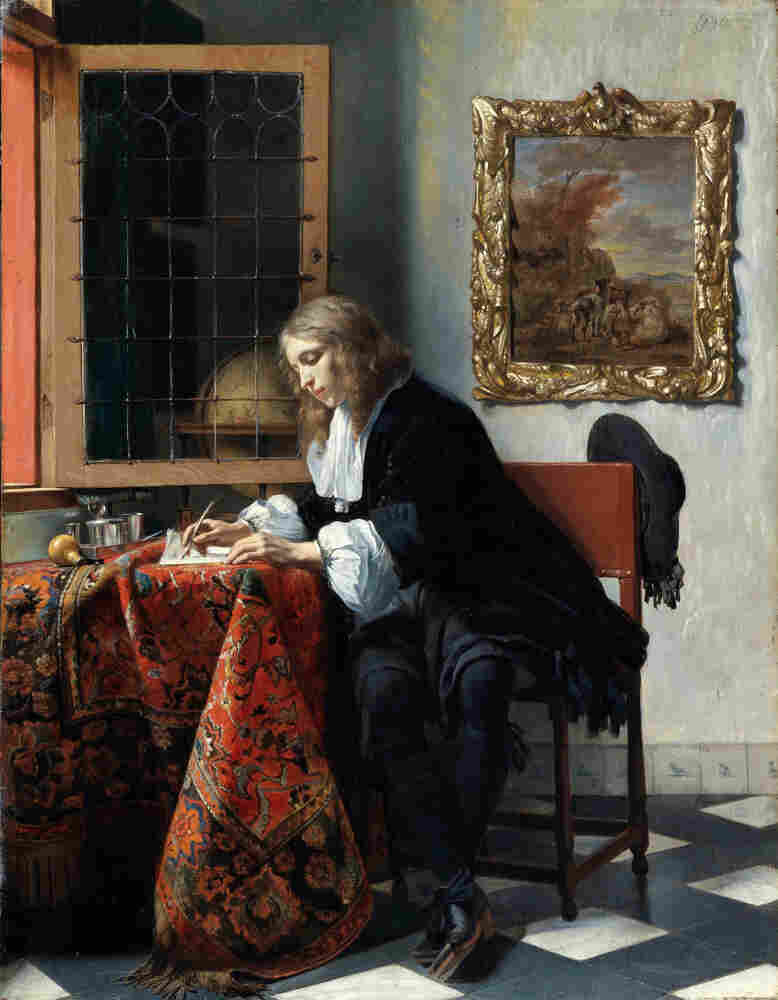 Roy Hewson/National Gallery of Ireland
When it comes to Dutch painters, Rembrandt and Vermeer are the best known. But have you ever heard of Gabriel Metsu? Vermeer and Metsu were contemporaries, but Metsu was the star in the Golden Age of Dutch painting during the 17th century — and long afterward.
"Metsu was still the top boy in the 19th century," says David Jaffe of the National Gallery in London. "Vermeer is a very early 20th-century discovery."
In his day, Metsu was well-loved in Europe — but it has taken 400 years for his paintings to get much attention in this country. Now, the first Metsu retrospective in the U.S. has opened at the National Gallery of Art in Washington, D.C.
Roy Hewson/National Gallery of Ireland
In 1664, Metsu painted one of his most important crowd pleasers, A Man Writing a Letter. The scribe is young, handsome, in black velvet, with long blond curls. He is sitting in a sumptuous study, with a very expensive Persian tapestry spread out on the table where he writes.
Hung right beside him in the exhibit, bathed in Vermeerish light pouring in from a side-window, is Metsu's A Woman Reading a Letter — the letter the handsome young blond was writing, no doubt. She has kicked off one shoe — a sexy little gold-encrusted mule. There is more gold on her long pink skirt, and her yellow top is trimmed with ermine, which is "the most expensive cloth you can wear," Jaffe explains. It "used to be a royal cloth. You can see the black flecks on her fur. She's accessorized to the hilt."
Expensive clothing, all gorgeously painted with fabulous technique and meticulously rendered details. In his early works, Metsu created rustic or Biblical scenes in his small hometown of Leiden. Once he moved to Amsterdam in the 1650s, he depicted bustling market scenes, fancier folks and fripperies, in a successful attempt to meet the tastes of the city's booming, sophisticated art market.
Whatever the subject, Metsu tells a story on all his canvases — though it's not always clear what that story is. But his paintings depict real emotions, and real interactions between people: A weeping woman borrows money; a kitchen maid peels apples; a man smokes near a fireplace; a woman cuddles a pale, sick child.
He was definitely a storyteller, says Arthur Wheelock, curator of the National Gallery's Metsu exhibit, "but giving us a beginning, middle and end to the story was not what he was after." He wanted you to ponder the painting. "I think these paintings were huge points of discussion in drawing rooms all through the Netherlands in the 17th century," Wheelock adds.
"He's a narrative painter, but he's not going to tell you the end of the movie," Jaffe says.
Neither did Metsu's contemporary, Vermeer, who was in many ways even more mysterious. His exquisite Girl with a Pearl Earring — and his other women — are all caught in moments between moments. In Vermeer, their lives are on pause. Metsu's people are coming from somewhere and going to somewhere — you just can't tell how it will turn out.
Metsu's painterly star faded in the 20th century, and Vermeer became the top Dutch boy. Vermeer, with his flattened backgrounds, muted colors and distant gazers, looked more abstract to modern eyes. But the National Gallery show (in Washington until late July) suggests that Gabriel Metsu's time may have come once again.