It Takes Guts To Be 'The World's Greatest Stuntman'
It Takes Guts To Be 'The World's Greatest Stuntman'
Vic Armstrong has made a career out of jumping from helicopters, falling off horses and leaping from trains — and he's got the scars to prove it. He tells stories from his long career on set in The True Adventures Of The World's Greatest Stuntman.
Armstrong tells NPR's Neal Conan that he got one of his first filmmaking gigs in You Only Live Twice, the 1967 James Bond film.
"As a budding young stuntman," Armstrong says, "Bond was the movie genre to get into."
The True Adventures of the World's Greatest Stuntman: My Life as Indiana Jones, James Bond, Superman and Other Movie Heroes
By Vic Armstrong and Robert Sellers
Hardcover, 384 pages
Titan Books
List Price: $25.99
Armstrong remembers that when he first arrived on-set, he could hardly believe his eyes.
"There was a building as big as St. Paul's Cathedral in London, which was all made out of scaffolding," he explains. "Inside was this amazing interior of a volcano, with a rocket-launching machine in there [and] a helipad. The roof opened and the helicopter could actually fly in."
The film's stunt coordinators took a look at Armstrong and issued a challenge: Slide from the top of the roof down to the ground on a rope while firing a machine gun.
"I looked at it, and it was 125 feet, and I said of course I can," Armstrong recalls, "thinking, 'They are completely mad. There's no way.' "
But he got the job and was ultimately asked to climb 125 feet above the scene and enter it as a ninja.
"You were up there and you're sweating bullets. There's safety wires. You're just sitting on these little girders," he says.
Crawling into position, Armstrong heard his colleague Joe Powell muttering as he set up the stunt, knotting the ropes that were responsible for keeping Armstrong from falling to his death. He remembers Powell jokingly ask himself, "Is it left over right, or right over left? Oh, that'll be all right."
Stunt Double To The Stars
Armstrong's ultimate goal was to be a stunt double for a famous actor, and he got his chance with one of the Indiana Jones movies. In Indiana Jones and The Last Crusade, Armstrong jumped from a horse onto a tank as Harrison Ford's stunt double,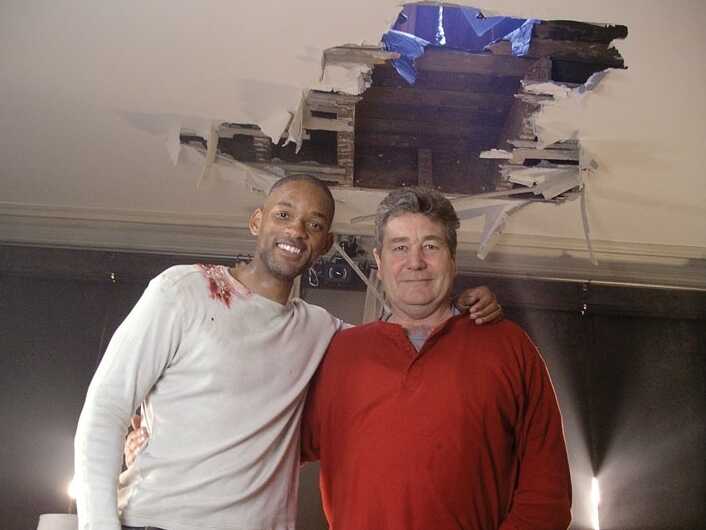 "Harrison Ford has been a great friend of the stunt community," Armstrong says. But he says Ford deserves a lot of credit for also doing stunts himself.
In a filming of Superman, a villain was supposed to throw a manhole cover at Superman, played by Christopher Reeve, hitting him in the stomach and knocking him back into a car.
According to Armstrong, Reeve liked doing his own stunts.
"Chris was one of the guys that desperately wanted to be every ounce of his character on-screen," he says.
So, he recounts, when Armstrong was called in to double as Reeve in the manhole stunt, Reeve insisted on doing it himself. Armstrong bantered with Reeve, imploring him not get in the way of his paycheck for a hard day's work, and they eventually shot the take with Armstrong.
By the end of the evening, Armstrong was pretty beaten up. He says he remembers Reeve walking by and saying, "Hey Vic, I'm really glad I didn't do that, buddy. Thank you."
Everything In Moderation
Today, Armstrong works in stunt coordinating and directing action units, which means he is instrumental in setting up action sequences, shot by shot.
He says that unless a director uses computer-generated images, or CGI, actors have to do some or part of the stunts so the camera can get shots of their faces.
So when Pierce Brosnan is seen going down the Thames River in a motorboat in one of the James Bond films, some of those shots are actually him. Armstrong says the tremendously dangerous stunts — like the boat's barrel roll — is where his team steps in.
And though CGI can be useful, Armstrong says that in the upcoming Superman — one of his latest projects — he's taking his stunts back to the basics.
He says the shots in Superman will be enhanced with some CGI, but only in moderation. He likens the technology to morphine.
"[It's] a fantastic drug for what it was invented for," Armstrong says, "but if you abuse it or overuse it, it's a killer."
The True Adventures of the World's Greatest Stuntman
My Life As Indiana Jones, James Bond, Superman and Other Movie Heroes
Hardcover, 352 pages |
purchase
Buy Featured Book
Title

The True Adventures of the World's Greatest Stuntman

Subtitle

My Life As Indiana Jones, James Bond, Superman and Other Movie Heroes

Author

Vic Armstrong, Robert Sellers, et al
Your purchase helps support NPR programming. How?
Excerpt: 'The True Adventures Of The World's Greatest Stuntman'
The True Adventures of the World's Greatest Stuntman: My Life as Indiana Jones, James Bond, Superman and Other Movie Heroes
By Vic Armstrong and Robert Sellers
Hardcover, 384 pages
Titan Books
List Price: $25.99
A Werewolf In Piccadilly
By now as a stuntman I must have driven every vehicle going: trucks, motorbikes, cars, boats, you name it. I'd even learnt to fly aeroplanes in my spare time. Thanks to Alf Joint I could now add a red London double-decker bus to the list. The chance came when I worked alongside him as co-stunt co-ordinator on An American Werewolf in London. Alf had got a call out of the blue from director John Landis. 'John who?' Alf said. Years earlier Alf was working on the Clint Eastwood war film Kelly's Heroes, when Landis was no more than a gofer. Everybody gave him an awful time except Alf, so Landis always had a soft spot for him. In fact everybody that was rude or dissed him on Kelly's Heroes Landis gave the cold shoulder to when he became a director. 'Alf, it's John Landis,' the phone call went. 'Remember that werewolf story I was telling you about on Kelly's Heroes? I've got it off the ground. I'm making a movie of it.'
The film featured groundbreaking special effects, but from a stunt point of view the biggest headache was the climax, when the wolf escapes from a porno cinema in London's West End and wreaks havoc in Piccadilly Circus. The police refused to give us permission to shut the area down but said we could briefly stop the traffic, so long as it was at three in the morning on a weekend when it was at its lowest ebb. I knew then that planning was vital to the sequence being a success. Alf was of the same mind: we needed rehearsal, rehearsal and rehearsal. At Brooklands Aerodrome we built a replica of Piccadilly Circus; the whole area was marked out to scale, every road, every curb was represented by bales of hay. It was a big effort because we had twenty-odd stunt people there, all the crew, vehicles, back-up, catering, all for two weeks. The production just saw it as a waste of money, not realising that this kind of rehearsal pays off on the day.
The key vehicle in the sequence is a London double-decker bus, which had to do a 180-degree spin to start off the mayhem. I was the bus driver and whenever I tried to spin the bus it would just slide 10 or 20 degrees and stop, because it was so well balanced. We were sitting there scratching our heads as to how we were going to get this thing to spin when Dave Bickers said to me, 'What help do you need?' Now, the previous day I'd been to get new tyres for my horse truck. The tyre fitter at the shop had a trolley jack under the back end and just pulled the truck sideways, so what I figured we needed were some wheels at 90 degrees to the bus's rear wheels, that could lift the rear end up as I made the manoeuvre. Dave said we needed to invert one of my air rams, that could fire 10-inch fork lift wheels down on cue, but he'd have to cut a hole in the bottom of the bus. 'Do what you want,' I said. 'Just get the rig made.' This is another example of the genius of Dave Bickers.
On the night of the shoot, Dave's team parked up every road with tow trucks and on a given signal just pulled out with their flashing lights to stop any traffic coming through. Every alleyway and doorway had to be policed as well; we couldn't have pedestrians suddenly walking in. It was Alf's idea to have this bus do a 180-degree spin, which was the cue for all the 20 or so other vehicles to swerve and hit and crash bang wallop. Being the bus driver, I was parked down Lower Regent Street, waiting. On 'action' I came belting into Piccadilly Circus. There was a Wimpy burger restaurant on the corner and as I locked up the rear wheels and spun the steering wheel, the front end carried straight on because of the wet road. I thought, Jesus I'm going to make the record books here by going through Wimpy's in a double-decker bus. Just in time, the back end of the bus swung round on Dave's fork lift wheels rig, and started overtaking me — and then it was just hell after that, bedlam, everybody put their pedal to the metal and the wreck was on. Everybody keyed off my bus, Rocky Taylor, Roy Alon, Tony Smart, we were so well rehearsed it was a chain reaction and a superb shot. We had the Dave Bickers team race in with their tow trucks to get rid of the wrecked vehicles, and people with brooms running in sweeping up all the broken glass, so everything looked as though we hadn't been there. Within two and a half minutes of shouting 'Action', normal traffic was allowed back in. The police just couldn't believe how quickly it was done.
The whole thing was repeated the next night to get more coverage, and then we went back to Brooklands and built various shop fronts for close-up stunt shots of people hurtling through them. Now John Landis always likes to be in his own movies and I drove the car that knocked him straight into a travel shop window. I also did a head-on crash with another driver going at 15 miles an hour each, that's a 30 mph impact, a hell of a jolt. And I made the classic mistake of keeping my hands on the steering wheel instead of letting go; you automatically just hold on to the steering wheel to brace yourself. My wrists ached for three weeks after that from the jar through the steering column. Still, it was a very rewarding picture to work on and I loved John Landis, very collaborative and a great guy to work with.
Excerpted from The True Adventures Of The World's Greatest Stuntman by Vic Armstrong by permission of Titan Books. Copyright 2011 Vic Armstrong and Robert Sellers.