Strauss-Kahn 'Earthquake' Shakes Up French Election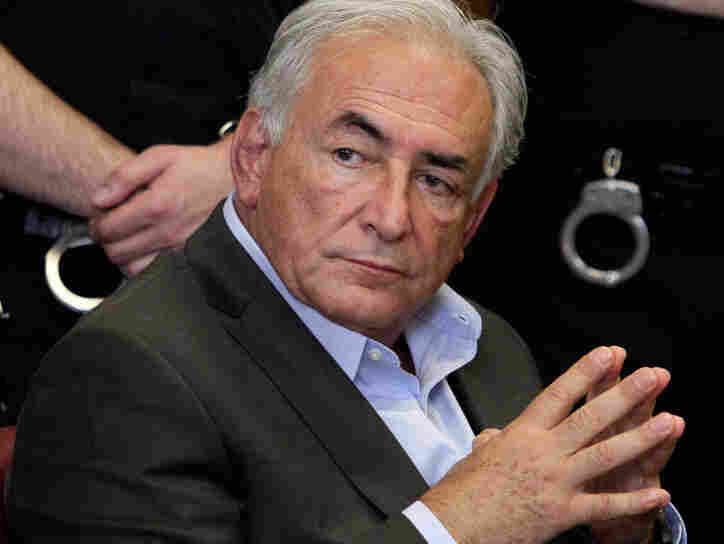 Richard Drew/Pool/Getty Images
Before he was accused of sexual assault in New York earlier this month, Dominique Strauss-Kahn had been expected to run for president of France as the Socialist Party candidate. And his abrupt exit from the scene has thrown the French political world into chaos.
It seemed almost everyone had expected Strauss-Kahn to beat the currently unpopular president, Nicolas Sarkozy, who is also expected to run in the 2012 election. Now things have changed, says Dominique Moisi of the French Institute for International Relations.
"It is a political earthquake for France, but it's too early to say what are going to be the consequences," Moisi says. "Is it over for the Socialist Party? Is it a gain for Nicolas Sarkozy?"
Moisi says the only sure thing is that the scandal will help the anti-establishment, populist far right "because it feeds into their anti-elite reasoning: 'Well, you see, what we told you for years is true. The elite is corrupt, is depraved.' "
Marine Le Pen, head of the far-right National Front party, is making political hay out of the DSK scandal, as it is known in France. From the beginning she denounced Strauss-Kahn's behavior as pathological and blamed Sarkozy for nominating such a man to head the International Monetary Fund. Strauss-Kahn resigned from that job last week.
Le Pen is in much demand as a guest on French radio stations. After finishing up an interview with a Christian network, she told NPR that recent events have vindicated her beliefs.
"For the moment, I think the French are in a state of shock to see that a man who was going to run for president could commit such a brutal and vulgar act," she said. "The French have been betrayed by their political class, and this affair is going to make them realize what a huge gap there is between the elites who act with impunity and the people."
Before his arrest, polls showed Strauss-Kahn, a centrist, easily beating Sarkozy and pushing back the far right. With his toughest opponent now out of the race, analysts say Sarkozy has to tread carefully. The French president has kept a low profile and told his staffers to keep their heads down.
Fethi Belaid/AFP/Getty Images
Within the Socialist camp, Strauss-Kahn's departure has made Francois Hollande the favorite candidate. Hollande, the former partner of the last Socialist presidential nominee, Segolene Royal, is well-liked, competent and unshowy — if a little dull.
On a popular satirical TV show that features marionettes impersonating politicians, Hollande's puppet is mild-mannered and goofy. But after four years of Sarkozy's frenetic intensity and now the Strauss-Kahn affair, boring might not be such a bad thing, says political journalist Marie-Eve Malouine.
"Francois Hollande is very normal," she says. "It can be an advantage because he's a normal guy. He had no story. He had nothing special in his life. He's not ambitious. Really, he's a good guy. There's nothing to say with him."
But the Socialist Party is in complete disarray. A number of party elders have caused an uproar after making controversial remarks as they rushed to defend Strauss-Kahn.
The prominent former Socialist minister Jack Lang said that Strauss-Kahn should have been let out on bail immediately. Nobody died here, he said.
But Malouines says the Socialist Party has to be more careful about how it handles the Strauss-Kahn affair. If he's found to be guilty and they can't seem to accept that, she says, people could turn away from them.
Another possible outcome, says Malouines, is that the electorate blames the entire political elite and the media for the DSK fiasco. If that happens, she says, people may cast a protest vote for the far right, or they may not bother to vote at all.