Mozambique Has Patients Team Up To Tackle HIV
Mozambique Has Patients Team Up To Tackle HIV
Like many countries in sub-Saharan Africa, Mozambique has a high HIV rate, reaching nearly 20 percent among some sectors of the population. In Mozambique, the challenge is not just getting medications to the people who need them, but making sure they stay on the drugs.
The country is large, its roads are bad and there's a shortage of doctors, with just over 1,000 for a country of 22 million people. But a simple program being run on the local level is revolutionizing HIV care in the country.
The village of Marara may not be the first place you'd expect to find solutions to some of global health's biggest challenges. A cluster of buildings made of saplings, thatch and dried cornstalks sits at the end of a potholed road. It's surrounded by herds of goats, fine pink dirt and baobab trees. The remote town has no electricity, just a generator that serves the tiny health clinic.
Asseado Torcida is a health technician there. He wears a spotless white shirt and pants, and his desk overflows with papers and bottles of pills. Today, he's handing out antiretroviral medication to Natureza Vinte, a member of a six-person group of HIV-positive patients.
There are hundreds of these groups across the countryside, and each month, one member — like Vinte — picks up medication for all six people in the group. Back at home, Vinte will distribute the pills among herself and the other members, and next month the responsibility will fall to another person.
Sharing Responsibilities
Vinte explains that each month her group has a meeting to verify how many pills each person has taken and how they're doing. They write it down, and one person brings the information to the health clinic and collects all the medicine, she says.
A monthly task shared between six people who are HIV-positive means that rather than make an expensive and time-consuming journey every month, each person only does it twice a year. And in remote communities where money is scarce, that's huge.
Doctors Without Borders started the program in Tete province in 2008 and now works with Mozambique's Ministry of Health to keep it going.
"We had learned that communities aren't just sitting around waiting for our help," says Sergio Dezembro of Doctors Without Borders. "Community members themselves can have an important role in care, and they can take on some of the tasks often done by health workers. It's simple and sustainable."
'Empowerment Of Patients'
The numbers are striking. A few years ago, depending on the area of the country, anywhere from 10 percent to 50 percent of patients were dropping out of treatment. But when part of a patient group, less than 1 percent drop out.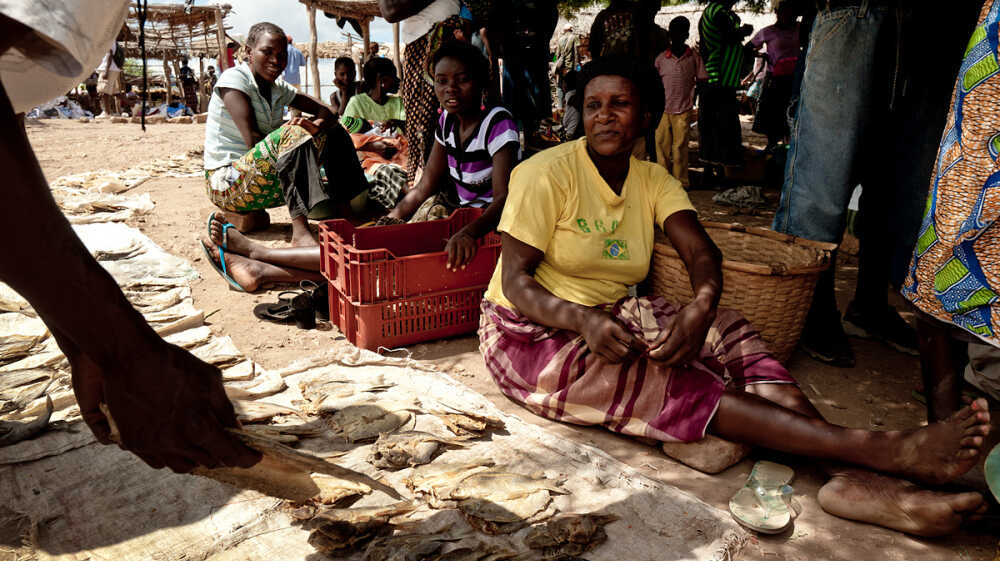 Community member Lidia dos Santos has bright eyes and wears spotless blue flip-flops. The single mother of two teenage sons, dos Santos is HIV-positive. In addition to being part of a patient group, she helps oversee others in the area, and says the groups involve much more than just taking pills.
Dos Santos says the most important thing is that they're all in it together; they visit each other and always find a way to take care of things when someone in the group gets sick. They'll bring each other water, wash clothes and find a way to get them to the doctor, she says.
The Centers for Disease Control and Prevention are now partnering with Doctors Without Borders and the Mozambican government to bring these patient groups to other parts of the country. CDC doctor Kebba Jobarteh believes they're a model for Africa, and the U.S., too.
"These groups really function and thrive because of a sense of solidarity between the patients, and a sense that they are not alone," Jobarteh says. "I think it speaks to what will probably become an increasingly important trend in global health and domestic health, which is further empowerment of patients in their own lives, and their own medical care and health."
Dos Santos says the group model kept her on medication, ended the isolation she once felt and made her want to participate more. She says she's learned a lot — including how to write prescriptions and order certain tests.
She says that someday, she'd really like to be a nurse, so that she can do even more for the people in her group.
Related NPR Stories