To Deal With Debt, Portugal Moves To The Right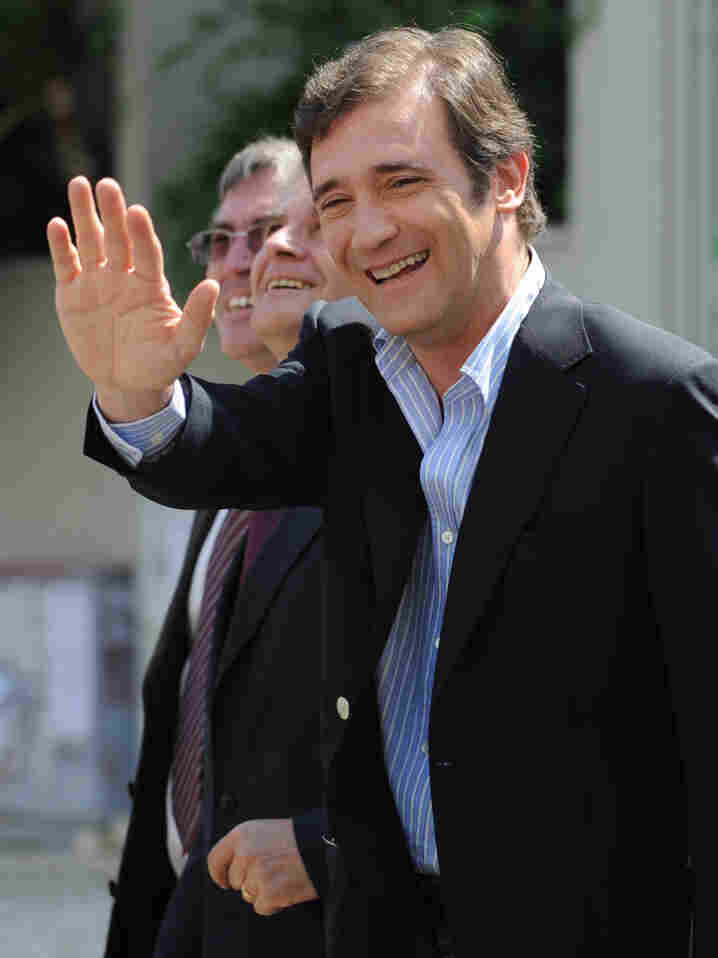 In Portugal, a center-right party — the Social Democrats — defeated the governing Socialist Party by a comfortable margin in Sunday's elections.
The next government will have a strong parliamentary majority to enact the tough deficit-cutting steps required for an international bailout of some $114 billion. But a record-high abstention rate of 43 percent signals widespread voter disaffection and anxiety.
Portugal's new prime minister, Pedro Passos Coelho, 46, has a business background and little political experience. But he sounded confident Sunday night as he addressed cheering supporters.
"We will work to provide stability and give international markets the confidence to believe in Portugal again," he said.
Political And Economic Turmoil
The election followed months of political and economic turmoil. The Socialist government collapsed in March, worsening the country's long-term debt crisis. Unemployment is running at more than 12 percent, a record high, and the economy is expected to contract by 4 percent over the next two years.
Like Ireland and Greece, Portugal was forced to seek an international bailout in return for big tax hikes, deep spending cutbacks and slashing the public sector.
But economist Joao Cesar das Neves is convinced it's possible to cut the deficit and stimulate growth at the same time. He believes the bailout deal is positive.
"It included a lot of structural reforms, from energy to education, health and everything, and that is what we need. We actually need that," he says. "So I think they're going to have two tough years, but if we do it in two years, we'll be able to start growing again."
As in local elections in Spain last month, Portuguese voters blamed the ruling Socialists for the economic crisis, and international markets will welcome the new center-right government.
But political analyst Manuel Brandau is worried that so many Portuguese are alienated from the political process.
"In the moment where the country needs to be together and to take a decision of the very tough future that it is facing we have huge percentage, a growing percentage of abstention," he says.
A Widening Gap
Portugal is already Western Europe's poorest country, and living standards will plummet further, which will widen the gap between rich and poor. The latest statistics show that 2 out of 5 children live in poverty. While there haven't been big protests as in Greece and Spain, there's concern that as the government inflicts more pain on its citizens, social unrest could follow.
Like millions her age, 33-year-old Vera Doutel is unemployed. She says she is fearful that draconian austerity measures will stifle the hopes and aspirations of an entire generation. "This will compromise the next 10 years of the country," she says. "If people are so afraid of the consequences ... they will be very careful in making new projects and trying to do something new. They will be afraid."
Many analysts also worry about what they see as the growing alienation of Northern European countries from their southern partners fighting off bankruptcy.
Miguel Gaspar, editor-in-chief of the newspaper Publico, cites the way German officials mistakenly blamed Spain for the recent E. coli outbreak, triggering huge economic losses among Spanish farmers.
"Suddenly, Germans are saying ... the Spanish cucumber is the problem," Gaspar says. "And that is symbolic that something is really wrong inside the community between north and south."
That something, adds Gaspar, is a mutual lack of confidence among the European Union partners that could further prolong the crisis within the eurozone.