Maple-Oatmeal Fruit Crisp
This is the kind of recipe that makes the most of any CSA fruit. I love crisps because they come together in a flash and are very forgiving — if you don't have plums, try nectarines. But I try to always use a combination of seasonal fruits and lightly sweeten them with maple syrup. You don't need much sweetener because the fruit itself is so sweet. I encourage you to play around with this to reflect what you have on hand that week.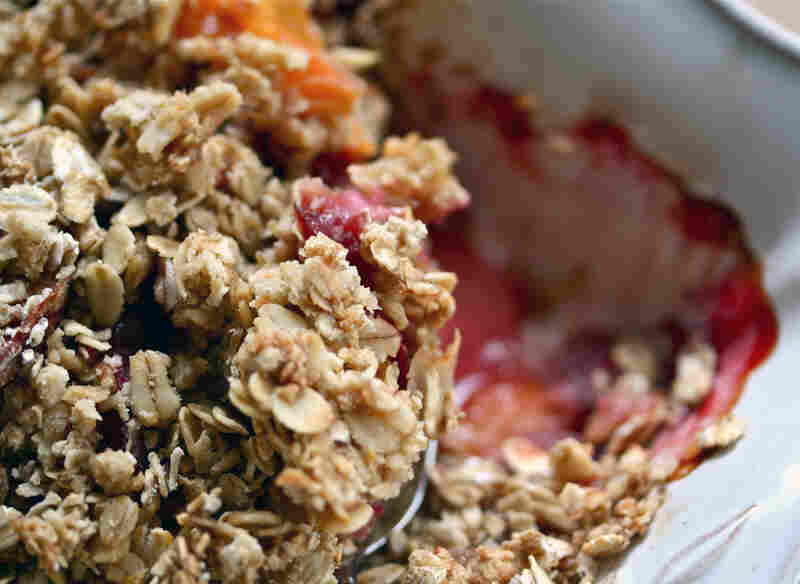 Makes 6 to 8 servings
Topping
1/4 cup whole-wheat pastry flour
1/2 cup rolled oats
1/4 cup sugar
4 tablespoons butter
3 tablespoons maple syrup
Filling
2 peaches or other stone fruit, pitted and chopped
1 cup blueberries, raspberries or blackberries, or a combination
1/4 cup dried cranberries
4 tablespoons chopped walnuts or almonds
1/4 cup unsweetened flaked coconut
1/2 teaspoon ground cinnamon
1/2 teaspoon ground ginger
1 tablespoon flour
5 tablespoons maple syrup
Preheat oven to 350 degrees.
Mix the flour, oats and sugar together. Cut in the butter, working the mixture until it resembles coarse meal. Drizzle in a bit of maple syrup, adding more if the mixture is very dry.
In a large bowl, mix the fruit, nuts, coconut, cinnamon, ginger and flour together and stir well to combine. Drizzle with maple syrup to taste (if the fruit is not too sweet, add a little more).
Spread the fruit in an 8-inch square baking dish and cover with the topping. Bake for 30 to 40 minutes, until fruit is bubbling and topping is crisp.