As AIDS Turns 30, Fewer Americans Feel At Risk
As AIDS Turns 30, Fewer Americans Feel At Risk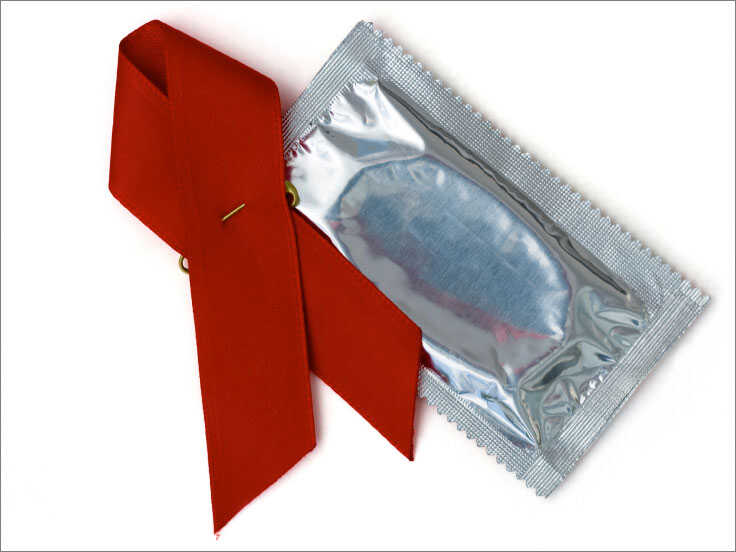 It's been three decades since doctors diagnosed the first known case of AIDS. The discovery of the then-mysterious disease helped make the concept of "safe sex" a household phrase.
"In the early 80s ... diagnosis to death was about six months," says Vallerie Wagner, education director of AIDS project Los Angeles. "People were literally dropping dead in the streets."
Fear of contracting AIDS helped many people overcome their reluctance to ask prospective partners about their sexual histories, and high profile national media campaigns promoted condom use and HIV testing.
Three decades later, many public health experts are concerned that Americans are less concerned about contracting sexually transmitted diseases, and HIV/AIDS in particular. And while thousands of organizations across the United States work to promote safer sex and STD prevention, today, HIV/AIDS rarely makes national headlines.
HIV infections are also on the rise in the U.S. New infections held relatively steady from the mid-1990s to 2006 at approximately 40 thousand new infections per year, says Vallerie Wagner, education director of AIDS project Los Angeles. But in 2006, the CDC adjusted the new infection rate to over 56 thousand new infections per year.
And in Los Angeles County, Wagner tells NPR's Neal Conan, new infections have risen starkly, from an average of five per day in the mid-1990s, to 8 per day in 2011.
AIDS advocates are grateful for the advances in HIV treatment — developments that have enabled many people to live for years without contracting AIDS. Today, she says, "people are living healthier lives, people are looking healthier."
But Wagner says those advances have also helped contribute to the notion that HIV is now something an individual can live with, rather than die from. And that's particularly true of young people, she says, for whom the effects of HIV and AIDS have been far less visible.
"With the advent of the new medications, there's this sense that, 'oh, if I do get infected or become HIV positive, all I need to do is take a pill and everything will be fine," says Wagner. "And we know that's not the case ... It's sort of been classified now as a chronic disease, but that doesn't mean that people aren't still dying."
Teens take their cues about sex — and its risks — from a wide variety of sources, says Sarah Brown, CEO of the National Campaign to Prevent Teen and Unplanned Pregnancy. They can be influenced by public awareness campaigns, she says, "but we also think, 'well, what are our friends doing? What are we reading about? What seems to be in, what's out?'
"And so if aggregate attention ... declines, which I believe it has in this area of HIV/AIDS, we shouldn't be surprised if we find less knowledge, less concern, and health practices that aren't as safe."
A lack of awareness about HIV and AIDS is also a problem among older Americans, according to Pepper Schwartz, a professor of sociology at the University of Washington who writes the "Naked Truth" column for the American Association of Retired People, or AARP.
"It's true that the disease of HIV is not as present in this community," says Schwartz, "but it is not absent."
Many older people, says Schwartz, enter the dating world "through divorce after very long marriages or death ... They don't really know what to do in the dating world."
A 2009 AARP study found only 12 percent of sexually active single male respondents over 50 used condoms every time they had sex, and only about one-third of women did so.
"Even though they're older, in some ways they're less experienced [than young adults]," says Schwartz. "It's very hard for people to talk about what they're doing ... The idea that you would tell somebody you want a condom — too many people think you're accusing them of having a disease."
"We really need continuing sex education for adults," says Brown. "Whatever sex education that is offered by institutions, whether it is a school or community group or it's a church, that often ends by the time someone's 17 or 18.
"The notion that we would learn something in 8th grade, and maybe a little refresher course in 10th or 11th ... the notion that that would sustain us and be current in our mind — all the details, all the risks, for decades, strikes me as rather unreasonable."
Wagner of AIDS Project Los Angeles agrees that education and outreach needs to be bolstered if HIV infection rates are to be brought down.
"This is a very different disease from the 80s," Wagner says. "But it is still a very serious disease. And we've got to do more, and come up with more innovative and creative ways to get people to understand that this disease is not over."