SXSW 2007: The Nightwatchman (Tom Morello)
Recorded Live on March 15, 2007, Produced by WXPN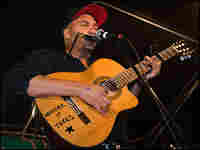 Set List
"House Gone Up In Flames"
"One Man Revolution"
"Flash Shapes the Day"
As a founding member of the political rap-metal band Rage Against the Machine — and a member of Audioslave — Tom Morello is responsible for innovative electric-guitar techniques that sometimes mimic the sound of a DJ's crossfader. Under his Nightwatchman moniker, however, Morello uses only an acoustic guitar and his voice. Working under his political-folk alter ego, Morello first introduced this material at open-mic nights, much to the confusion of fans accustomed to his other bands. Morello will release his solo debut, One Man Revolution, this spring.
Producers of NPR's World Cafe, Y-Rock On XPN and XPoNential Music On Demand, Philadelphia's WXPN showcases heritage and emerging artists in rock, blues, folk, and beyond.