Tony Predictions: Recapping A Banner Season
Last year, I wrote that the most highly anticipated musical of the 2009-2010 season was Spider-Man: Turn Off the Dark. Back then, the Julie Taymor/Bono/Edge show — which had a reported budget of $40 million — had been postponed for lack of funds. So as the season wrapped, it was still highly anticipated.
This season, of course, it became highly newsworthy. The money came, the budget bulged (to somewhere north of $70 million), actors suffered a raft of injuries. Then the announced opening date was postponed. And postponed, and postponed.
Meanwhile previews — full-price previews — went on and on, though the show didn't always. Actors sometimes got tangled up in their elaborate flying sequences, causing things to stop quite literally in mid-air. More than six months after its first preview, the musical still hasn't had an official premiere.
Quick Picks: Jeff Lunden's Tony Predictions
Best Musical: The Book of Mormon
Best Play: War Horse
Best Revival of a Musical: Anything Goes
Best Revival of a Play: The Normal Heart
The major critics came anyway, back in February, and filed some of the most scathing reviews in recent memory. The show became a punch line for late-night comics — and a cause celebre for TV talking head Glenn Beck, who loved it.
When Spider-Man opens at last on Tuesday, June 14, it'll be without director Julie Taymor at the helm. She was given the boot when the producers, who realized that with great power comes great responsibility, made the dramatic choice of hiring a new creative team to fix the show. They shut performances down for almost a month to extensively retool the production. Have they pulled it off? It's still a cliffhanger, though reviews will start trickling in soon.
It seemed for a while like Spider-Man was sucking up all the oxygen in the Broadway press, but a major flurry of activity in the spring turned the focus elsewhere. It turned out to be a banner season for the Great White Way — grosses topped $1 billion for a second season in a row, but more important, attendance was up 5.4 percent. Forty-two shows opened — 14 musicals, 25 plays and three so-called special events that don't fit tidily into either category — and most critics agreed that many of these productions were the finest in years.
Below, a few thoughts about some of the major Tony Award categories, and my best guesses (in bold) about who'll take home the trophies.
---
Best Musical
Catch Me If You Can
The Scottsboro Boys
Sister Act
The Book of Mormon

More On The Nominees
After a disappointing 2009-2010 season, during which only two original musicals opened on Broadway, the genre came roaring back. Leading the juggernaut was The Book of Mormon, which has become the first megamusical hit since Jersey Boys in 2005. (The demand for tickets is so fierce that some of them go for over $1,000 on websites like StubHub.)
The show, written by the South Park team of Trey Parker and Matt Stone, along with Avenue Q's Robert Lopez, is a profane, scabrously funny and ultimately touching story about faith and friendship. With 14 Tony nominations, a near record, it looks to take home quite a few awards — not just best musical, but best direction (Parker, along with Casey Nicholaw), best book and maybe best score.
(Still, that last might go, in part for sentiment's sake, to The Scottsboro Boys, the last score by the legendary Broadway team of Kander and Ebb.) But Rory O'Malley seems a lock as best supporting actor in a musical, for his hilarious turn as a closeted gay Mormon missionary.
Catch Me If You Can, the adaptation of Stephen Spielberg's film about con artist Frank Abagnale, Jr. — reimagined as a '60s TV spectacular — might grab a Tony for best actor, with Norbert Leo Butz stopping the show as a dancing FBI agent. But I wouldn't count Tony Sheldon out; his Bernadette, the aging transsexual performer in Priscilla Queen of the Desert, is touching and nuanced. Priscilla should win for best costumes in a musical, for its outrageous and seemingly unending display of invention.
Victoria Clark might pull in a Tony as best supporting actress in a musical, for her truthful performance as the Mother Superior in the otherwise vulgar Sister Act, but my money's on Laura Benanti, for her flashy comic turn in Women on the Verge of a Nervous Breakdown.
---
More On The Nominees
Best Play
Good People
Jerusalem
The Motherf--ker with the Hat
War Horse

It says a lot about this category that there were other plays that could've also been in the four slots — Rajiv Joseph's tragicomedy Bengal Tiger at the Baghdad Zoo (a Pulitzer Prize finalist last year) or Lee Hall's The Pitmen Painters among them — but all the nominees are worthy. Nick Stafford's War Horse, which is getting a special Tony for its astonishing puppetry, places lifelike, full-sized equines on the stage of Lincoln Center's Beaumont Theatre, and it appears to be the favorite, if more for the unique quality of the physical production and storytelling than for the play's text itself.
I wouldn't be surprised, however, if David Lindsay-Abaire takes the prize with Good People, a play about class divisions set in Boston. It just closed, but Frances McDormand's performance as a struggling working-class mother might take best actress. Meanwhile Jerusalem, Jez Butterworth's state-of-the-British nation play, will undoubtedly take home a Tony for Mark Rylance's indelible turn as the drug-dealing Johnny "Rooster" Byron — though it was Bobby Cannavale, in Stephen Adly Gurgis' addiction-and-recovery comedy The Motherf--ker with the Hat, who picked up the Drama Desk award for that category. (His co-star, Chris Rock, was one of several Hollywood stars overlooked by the Tony nominators.)
---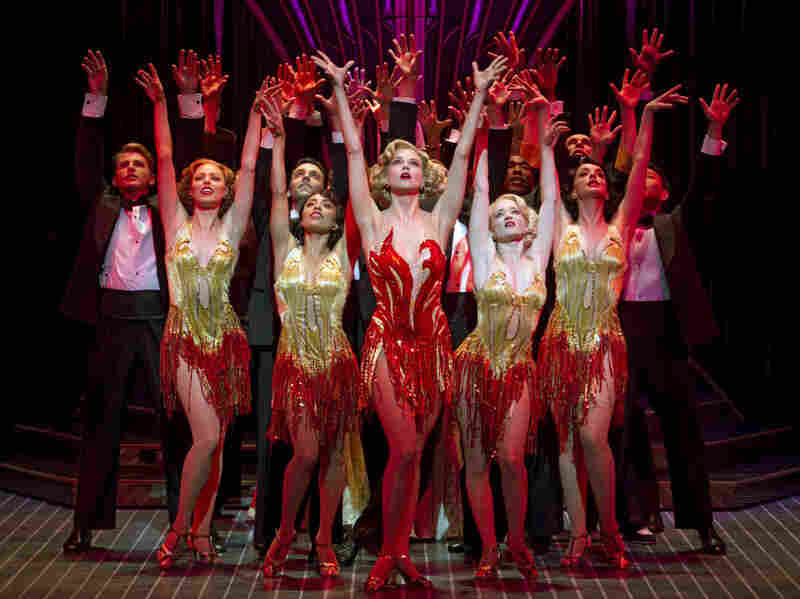 Best Revival of a Musical
How to Succeed in Business Without Really Trying
Anything Goes

Only two musicals were eligible this year in the revival category, and both are doing bang-up business. How to Succeed stars a charming Daniel Radcliffe, who wasn't nominated for a Tony. It hardly matters at the box office: His Harry Potter fame is bringing in adoring teens, tweens and their moms and dads to this clever Pulitzer Prize-winning 1960s musical, which had been given a Mad Men touch by director-choreographer Rob Ashford.
But Cole Porter's Anything Goes, starring the appealing and hard-working Sutton Foster (a shoo-in for the best actress Tony), will take the prize. And Kathleen Marshall, who's provided a couple of show-stopping dance routines, should pick up the award for best choreography.
---
Best Revival of a Play
More On The Nominees
Arcadia
The Importance of Being Earnest
The Merchant of Venice
The Normal Heart
This was a banner year for play revivals. Last fall, Daniel Sullivan's clear and thoughtful reading of Shakespeare's The Merchant of Venice, starring Al Pacino and Lily Rabe, moved from Central Park into the Broadhurst Theatre, where it only gained in power. (In any other season, I think Pacino, Rabe, Sullivan and the production would be locks for Tonys.)
Brian Bedford did double duty on Oscar Wilde's The Importance of Being Earnest, with his deft direction and delicious star turn as Lady Bracknell. (In any other season, he'd win best actor; he's not up for best director.) Tom Stoppard's Arcadia, though somewhat unevenly cast, nonetheless made a strong case for the play as one of the 20th century's finest dramas, and it offered those with long memories the delight of seeing Billy Crudup — who made his Broadway debut as 19th-century tutor Septimus in the original New York production — return as the caustic contemporary academic Bernard in the revival.
But it was a very late entry this season — Larry Kramer's The Normal Heart, a thinly veiled autobiographical drama about the beginnings of the AIDS crisis — that galvanized Broadway observers with its urgency and strength. Co-directors George C. Wolfe and Joel Grey could take home Tonys, as could John Benjamin Hickey and Ellen Barkin in supporting roles. Joe Mantello, as the Larry Kramer stand-in Ned Weeks, somehow made his abrasive character loveable — and might challenge Mark Rylance in the best actor category.
Another celebrated revival, Born Yesterday, features 26-year-old Nina Arianda, making an impressive Broadway debut as Billie Dawn, the not-so-dumb blonde played by Judy Holliday onstage and in the film. She could give Frances McDormand a run for the money as best actress. And Edie Falco, heart-breaking in the revival of John Guare's The House of Blue Leaves, has a shot at best featured actress in a play — if it doesn't go to Barkin.
The Tony Awards, hosted by Neil Patrick Harris, will be presented on CBS from 8 p.m. to 11 p.m. on Sunday, June 12.