Discussion: The Year's Best Music (So Far)
Discussion: The Year's Best Music (So Far)
Around this time each year, the All Songs Considered gang pauses to marvel at how quickly the months are passing, and to reflect on some of the memorable music that's come out so far. What have been some of 2011's biggest surprises? Who are some of the best new artists? NPR Music editor Stephen Thompson and reviewer Ann Powers join co-hosts Bob Boilen and Robin Hilton to share some of the songs and albums they think have helped define the first half of 2011. Listen to the discussion, then check out our listener poll to vote for your favorite new releases this year.
More Best Music Of The Year (So Far)
The Year's Best Music (So Far)
Rubber
Best New Artist: We've talked a lot about the garage-rock revival of recent years, and this is a band from London, a bunch of kids who do the garage-rock thing, but also have this wonderful drone to their music that I can listen to for hours. I just like how sloppy, messy and loud it is. --Robin Hilton
House of Balloons / Glass Table Girls
from House of Balloons
by The Weeknd
Best New Artist: [This record] reminds me of an R&B version of one of my favorite records of all time, from the '90s, Afghan Whigs' Gentlemen. There's an interesting thing happening in hip-hop and R&B right now on the down-low, grassroots Internet level where it's very dark. Often transgressive. And this record is really about the consequences of bad sex, bad drugs, bad partying, which is kind of what the Afghan Whigs were all about, too. --Ann Powers
You can download this album at The Weeknd's website.
House of Balloons / Glass Table Girls
The Wilhelm Scream
from James Blake
by James Blake
Best New Artist: We talk about young, we talk about dark, we talk about haunting music — James Blake, I've seen him in a small club with about 100 people doing this stuff, and it really works. It all feels like it's about to fall apart at any moment. --Bob Boilen
We Sing In Time
from Arrows
by The Lonely Forest
Best New Artist: Really fun band. It kind of reminds me a little bit of Jimmy Eat World, in that wonderful point in time when Jimmy Eat World was making incredibly melodic, wonderful, fun records. It taps into that same smart and super-catchy sound. --Stephen Thompson
Firewall
from The People's Key
by Bright Eyes
Biggest Surprise: It's an album full of great riffs, lots of wisdom. You hear a lot of growth in Conor Oberst as an artist. It's been a long time since I've connected with a record as completely as I have with this one. --Robin Hilton
Red Horse (Judges II)
from New History Warfare, Vol. 2: Judges
by Colin Stetson
Biggest Surprise: I think the thing when I listen to the record is the fact that A) It's all live; and B) there are no electronic effects, other than a series of 20 microphones in a room and his movement around the room. There are no overdubs on this record. --Bob Boilen
Flown
from The Magic Place
by Julianna Barwick
Biggest Surprise: Julianna Barwick makes these beautiful choral records where she loops the sound of her own voice and creates a little bit of a religious experience. Just a cathedral of sound. It's very mind-opening. --Stephen Thompson
Coney Island Winter
from King of In Between
by Garland Jeffreys
Biggest Surprise: This guy, 67 years old, was picked by Rolling Stone magazine as the best new artist in 1977. This record is as good a classic roots rock record as you're going to hear from anybody this year. And I don't care if Bruce Springsteen puts out a record this year; I'm standing by my statement. --Ann Powers
You can learn more about this release at Garland Jeffreys' website.
Bloom
from The King Of Limbs
by Radiohead
Best Album (So Far): Nobody makes records like Radiohead. [King of Limbs] is a true work of art. I think it's their best [album] since Kid A. Everything in Radiohead's world is off. They're never right in the center with anything. And it's so wildly experimental, but always accessible, tasteful and never contrived. --Robin Hilton
Bizness
from w h o k i l l
by tUnE-yArDs
Best Album (So Far): [Merrill Garbus] is political. She's blending African influences with funk and dub and hip-hop and indie rock, and she's saying a lot in these songs, even when you might not be able to catch the meaning right away. Mostly it's just joy. But it's the whole world in an exploding container. --Ann Powers
Civilian
Best Album (So Far): This record is about the pursuit of fitting into your own skin — the pursuit of normalcy in a way that the band equates with comfort. It's the pursuit of just being a person. --Stephen Thompson
Bubble
from Diamond Mine
by King Creosote & Jon Hopkins
Best Album (So Far): [King Creosote and Jon Hopkins] worked on this record together for seven years, so some of the songs are older and reworked. This has so much power to it. I'm curious whether this will hold to be my favorite album of 2011 by the end of the year, but it sure is the most beautiful thing I've heard this year. --Bob Boilen
Country Clutter
from The Unfazed
by Dolorean
Best Song (So Far): This is one of my favorite kiss-off/breakup songs that I've heard in a long, long time. There's a quiet defiance to this song that I love. It's the slowest-moving anthem of bummerocity. --Stephen Thompson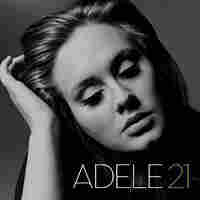 Someone Like You
Best Song (So Far): There's one story in pop music this year that doesn't start with a "G" and have another "G" and end with an "A," and that story is Adele. This is a career-making record. I think we have a singer for the ages in her. --Ann Powers
Helplessness Blues
from Helplessness Blues
by Fleet Foxes
Best Song (So Far): My 20s were just one long existential crisis, and this song is all about coming to the understanding that your life doesn't have to be remarkable to be fulfilling. You don't have to build a rocket ship and fly it to the moon or invent a cure for cancer to have a meaningful, important life. This song should be required listening for all twentysomethings who may be dealing with these same issues and questions. --Robin Hilton
Abducted
Best Song (So Far): This is creepy and beautiful. Cults have a passion for people like Jim Jones and Charles Manson, and many of the creeps of our culture, the scariest people of our culture who often say beautiful things. These are very happy, shiny tunes, but just listen to what they're about. --Bob Boilen