'Hell Of A Leader': Marines Remember Sgt. Garrison
'Hell Of A Leader': Marines Remember Sgt. Garrison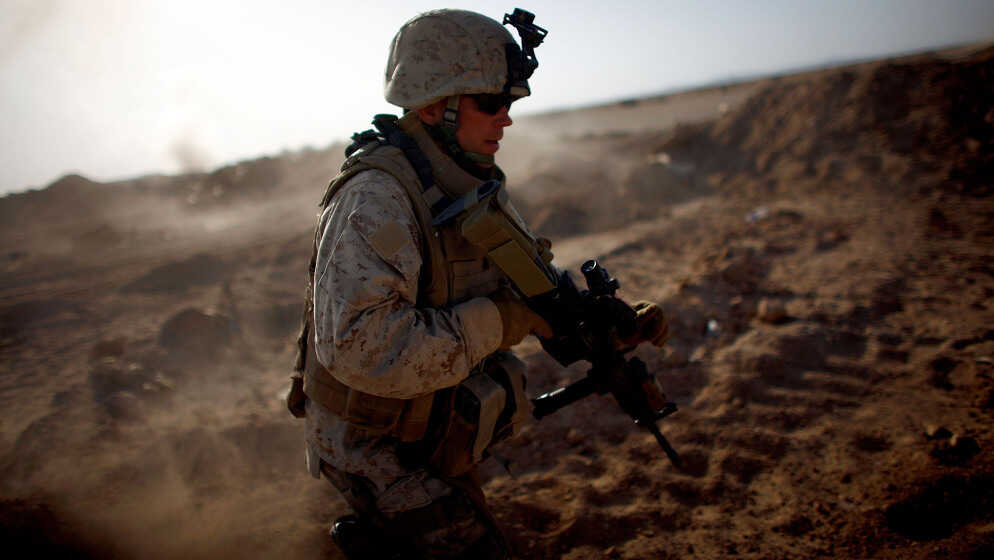 On Friday, Marines will gather to remember Sgt. Joseph Garrison at a small combat outpost in Afghanistan's Helmand province.
Garrison, 27, was killed earlier this month by a roadside bomb.
NPR talked with Garrison on an earlier deployment, when he was busy training Marines for an operation against Taliban forces in the Helmand River valley.
"We're brothers. We eat together, train together, sleep together," Garrison said two years ago. "And we'll die for each other."
'Hell Of A Leader'
When he was killed, Garrison was on his fourth combat tour in Afghanistan.
He planned on one day becoming a drill instructor, or maybe a Marine guard at an embassy. But that would have to wait. He was in Afghanistan. And he wanted to make sure his Marines were always ready for war.
"Our first firefight was with him and as soon as we started taking rounds, you couldn't tell he was nervous or anything," says Sgt. Dan Clift, who served under Garrison.
"He just snapped. He said, 'Hey, you guys need to get over there now.' And everyone did everything that we were supposed to and everything was fine," Clift says. "And he talked to us about it before — you know, 'Hey, this is what you guys can kind of expect, this is what might happen. This is what I need you guys to do, just follow my orders and you guys will be fine. And that's what we did. Like I said, he was a hell of a leader."
This was a guy who made himself a leader. Garrison grew up near Pittsburgh — a big hockey and football fan. He overcame a speech impediment.
"I always ragged on him about it, so I always called him like Joey G. Because he was always like, 'I'm Joey Garrison.' So I was always said, 'Aw, Joey G.,' " says Cpl. Sean Martin, who was in Garrison's squad.
His parents got divorced. In high school, his wrestling coach became something of a father figure.
Garrison was built for wrestling — short and stocky.
"It was always funny, though, because I'm 6 feet 4 inches and he was maybe 5 feet 3 inches, 5 feet 4 inches," Clift says. "He's pretty short. I would always tower over him, but I would follow him anywhere."
Garrison heard about the Marines and decided that was the only life for him. And it was in Afghanistan that he teamed up with Clift and Martin. Garrison always told his men to keep their cool and not become callous toward all Afghans.
"I just tell them, you know, everybody here is not bad," Garrison said two years ago. "You've got people that want us here that are good. You got the Taliban here that don't obviously want us here. And like I tell them, I said, 'As long as you do your job, and you do what you're supposed to do and what's right, we won't have a problem with anything.'"
Martin smiles when he's reminded of what Garrison had said.
"He told us that all the time," he says. "That these people, some of them are good. We just have to weed out the bad ones."
'A Standup Guy'
Garrison knew more than most that there were bad ones out there. And he knew about roadside bombs, the biggest killer of Americans. When a minesweeper detected a bomb beneath a dirt road, Garrison would run ahead to check things out.
Related NPR Stories
"He would tell him to back up, and he would get pretty much on all fours and wipe away the dirt," Martin says.
That's not what happened the day he died. Garrison didn't run forward that day to help clear the roadside bomb. In the end, it was just fate. He was part of a patrol walking alongside a high mud wall. The bomb just happened to detonate next to him.
Martin heard the explosion — and saw the plume of smoke that meant one more roadside bomb. He was part of the quick reaction force that rushed to help.
"I knew inside, something — I felt like I thought it was him. I didn't want it to be," Martin says. "Then whenever my squad leader came back from doing the linkup, he came over and told me it was Sgt. Garrison. And it hit pretty good. I'm going to miss him. He was just a standup guy who would help his Marines before himself any day of the week."
Clift was at the scene of the blast that day, too. He remembers a squad leader holding the bandanna that Garrison always wore.
"It put me on my knees," Clift says. "I couldn't believe he was gone."
Garrison described himself as a solitary man. When he talked with NPR back in 2009, he said he had no girlfriend back home, no fiancee.
"Growing up and everything, I was more like a loner," he says. "I worked on my own, did a lot of stuff on my own. I just kind of stayed that way."
But he didn't stay that way. Since that interview, Garrison had met Brittney Stephens, who worked at an on-base store at Camp Lejeune, N.C. They had planned to get married when he returned home.