African Dance Party: Celebrating A Continent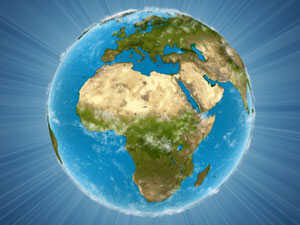 It's no surprise that Africa is home to loads of great party music, from ancient-style drum rallies to the latest hip-hop hybrids. The surest African spice for a summer party comes from the golden era of urban dance bands — roughly the '60s to the '90s — when guitars, horns and singers took center stage backed by powerful percussion and a giddy blend of indigenous roots and gleaming modernity. Of course, a key ingredient was also the feeling of hope and optimism that characterized the early decades of African independence.
These five songs will work within any summer party mix. All come from the now-vintage repertoire of Afropop legends, and all have stood the test of time and animated countless festive occasions around the world. They're presented here in sequence to match the phases of a good party, from greeting and eating to drinking and dancing. If you try them and want more, there are many a summer's worth of surefire party songs where these came from.
For more entries in this summer's weekly It's Time to Party: Summer Songs series, click here.
African Dance Party: Celebrating A Continent
Tekere
from Folon
by Salif Keita
The golden voice of Mali is sometimes associated with more serious, philosophical fare, but on the occasion of his return from Paris to Mali in the early '90s, Salif Keita penned this ode to celebration. "Tekere," which means "clap your hands," became a West African party stalwart and remains so today; it's been adapted and covered by countless bands. The song remains perfect for establishing a party vibe as guests arrive and greet.
Alimatou
from Francophonic
by Franco and le Tpok Jazz
For all its social and political woes, the Congo produced the most broadly popular dance music on the African continent from the 1950s until well into the '80s, and Luambo Makiadi (a.k.a. Franco, "the sorcerer of the guitar") led one of Kinshasa's most beloved and successful bands through that era. This late-'70s classic -- which tells the tale of a married woman involved in a secret affair -- begins as an easy rumba, and heats up to resemble the Congolese "soukous" sound that would soon power the dance floors of Africa. A good hint to any party's guests that dancing is in the offing.
Sungura
from Feet on Fire
by Orchestra Virunga
Samba Mapangala was among the Congolese emigrants who brought the Kinshasa sound to East Africa. At the time of this recording, his band was based in Nairobi, Kenya, and had just completed an exhaustive European tour. As inviting an African dance track as you're likely to find, this one unfolds like a flower. "Sungura" starts with restrained guitars and silky harmonized vocals, then lifts in stages as the guitars grow freer, the rhythm section more driving and the vocal hooks ever sweeter; as a capper, swinging horns send the groove to ecstatic heights. If your guests aren't dancing by now, it's time to crank the sound system and stiffen the punch.
Nyoka Musango [Enemy in the Jungle]
Nyoka Musango [Enemy in the Jungle]
from Long Walk
by Thomas Mapfumo
The champion of Zimbabwean "chimurenga" (struggle) music recorded this barn-burner in 1983, in the heady early days of his country's independence. Echoing a hunting song, the groove is fierce and fiery, powered by a funky guitar-and-bass lineup in Thomas Mapfumo's band, The Blacks Unlimited. This is a song to throw on when evening has fallen and the dance floor is rocking; it's guaranteed to send the night into overdrive.
Fight to Finish
from Shakara/London Scene
by Fela Kuti
There's no better way to reward the late shift than with a generous shot of Nigerian Afrobeat, a genre with roots in '70s funk and jazz as well as West African traditions. And there's no better artist to deliver that reward than the late Afrobeat creator and African music icon, Fela Kuti. In his mature phase, he favored long, unfolding, epic compositions. Relatively concise, "Fight to Finish" dates from the early days of Africa 70 -- perhaps the legend's funkiest band ever -- when the group traveled to London to record. "Fight to Finish" is chilled enough to tickle the ears of any immobile party denizens, but also punchy enough to keep things pumping on the dance floor.