Punch Brothers On Mountain Stage
Listen Now: Punch Brothers On Mountain Stage
Set List
"The Blind Leaving the Blind, 1st Mvt."
"Punch Bowl"
"It'll Happen"
"The Blind Leaving the Blind, 4th Mvt."
"Cazadero"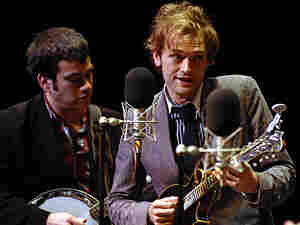 After the popular roots-pop trio Nickel Creek disbanded in 2006, mandolin virtuoso and songwriter Chris Thile set out to form a new group, now christened the Punch Brothers.
Featuring a who's-who of contemporary bluegrass players — fiddle player Gabe Witcher, banjo player Noam Pikelny, guitarist Chris Eldridge, bassist Greg Garrison — the band represents the newest of the new-grass brigade, updating the genre's instrumentation with a progressive mentality.
Selections from Thile's epic chamber work for bluegrass instruments — the four-movement, 40-minute "The Blind Leaving the Blind" — highlight this live performance from an episode of Mountain Stage recorded in May 2008. Also included here is "Punch Bowl" and "It'll Happen" from the group's official debut, Punch, and a tune from How to Grow a Woman from the Ground, a CD recorded by the same band under Chris Thile's name.
This segment originally ran July 21, 2008.