Modernizing Mexico For A Better 'Manana'
Modernizing Mexico For A Better 'Manana'
Monirul Bhuiyan/AFP/Getty Images
Former Mexican Foreign Minister Jorge Castaneda spends four months out of the year teaching in New York, and when he looks toward home his optimism mixes with worry.
In Manana Forever? Castaneda tries to encapsulate the paradoxes and promises of his country. He writes that Mexico will achieve the benefits of modernity "only if its soul ceases to be a burden for its people, if its character and culture become instruments of change, and no longer of immobility."
But that's not to say Mexicans haven't accomplished anything.
"Roughly since 1996," Castaneda tells NPR's Neal Conan, "economic stability — financial stability — has made it possible for the country now to become a majority middle-class society."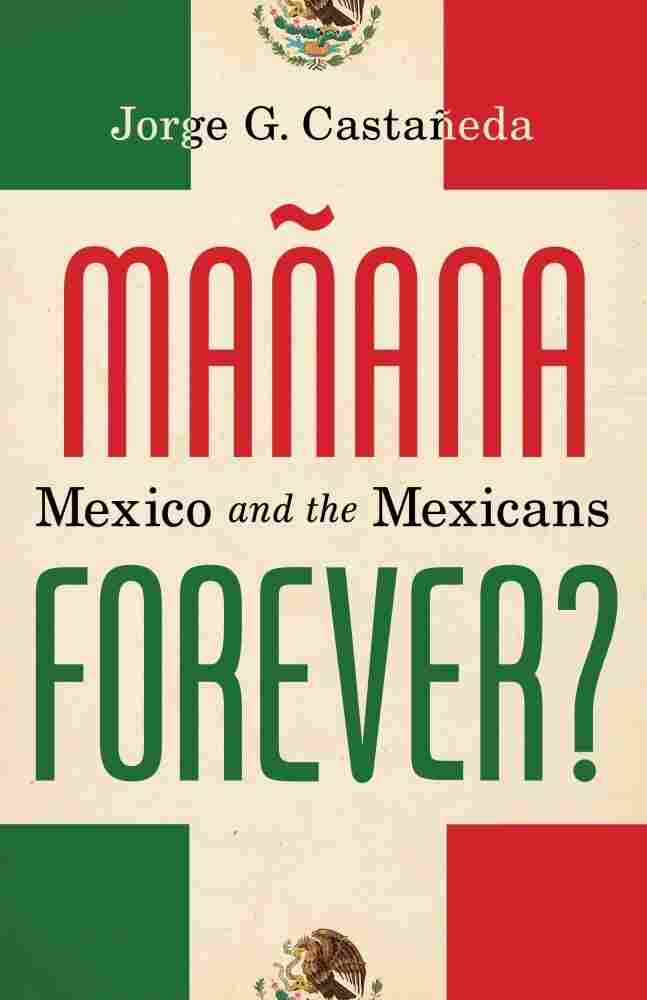 Manana Forever?: Mexico And The Mexicans
By Jorge G. Castaneda
Hardcover, 320 pages
Knopf
List Price: $27.95
That fact, he says, surprises many Americans — and many Mexicans too.
"We continue to have a very negative view of ourselves in Mexico," he says, "continuing to believe that this is a country of a few fabulously wealthy individuals and an enormous majority of poor people."
It may have been the case in the past, he says, but it's not the case anymore. According to Castaneda, today's large middle-class society has become incompatible with the radical, extreme Mexican individualism that helped the country weather five centuries of adversity.
Castaneda says that while the "rabid" individualism inherent in the Mexican psyche surprises many, there's a long list of ways in which that mentality manifests itself in Mexican culture.
"We have no class-action suits in Mexico," he points out. "We have no high-rise residential buildings in Mexico — poor, middle class or upper class, Mexicans don't like to live in common apartments. ... We're terrible at team sports. ... But we're good at individual sports. And perhaps most significantly, we participate less in all sorts of associative practices."
To put it simply: Mexicans don't choose to join groups. Castaneda says that's because, historically, the Mexican state imposed itself so overwhelmingly upon civil society that it was impossible for people to organize.
"So Mexicans began — from the very beginning, from the Conquest practically, when they weren't really Mexicans — to find individual solutions to collective problems," he says.
Take emigration as an example: "With the exception of El Salvador and Ecuador today, Mexico is the country in the world that has the largest share of its population living abroad," Castaneda says.
In other words, Mexicans prefer to find individual solutions to collective problems by leaving.
But individualism isn't Mexico's only problem. Mistrust of the government — which is connected to that individualism — is another factor. So when Mexican politicians do wrong, Castaneda says, the populace largely reacts with hands-off cynicism.
"Mexico's tremendous aversion to conflict and confrontation and competition," he says, "almost obliges Mexican society not to confront its politicians, not to confront its elites, not to confront its leaders, but simply put up with it."
He says institutional change has helped Mexico move toward modernity, in spite of its national character. "The advent of rotation in power since 1997 has made a huge difference in corruption at the federal level."
But changing attitudes at the bottom could do even more for eradicating corruption. It's a more obscure goal, but Castaneda says he thinks it's possible thanks to what he's learned about Mexican nationals who moved to the U.S. in the past 10 to 15 years.
"They do change," he says. "Not only do they change; they transmit their changes back home."
Thanks to that, attitudes and conceptions are slowly beginning to change in Mexico as well.
Excerpt: 'Manana Forever?'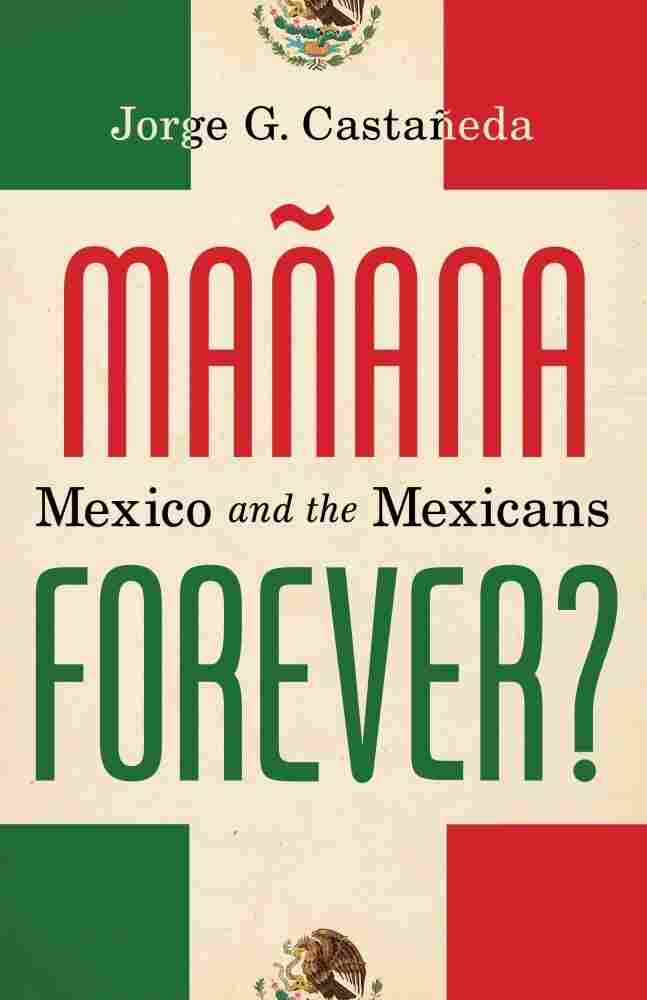 Manana Forever?: Mexico And The Mexicans
By Jorge G. Castaneda
Hardcover, 320 pages
Knopf
List Price: $27.95
H1N1
In April 2009 an outbreak of so-called swine flu or H1N1 occurred in Mexico, rapidly spreading to the United States and the rest of the world. By the time it was controlled and matters returned to relative normalcy, nearly one hundred people had died in Mexico (mostly in the capital), and somewhere around ten thousand cases had been detected across the globe, chiefly in the United States and Mexico. Subsequently the illness surfaced just about everywhere, though with a lower mortality rate. Mexican authorities were rightly praised for their epidemiological and medical handling of the crisis, by everyone from the World Health Organization to Barack Obama. One year later the WHO acknowledged it had exaggerated, and the Mexican government was moderately criticized for the type of measures it took, including trying to bring patient fever down even when many epidemiologists considered fever to be a form of defense against the illness.
But many in Mexico, and also abroad, wondered why, in two nations that are for practical purposes communicating vessels, that experience more than 1 million individual border crossings and 15,000 truck crossings every day, with 11 or 12 million Mexicans living in the United States and 1 million Americans residing in Mexico, did the illness generate such different consequences and policy responses by both countries? Why did Mexico shut all schools and universities for upwards of a week, lock down economic activities and commerce (including restaurants) in several large cities, cancel movies, concerts, soccer games, and virtually force the entire population to wear ineffective face masks, while Obama suggested people wash their hands, and went out to dinner with his wife and his VP for burgers? Why did nearly one hundred people die in Mexico during the first days, and only six (one of whom was Mexican) in the United States, with three times the population? Why did schools on the U.S. side of the border remain open, while those to the south were closed? Was the virus unable to cross the river, or climb over George W. Bush's wall?
There was, and still is, only one nonconspiratorial, sensible explanation for this gap. It lies in the Mexican health authorities' almost intuitive wisdom and accumulated experience, which led them, early on, to conclude that without raising the alarm decibels well above what the epidemic intrinsically merited, Mexicans would not pay attention. Why? Partly because of skepticism with regard to anything derived from government, but also because of a series of cultural, historical, enigmatic traits that many had already detected in local health habits. Self-medication is the most remarkable one — controlling for GDP per capita, Mexico is probably the most self-medicated society in the world. But others are nonexistent prescription drug regulations, indefinitely postponing a visit to the doctor, either because private ones are too expensive, or public ones require endless waits or are unavailable, or, more likely, because Mexicans don't like doctors and prefer resorting to traditional or homespun remedies dissonant from the country's educational and income levels. The government had no choice but to exaggerate the danger of H1N1; otherwise no one would have taken the matter seriously. It subsequently argued, perhaps with some hyperbole, that this "overreaction" saved thousands of lives; the authorities were nonetheless correct in assuming that this individualistic, incredulous attitude had to be factored into policy. It was, and it led to the accolades across the globe.
But it also led to an economic disaster. Mexico is a leading tourism destination. It receives nearly 20 million visitors per year (90% from the United States); the tourist industry is one of the economy's largest sources of hard currency, it is one of its largest employers (2.5 million jobs), and contributes a little less than 10% to GDP. The only "medical" way to manage the crisis was probably the one the government adopted, but economically the costs were staggering. In the months after the outbreak, cruise lines eliminated Mexican ports of call, U.S. airlines cut half of their routes, hotels suffered on occasion single-digit occupation rates, the entire world identified Mexico with "Mexican flu," hundreds of Mexicans were quarantined abroad, and the economy contracted 10% during the second quarter of 2009, partly as a result of far fewer working days, but also because of tourism shortfalls.
The authorities knew their people, and responded to an emergency in the light of the national character. That character proved costly and dysfunctional in this episode. The government didn't know, or didn't acknowledge, that this response would prove to be undoubtedly more onerous for the country than the epidemic itself. Had they toned down their reaction, and responded gradually, day by day, the pictures of thousands of Mexicans wearing face masks that circled the world would not have been taken, the damage to the country's reputation would have been smaller, and the economic cost might have been reduced. But most people would not have reacted in an orderly manner, and instead of one hundred dead, there might have been two or three hundred, or more. Given the hand it was dealt, the government did the right thing: the problem was the hand, and that is what this book is about.
Excerpted from Manana Forever? by Jorge G. Castaneda. Copyright 2011 by Jorge G. Castaneda. Excerpted by permission of Knopf, a division of Random House, Inc. All rights reserved.

Books Featured In This Story
Manana Forever?
Mexico and the Mexicans
Hardcover, 293 pages |
purchase
Buy Featured Book
Title

Manana Forever?

Subtitle

Mexico and the Mexicans

Author

Jorge G. Castaneda
Your purchase helps support NPR programming. How?