Love, Betrayal, Humiliation: A Coming-Of-Age Affair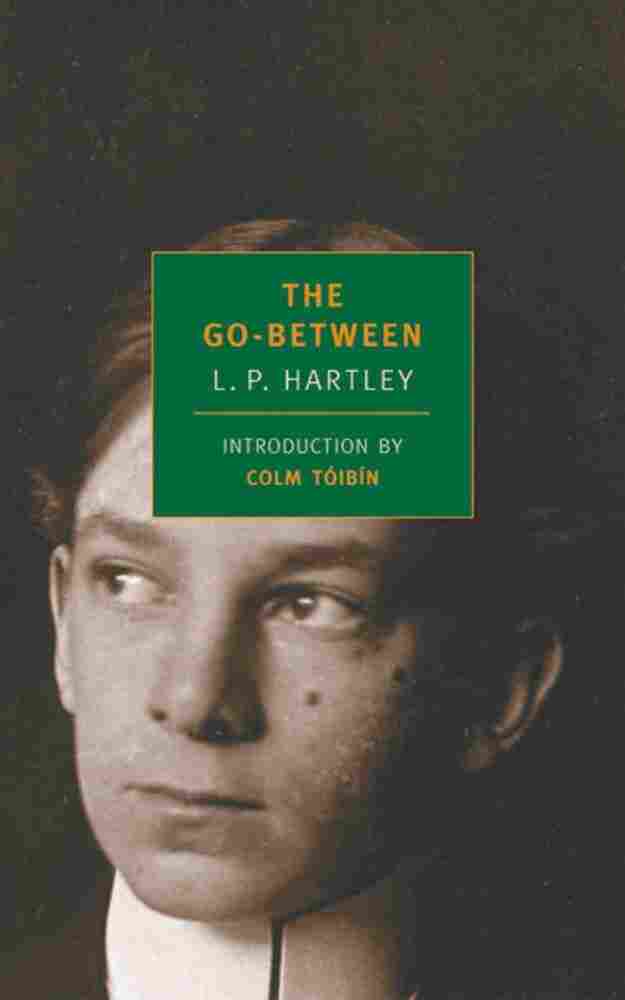 The Go-Between
By L.P. Hartley
Paperback, 401 pages
New York Review Books Classics
List Price: $15.95
"The past is a foreign country: they do things differently there."
That is the famous first line of the Go-Between by L.P. Hartley. The first time I read it, it cleared a haunting little spot in my memory, sort of like an embassy to my own foreign country.
The book was published in 1953, though it reads more like a Victorian novel than a modern one. When we first meet Leo Colston, he is a man in his mid-60s, discovering a diary he kept the cataclysmic summer he turned 13. Though he claims complete disconnection from the memory, the journal transports him, and as our narrator, he recounts that hot season with immense feeling and fullness.
It was the summer of 1900 when Leo, the impoverished only child of a widowed mother, went to stay with the rich family of a school friend. And it was at their rented country estate, Brandham, where he became enthralled with his friend's older sister Marian, who was engaged to Viscount Trimingham, the likable lord of Brandham, a man of "stable nature" who was disfigured in the Boer War.
But when Marian engages young Leo as her messenger to fix assignations with her true lover, the tempestuous Ted, a robust but lowly farmer, Leo ends up walking miles in the heat carrying their letters and wearing away his innocence. Eager to be needed, Leo guilelessly works his way to the center of the scandalous affair and the betrayal of an honorable man. I don't want to spoil the suspense of a well-made plot, because you must read this, but let's just say it goes really badly and the messenger (shockingly) gets blamed. Or he blames himself anyway. And here the mirror cracks; the boy who leaves Brandham is not the one who came. Indeed the narrator converses with his old self as though he were two people. That was the powerful gonging left by my first read: What, if anything, bundles us through time into a single person?
The epilogue brings us back to present Leo in his 60s returning to a Norfolk he can barely recognize. "The angle of vision makes a difference: I was a foot taller than when I had seen it last," he remembers. There he finds some version of the old players: Marian the dowager viscountess, living by the river in a modest house nobody visits, and her estranged grandson, also vanquished by the past. When Grandson asks if there had been a telephone at Brandham in Leo's time, Leo replies "It might have made a great difference if there had been."
When I read the book again many years later, my angle of vision made a difference. The voice of Leo's boyhood self, the mood of his memory, is so richly persuasive I end up with an impression that is perhaps the opposite of everything the narrator claims. His is not an identity cracked in two, but a remarkably continuous one. If anything he remains exactly that boy, stunted and fixed. If the past is a foreign country, Leo never left it. He's still living there, speaking the language quite fluently, and that's how he evokes it for us so beautifully.
You Must Read This is produced and edited by Ellen Silva with production assistance from Rose Friedman and Lacey Mason.
Excerpt: 'The Go-Between'
The Go-Between
By L.P. Hartley
Paperback, 401 pages
New York Review Books Classics
List Price: $15.95
Prologue
The past is a foreign country: they do things differently there.
When I came upon the diary, it was lying at the bottom of a rather battered red cardboard collar-box, in which as a small boy I kept my Eton collars. Someone, probably my mother, had filled it with treasures dating from those days. There were two dry, empty sea-urchins; two rusty magnets, a large one and a small one, which had almost lost their magnetism; some negatives rolled up in a tight coil; some stumps of sealingwax; a small combination lock with three rows of letters; a twist of very fine whipcord; and one or two ambiguous objects, pieces of things, of which the use was not at once apparent: I could not even tell what they had belonged to. The relics were not exactly dirty nor were they quite clean, they had the patina of age; and as I handled them, for the first time for over fifty years, a recollection of what each had meant to me came back, faint as the magnets' power to draw, but as perceptible. Something came and went between us: the intimate pleasure of recognition, the almost mystical thrill of early ownership — feelings of which, at sixty-odd, I felt ashamed.
It was a roll-call in reverse; the children of the past announced their names, and I said "Here." Only the diary refused to disclose its identity.
My first impression was that it was a present someone had brought me from abroad. The shape, the lettering, the purple limp leather curling upwards at the corners, gave it a foreign look; and it had, I could see, gold edges. Of all the exhibits it was the only one that might have been expensive. I must have treasured it; why, then, could I not give it a context?
I did not want to touch it and told myself that this was because it challenged my memory; I was proud of my memory and disliked having it prompted. So I sat staring at the diary, as at a blank space in a crossword puzzle. Still no light came, and suddenly I took the combination lock and began to finger it, for I remembered how, at school, I could always open it by the sense of touch when someone else had set the combination. It was one of my show-pieces and, when I first mastered it, drew some applause, for I declared that to do it I had to put myself into a trance; and this was not quite a lie, for I did deliberately empty my mind and let my fingers work without direction. To heighten the effect, however, I would close my eyes and sway gently to and fro, until the effort of keeping my consciousness at a low ebb almost exhausted me; and this I found myself instinctively doing now, as to an audience. After a timeless interval I heard the tiny click and felt the sides of the lock relax and draw apart; and at the same moment, as if by some sympathetic loosening in my mind, the secret of the diary flashed upon me.
Yet even then I did not want to touch it; indeed my unwillingness increased, for now I knew why I distrusted it. I looked away and it seemed to me that every object in the room exhaled the diary's enervating power and spoke its message of disappointment and defeat. And as if that was not enough, the voices reproached me with not having had the grit to overcome them. Under this twofold assault I sat staring at the bulging envelopes around me, the stacks of papers tied up with red tape — the task of sorting which I had set myself for winter evenings, and of which the red collar-box had been almost the first item; and I felt, with a bitter blend of self-pity and self-reproach, that had it not been for the diary, or what the diary stood for, everything would be different. I should not be sitting in this drab, flowerless room, where the curtains were not even drawn to hide the cold rain beating on the windows, or contemplating the accumulation of the past and the duty it imposed on me to sort it out. I should be sitting in another room, rainbow-hued, looking not into the past but into the future; and I should not be sitting alone.
So I told myself, and with a gesture born of will, as most of my acts were, not inclination, I took the diary out of the box and opened it.
DIARY
FOR THE YEAR
1900
it said in a copperplate script unlike the lettering of today; and round the year thus confidently heralded, the first year of the century, winged with hope, clustered the signs of the zodiac, each somehow contriving to suggest a plenitude of life and power, each glorious, though differing from the others in glory. How well I remembered them, their shapes and attitudes! And I remembered too, though it was no longer potent for me, the magic with which they were then invested, and the tingling sense of coming fruition they conveyed — the lowly creatures no less than the exalted ones.
The Fishes sported deliciously, as though there were no such things as nets and hooks; the Crab had a twinkle in its eye, as though it was well aware of its odd appearance and thoroughly enjoyed the joke; and even the Scorpion carried its terrible pincers with a gay, heraldic air, as though its deadly intentions existed only in legend. The Ram, the Bull, and the Lion epitomized imperious manhood; they were what we all thought we had it in us to be; careless, noble, self-sufficient, they ruled their months with sovereign sway. As for the Virgin, the one distinctively female figure in the galaxy, I can scarcely say what she meant to me. She was dressed adequately, but only in the coils and sweeps of her long hair; and I doubt whether the school authorities, had they known about her, would have approved the hours of dalliance my thoughts spent with her, though these, I think, were innocent enough. She was, to me, the key to the whole pattern, the climax, the coping-stone, the goddess — for my imagination was then, though it is no longer, passionately hierarchical; it envisaged things in an ascending scale, circle on circle, tier on tier, and the annual, mechanical revolution of the months did not disturb this notion. I knew that the year must return to winter and begin again; but to my apprehensions the zodiacal company were subject to no such limitations: they soared in an ascending spiral towards infinity.
Excerpted from The Go-Between by L. P. Hartley. Copyright 1953 by L. P. Hartley. Excerpted by permission of The New York Review of Books. All rights reserved.
Books Featured In This Story
Paperback, 326 pages |
purchase
Buy Featured Book
Title

The Go-Between

Author

L. P. Hartley and Colm Toibin
Your purchase helps support NPR programming. How?