The 'Country Lawyer' Shaping Campaign Finance Law
The 'Country Lawyer' Shaping Campaign Finance Law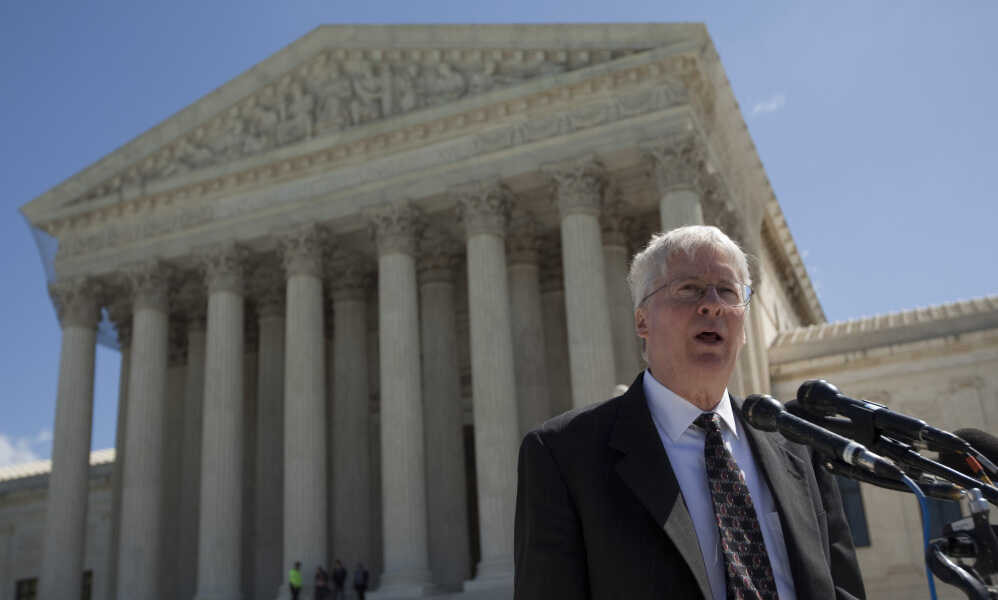 A new loophole is being pried open in the campaign finance rules. It would enable federal candidates to once again solicit corporate money to finance organizations that promise to help them get elected.
The idea comes from a lawyer who has done more than anyone else over the years to upset the status quo in America's political money laws — James Bopp Jr., of Terre Haute, Ind.
Bopp brought the Citizens United v. FEC case and breached the wall between corporate money and partisan politics; he unraveled major provisions of the McCain-Feingold law; he has helped to make state judicial elections more expensive; he's fighting to undo mandatory disclosure of donors; and now, he says he's found a way for federal candidates to ask corporations for cash.
Bopp parsed two court rulings, one of them on a case he brought. By his reading, and contrary to past law, it's OK for a federal candidate to call up a CEO and make the ask. "I can read the law," he says, "and I felt confident that what we were doing was well within the strictures of the law."
Within the law, because the ask wouldn't be for the candidate's own campaign committee — it would be on behalf of an independent group called a superPAC, which would then spend the money in support of the candidate.
"The candidate is soliciting — saying this is a good bunch of people, they do independent expenditures, so I have no involvement in how they spend the money," Bopp says. "But they are willing to spend the money to help me if you'll make the contribution and earmark the contribution."
Bopp has organized a superPAC to use money raised this way. He scoffs at Democrats who want to do it too but are waiting for an all-clear from the Federal Election Commission.
"They want to get the FEC's permission," he says, "as if you go to Daddy and ask for permission."
Back Home In Terre Haute
Bopp has made his career challenging the campaign finance laws. His basic argument: First, the First Amendment says political speech shouldn't be regulated; second, the Supreme Court says political money is speech; and third, the very complexity of campaign finance law stifles free speech.
As he put it back in 2003, when the Supreme Court upheld McCain-Feingold: "People in Iraq now have more freedom than people in America about their government."
Jim Bopp's Hot 9
Top cases from his docket of challenges to campaign finance laws
| Case | Year | Outcome | Significance |
| --- | --- | --- | --- |
| Minnesota Citizens Concerned for Life v. Swanson | 2011 | Bopp argues that Minnesota cannot ban corporate political contributions or require disclosure of independent expenditures. | Being argued in lower courts; would let candidates raise corporate money, allow undisclosed political spending by corporations. |
| Doe #1 v. Reed | 2010 | Supreme Court upheld Washington state law requiring disclosure of petitioners for anti-gay-marriage ballot question. | Despite losing this broad challenge to disclosure, Bopp has narrower anti-disclosure cases pending in lower courts. |
| Citizens United v. FEC | 2010 | Supreme Court overturned century-old understanding that corporations and unions could not directly promote or attack candidates. | First major loophole in the ban on corporate money in partisan politics. |
| Leake v. North Carolina Right To Life | 2008 | Appeals court struck down contribution limits for advocacy groups that spend independently on political activity but don't give money to candidates or party committees. | With another appeals court case, laid foundation for superPACs, which raise unregulated money from corporations, unions, wealthy donors. |
| Randall v. Sorrell | 2006 | Supreme Court ruled that Vermont cannot set contribution limits so low that candidates are unable to finance viable campaigns. | Ended a short-lived trend by good-government advocates to lower ceiling on contributions. |
| FEC v. Wisconsin Right to Life | 2006, 2007 | Supreme Court gutted key provision of McCain-Feingold law, which barred corporate funding for campaign season ads that promote or attack candidates. | Provision was one of two central elements of McCain-Feingold. |
| McConnell v. FEC | 2003 | Supreme Court upheld McCain-Feingold law, which bars federal candidates and party committees from soliciting or using "soft money" from corporations, unions and the wealthy, and which limited corporate and union funding for ads identifying candidates. | Decision was the high-water mark for campaign finance laws. |
| FEC v. Beaumont | 2003 | Supreme Court upheld the 1907 ban on corporate contributions to candidates. | In wake of Citizens United, this precedent is now considered vulnerable to a new challenge. |
| Dimick v. Republican Party of Minnesota; Republican Party of Minnesota v. White | 2006, 2002 | Supreme Court overturned typical state restrictions on judicial elections, rules that candidates can solicit contributions, run using party labels, opine on upcoming court cases. | Instrumental in changing state judicial elections from staid affairs into costly, partisan contests. |
Bopp was more relaxed recently during a break at a conservative conference in McLean, Va.
"You have to hire a big-time Washington lawyer, or a big-time Terre Haute lawyer, and spend a whole bunch of money to find out whether or not the government's going to give you permission to talk about the government," he says.
And that's the thing about Bopp. He looms tall, and slightly shaggy, over Washington — but he's not a creature of it. The Bopp law firm — just 10 lawyers and a nonprofit group — are in Terre Haute, where he and his wife grew up.
He says his first national client, in 1978, was the National Right to Life Committee. He was about 30 then and started handling campaign finance issues with right-to-life groups as his plaintiffs. Now he has dozens of clients across the conservative landscape.
He's also on the Republican National Committee and is prominent in the Federalist Society, an incubator for conservative legal ideas. Yet he never moved to D.C. He and his wife once considered it, though.
"We had three young daughters," he says, "and we wanted to have a relatively conservative place for them to grow up."
The New Wild West
"From the moment I met him, I always thought he was underestimated, you know, kind of a country lawyer from Terre Haute," says Laura Murphy, the Washington director of the American Civil Liberties Union.
Related NPR Stories
Murphy says she has deep concerns about Bopp's analysis of campaign finance law, although they worked together against McCain-Feingold.
"He has said he admires the strategy behind Brown v. Board of Education," she adds. That's the strategy that brought down school segregation.
Here's how Bopp applies that strategy to attack the century-old ban on corporate contributions to candidates: He has four challenges in play around the country. He expects trial and appellate judges will start making conflicting rulings, and then the Supreme Court will have to act.
Critics say that Bopp and his allies have turned campaign finance law into the Wild West, "where things nobody thought were legal a few years ago are being tried out," says Michael Waldman, director of the Brennan Center for Justice, one of several organizations that defend the campaign finance laws.
Waldman admits that Bopp has had a long-term plan, and his side does not. "Those who want strong laws are finally beginning a long-term rethink and a long-term drive," he says. "But it'll take time."
Meanwhile, for Bopp, it's just supply and demand. Washington regulates businesses, and business people want to influence Washington. Says Bopp: "They're not going to just put their money in their pocket and go home."