A Squash's Journey: From The Shelf To The Hungry
A Squash's Journey: From The Shelf To The Hungry
Americans waste an estimated 150 billion pounds of food a year. A lot of it comes from supermarkets and other retailers.
Food banks increasingly are trying to get their hands on some of that food to help feed the hungry.
The big challenge is time. It's a race to get the groceries off the shelves and into the mouths of those who need it before it spoils.
In an ambitious undertaking, Walmart and Feeding America, the nation's food bank network, are trying to make the system work. Walmart last year pledged to donate $2 billion in food and other aid to food banks over five years, the largest donation of its kind.
NPR decided to see how the system is working so far, by following some of the food — from the store shelf to a recipient's home. We chose an ear of corn and some yellow squash.
The corn was cooked and eaten by Steven White at the Salvation Army in Johnson City, Tenn. He not only cooks there but also lives at the shelter. Both he and his wife lost their jobs, then their home.
The squash was used by Cindy Tipton, a retired nurse who lives in nearby Jonesborough. She put it in a vegetable casserole. Tipton is on a fixed income. She says the local food pantry helps her to make ends meet.
White and Tipton are among tens of millions of Americans who need help getting enough to eat. But just how do they get it?
Identifying Food For Donations

In this case, the process began about 48 hours earlier — at around 2 p.m. on a Tuesday afternoon — at the Walmart Supercenter in Johnson City. Supervisor Brittany Levasseur and an associate are in the meat department tossing packages onto a cart, part of a daily ritual at the store.
"This is actually sirloin tip steak. And as you can see, it's still pretty. It's red," says Levasseur, holding up one of the packages. "There's nothing wrong."
But the label says the meat should be used or frozen by today. It was marked down earlier in the day.
"And it hasn't sold," Levasseur says. "So what we will do, we will pull it off the floor, put it in a special box that we have, and put it in the freezer." The meat will stay there until the local food bank picks it up the next day.
Two-day-old bread and other baked goods are also removed from the shelves by day's end, and frozen.
At 6 a.m. the following day, store manager Emily Bowman does the same thing in the produce department. She removes all packaged goods that are dated today and checks out the fresh fruits and vegetables. Some yellow squash with brown spots on the skin catches her eye.
"It's still very flexible. It still has a good texture to it, but it's not quite as eye-appealing to someone that is looking to get it at its peak," she says, adding that customers have certain expectations about how food should look.
She takes 40 or so yellow squash off the shelves, and puts them on a donation cart. She does the same with dozens of ears of corn, which are starting to brown.
"There's nothing wrong with the corn itself," Bowman says. "When you pull back the husk, the corn inside is still beautiful, but because the outside's a little dry, we'll be pulling this."
A Godsend For The Food Bank

Not long ago, Walmart, like many stores, would have tossed this food away, or recycled it for compost or animal feed. But last year the company decided it made more sense to give it to food banks — and maybe polish its corporate image in the process.
At 11 a.m. Wednesday, a truck from the local food bank arrives at the back of the Walmart store, as it does three times a week.
For the Second Harvest Food Bank of Northeast Tennessee, this arrangement has been a godsend. Surplus food isn't as plentiful as it used to be, especially as manufacturers become more efficient with inventory. There are also new discount stores that sell damaged boxes and cans of food, which used to end up at food banks.
Store workers have brought about two dozen boxes to the loading dock, including 102 pounds of meat and 330 pounds of produce. The corn and yellow squash are among the donations.
This is a lot of fresh and frozen food — more than many food banks are used to handling. The big challenge was figuring out how to transport it safely. So as part of the deal, Walmart gave the Feeding America network 100 refrigerated trucks, like the one used by Second Harvest of Northeast Tennessee.
Walmart is the food bank's biggest donor, but not its only one. The Second Harvest truck picks up more donations from a local doughnut shop and an organic grocery store before arriving at the food bank warehouse at noon.
The Challenge: To Get The Food Out, Fast
Michael Ledford of Second Harvest says the donations are first sorted.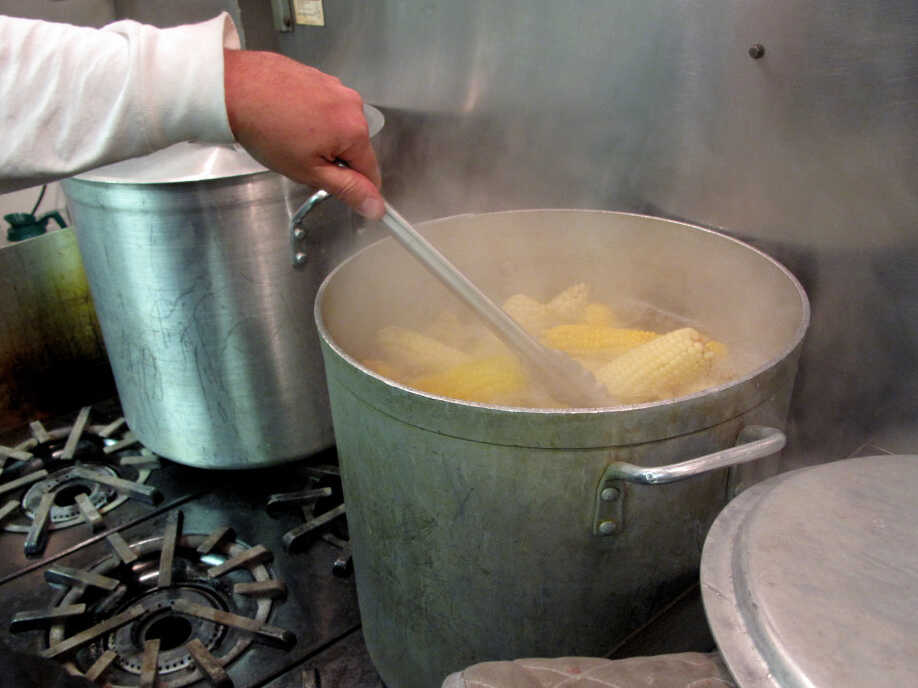 "Any of the dry items, canned goods and things like that that may be leaking, or anything like that or dented, that need inspection go in here," he says, pointing to a side room filled with cans.
The meat goes right into a freezer, where it can be kept for days. The corn and squash end up in a huge walk-in cooler, with other produce, baked goods and dairy products.
The food bank's next challenge is getting all these perishables out the door fast, while they're still good.
At 1 p.m. Wednesday, Scotty Blevins, who runs the Salvation Army shelter program, arrives. When Second Harvest gets a big supply of fresh produce it often calls some of the 200 local agencies it supplies to come get some.
This food bank serves about 33,000 people a month. The number has grown from 25,000 five years ago, and demand is expected to continue growing.
Blevins is happy to see the fresh corn — a rare treat. He and his head cook decide to take two cases, each holding about 100 ears.
"That should do us at least two meals," Blevins says.
While they're at the food bank, they pick up other items for that evening's dinner, and the next day's breakfast, for a nominal fee.
"Nine dollars and 40 cents for six cases of food — two cases of corn, two cases of fruit and two cases of bread and desserts," says Blevins.
Three hours later, at the Salvation Army's soup kitchen, the bread is in the oven, the corn is in the pot.
Steven White removes an ear of corn from the boiling water to test it. He takes a big bite.
"Mmmmm, this is awesome, and it's perfect," he says.
By 5 p.m. Wednesday, the Salvation Army dining room is full. It's about 24 hours since the baked goods were taken off the shelves at Walmart; 11 hours for the corn. Several dozen men and women — most of them homeless — are handed plates piled high with pork patties, pinto beans, mixed greens, bread and corn.
By 5:30, dinner is done.
But the food bank is not. There's still produce left — including that brown-speckled squash.
The Mobile Pantry Serves Grateful People

The following morning, Second Harvest workers load up the food bank's mobile pantry with fruits and vegetables, milk, baked goods and canned food. This is rural Tennessee. Many people can't get to a soup kitchen or pantry, so the food bank increasingly brings food to them.
At 1:30 Thursday afternoon, about 50 men and women are lined up in a parking lot in the small town of Chuckey. Most of these people are elderly. They hold boxes and plastic laundry baskets to carry their food home.
Cindy Tipton — the retired nurse — is here with two of her friends. They're all on fixed incomes. Widow Virginia Roper says last month she ran out of money.
"I didn't have anything to drink and no milk and I had to just wait," Roper says. "And now I've got a gallon of milk!"
These women are grateful for whatever help they can get.
"If you have to spend money on groceries, then you don't have the money to pay the electric bill, or the house payment," Tipton says.
She walks past tables covered in food and picks out some corn muffins, milk, canned food and vegetables, including a yellow squash. Tipton struggles to carry her basket filled with food.
Back at her trailer, she fries up the vegetables. The squash is white and perfect under those brown spots.
Tipton pours the vegetables and batter into a pan. And an hour later, she pulls a cornbread casserole out of the oven.
It's 4 p.m. Thursday — two days after Walmart began pulling items off its shelves — when Tipton takes her first bite.
"It's hot," she says as she laughs. She'll save the rest until later, and probably give some to a neighbor, who takes care of her yard.
In a half-hour, it will be dinnertime again at the Salvation Army. The next day, the food bank will be back at Walmart and other local stores to pick up more food. And the process will begin again.