Korean Kalbi (Butterflied Sesame-Grilled Beef Short Ribs)
The nuttiness that comes from sesame seeds and sesame oil is one of the distinguishing characteristics of Korean barbecue, says expert Steven Raichlen. Serve with kimchi, mung bean sprout salad and other Korean accompaniments purchased at an Asian market. This recipe is adapted from Raichlen's book Planet Barbecue (Workman Publishing 2010).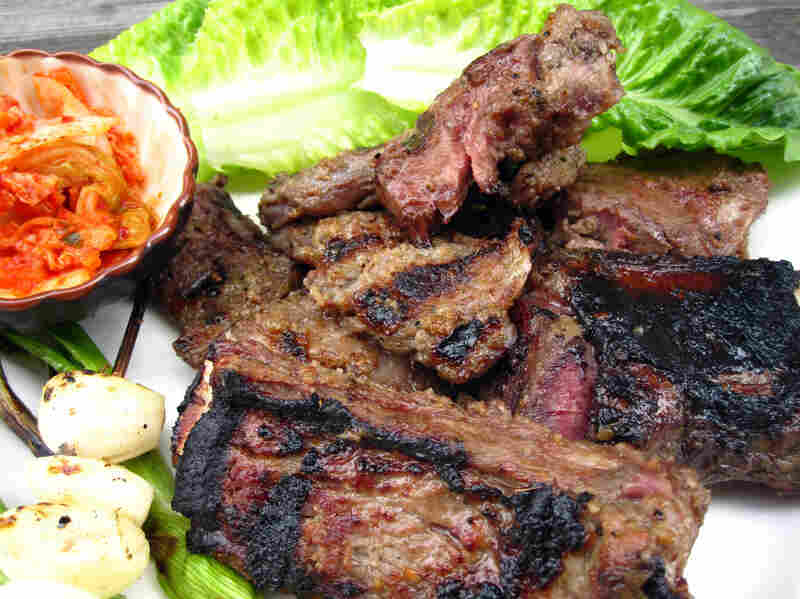 Makes 4 servings
1 small Asian pear, peeled and seeded, or 1/2 cup pear nectar
3 cloves garlic, coarsely chopped, plus 8 cloves garlic, peeled and skewered on toothpicks
1 tablespoon finely chopped peeled fresh ginger
1 tablespoon toasted sesame seeds, plus 1 tablespoon for garnish
2 tablespoons brown sugar
2 teaspoons coarse salt
1/2 teaspoon freshly ground black pepper
1 teaspoon Asian (dark) sesame oil
2 pounds beef short ribs, butterflied and cut into 2-inch lengths
1 bunch scallions, white and green parts, trimmed
1 head romaine lettuce, washed and separated into individual leaves
Kochujang (Korean chili paste), Sriracha or other hot pepper paste
Puree the Asian pear, chopped garlic, ginger, 1 tablespoon of sesame seeds, sugar, salt and pepper in a food processor. Add sesame oil and blend.
To butterfly the short ribs:
Think of this as unrolling a carpet. Hold the rib with the short end of the bone facing you. Using a small, sharp knife, cut the meat away from the top of the bone, but do not detach the meat from the bone. Cut only to the very edge. Fold back the meat flap. Cut through the meat flap about 2/3 of the way down its thickness, stopping just at the edge (again, do not detach the meat). Fold back that flap. Continue doing this until you have a long strip of meat with the bone at one end. You could also ask the butcher to do this for you.
Score the meat with a sharp knife with 1/8-inch deep cuts. Arrange the butterflied ribs in a single layer in a nonreactive baking pan. Pour the pear marinade over the ribs, turning them to coat both sides. Let the ribs marinate in the refrigerator, covered, for 4 hours.
When ready to cook, preheat the grill to high. Scrub the grate clean, and then oil it. Drain the ribs, discarding the marinade. Lay them on the grill, along with the skewered garlic and scallions. Cook each item 2 to 4 minutes per side, until all are browned.
Transfer the ribs to a warm platter and use kitchen shears to cut into bite-sized pieces. Cut the garlic cloves in half. Cut the scallions into 1-inch pieces.
To eat the kalbi, spread a lettuce leaf with the chili paste. Place beef, garlic and scallion on the leaf. Roll it up and eat.