Thousands Strike In Britain As EU Debt Crisis Festers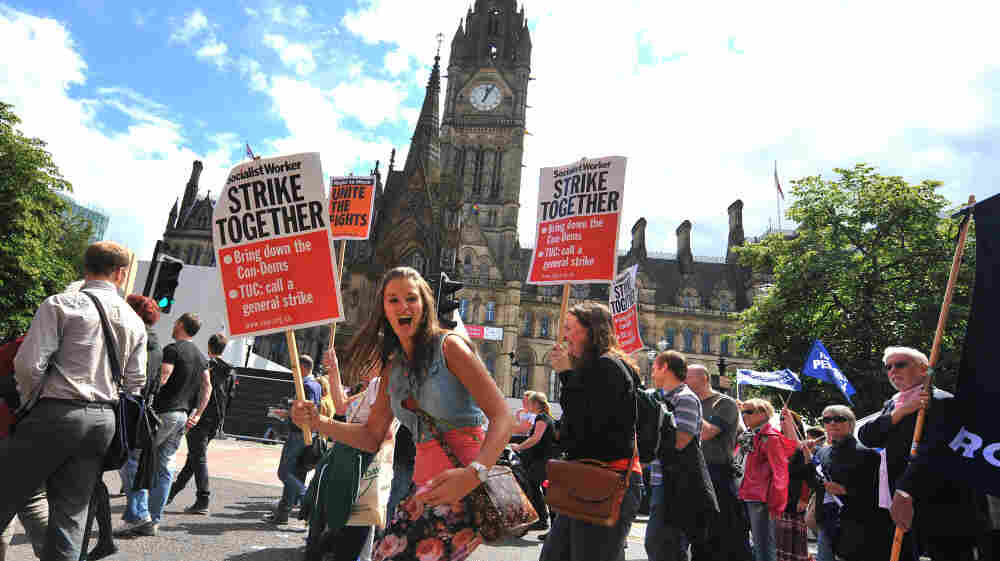 Thousands of British teachers and civil servants walked off the job for a day Thursday in the latest in a series of protests sweeping Europe over the imposition of tough austerity measures aimed at controlling debt and spending.
The demonstrations unfolded as Greece passed a second and final austerity bill and debt-saddled Italy and Portugal announced austerity measures of their own. The financial straits have led to a crisis of confidence and gloomy debates over whether the European Union even has a long-term future.
In Britain, as many as three-quarters of a million people were expected to turn out Thursday in a show of anger over cuts to their pensions, disrupting courthouses, tax offices and employment centers, as well as schools.
Thousands of union members were marching through London and other cities, brandishing banners and bringing traffic to a standstill, to demand that the government rethink its plans to curb public sector benefits.
One of the four unions leading the demonstrations is more than 120 years old — and has never before been on strike. Thursday's walkouts were the first salvo in what unions hope will be a summer of discontent against the Conservative-led government's austerity plans.
U.K. Prime Minister David Cameron's office said at least a quarter of schools in England and Wales were closed as a result of the strikes, and about an additional 22 percent were partially shut.
The government said job centers, courts and government call centers were all operating as normal and that "less than half" of civil servants in the striking unions had stayed away.
Related NPR Stories
No Easy Way Out For Europe
Britain, much like other European nations, has enacted painful cuts to tackle a big budget deficit following the global financial crisis several years ago.
Greece, Ireland and Portugal have already had to seek bailout funding, and Spain and Belgium are considered at risk because of their high ratio of debt to GDP.
The head of the European Central Bank, Jean-Claude Trichet, criticized those eurozone governments that haven't yet been scared into making tough financial decisions.
"The current major challenges faced by a few euro-area countries are mainly the result of some governments not conducting sound policies and not implementing reforms that would benefit their citizens and the European public as a whole," Trichet said.
Greece, which is in danger of defaulting next month, gained time Thursday after lawmakers approved legislation essential for the release of crucial bailout funds.
The European Union and International Monetary Fund had demanded that Athens pass two bills — an austerity law and a second bill detailing how it will be implemented — by June 30 before they approve a $17.3 billion installment in a $159 billion bailout package.
Greece's Parliament passed the second law by 155 votes to 136 Thursday, a day after approving the main austerity bill in a vote held as rioters clashed with police outside parliament in a second day of violence.
More than 300 people were injured in two days of mayhem in central Athens, which saw rioters pelting police with anything they could find, and police responding with a barrage of stun grenades and tear gas that still lingered in the city's central square Thursday morning.
Windows at cafes and shops were smashed, and a post office on the ground floor of the finance ministry building was torched. Burning barricades set up across central streets smoldered into the early hours Thursday.
Across the Ionian Sea, Italian lawmakers were planning a $68 billion austerity sweep to show financial markets and the EU that it is serious about balancing its budget. The three-year plan was to be announced Thursday by Finance Minister Giulio Tremonti and reportedly aims to bring the government's budget deficit of 3.9 percent this year to near balance by 2014.
Ratings agencies have recently issued worrisome reports about Italy's low growth and public debt, which, at around 120 percent of its GDP, is one of the highest in Europe.
In Portugal, Prime Minister Pedro Passos Coelho announced a new batch of austerity measures that included an additional tax on private income. The country's high debt load and frail economy have alarmed investors who have demanded unsustainably high returns for loans, forcing the country to take a $113 billion international bailout this year.
"The state of public finances obliges me to ask for more sacrifices," Passos Coelho said in a speech to Parliament.
Is The EU On Its Way Out?
Europe's economic upheaval is proving painful, and faith in the concept of a unified Europe is fading. While there has long been a rolling debate about Europe's future, it now centers less on building unifying institutions and more on whether the EU can ultimately survive.
Sir Stephen Wall, considered one of Britain's most influential pro-European diplomats, said the EU may have seen its best days.
"Very few political institutions last forever, and you know we shouldn't therefore be too gloomy if we think that maybe, you know, in 40 years' time, this one will be on its way out," Wall told NPR.
"That doesn't mean the European Union is going to collapse, but I think we're likely to see, unless there is a dramatic leap forward on the euro, a decline both in our internal coherence and in our relative weight in the world."
Even so, there are still a few optimists about the EU's future.
Former British parliamentarian David Marquand, who has written widely on Europe, said he has hope "because I think now it's gone so far that I just don't think it can unravel."
Yet Marquand acknowledges that the eurozone sovereign debt crisis is serious.
"If that crisis is not resolved, then there could indeed be a disastrous backlash for the whole project of European Union," he said. "But I think for that very reason, the governments involved will in the end realize they have to make fundamental changes in order to keep it alive."
With reporting from NPR's Philip Reeves in London and Teri Schultz in Brussels, Belgium. Material from The Associated Press was used in this story.