First Listen: YACHT, 'Shangri-La'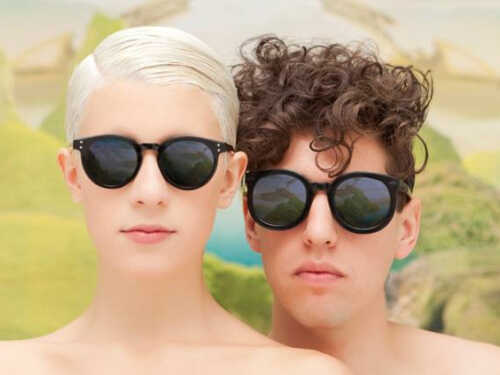 Audio for this feature is no longer available.
The title track on YACHT's new album, Shangri-La, boasts an irresistible hook: "If I can't go to heaven, let me to go L.A. ... Shangri-La, la-la-la-la." The song mixes delicate vocals with whimsical, piano-recital instrumentation to create a feel-good groove. But the duo of Jona Bechtolt and Claire L. Evans is more than just a fun indie-pop band with a bunch of great songs. YACHT's two members are ambitious art-rockers who craft science-fiction ditties about utopias, dystopias and beaming out of this world. In short: This ain't no yacht rock.
The band's name originated as an acronym for Young Americans Challenging High Technology. In concert, YACHT uses elaborate Powerpoint presentations dominated by a mysterious, triangle-based symbolism, in the process channeling the willful weirdness of Devo or Talking Heads. The special effects are no crutch, though — the band's inventive electro-pop translates well to a live setting, where it gets crowds to their feet.
Bechtolt has applied his breed of beat-heavy laptop wizardry to endless collaborations, both as producer and drummer. Evans, more of a guest vocalist on early YACHT recordings, joined the band full-time in 2008. Out June 21, Shangri-La is YACHT's second release for the New York dance label DFA Records, home of LCD Soundsystem and Hot Chip. Filled with quirky, trippy electronic sounds and attention-grabbing vocal performances, it ought to catapult the band to new heights.