Oh, The Things You Can Do With A Farm-Share Box
I stared at the box brimming with vegetables, wondering what I'd gotten myself into. Unidentifiable greens, tiny round potatoes, a clutch of dirt-dusted, perfectly red radishes, a small container of wild strawberries — all this bounty was mine, if only I could figure out what to do with it.
Welcome to cooking from a CSA (Community Supported Agriculture) share. You might not always recognize every item in your weekly box, but it's almost certain to inspire.
I ventured into CSA subscription years ago when I lived on the East Coast, prompted by my brother who was working on an organic farm in Virginia (his farm didn't run a CSA, but others in the area did). I loved the idea of supporting a small, local farm, and I saw it as a complete win-win situation for both the farmer and myself: The farm received a reliable weekly income, and I received incredibly fresh, organic produce that cost less than a trip to the supermarket.
One bonus of CSA cooking is that I have learned to cook vegetables with which I was previously unfamiliar (chard, for example, and kabocha squash). A hearty dinner of "beans and greens" (shredded and sauteed kale paired with white beans and a lot of garlic or spring onions) has become a staple. Some farms also offer eggs or contract with local producers to include fresh cheese or even milk in the weekly share.
The concept of Community Supported Agriculture was introduced to the United States from Europe in the mid-1980s and has built in momentum and popularity especially during the past decade, particularly for those living in cities or suburbs without gardens. According to the U.S. Department of Agriculture, data collected in 2007 indicated that 12,549 farms in the United States reported marketing products through a CSA arrangement.
A CSA share typically is provided weekly, with pickups or deliveries on a designated day and place, or at the farm. One Bay Area farm used to arrange for the weekly pickup at a San Francisco restaurant. You could grab your box and have a cocktail and a chat with the farmer who had brought in that week's haul.
About The Author
That spirit of community is what motivates Lisa Moussalli, who, along with husband Ali, owns Frog Bottom Farm in Pampin, Va. The Moussallis run a 200-share CSA and sell at two local farmers markets. She said Frog Bottom's aim is to grow "honest, delicious food" and provide families "with most of their staple vegetables, with enough diversity to keep things interesting."
What certainly keeps things interesting is that a CSA share involves a perpetual element of surprise. You don't always know exactly what you're going to get, because while the farm you've signed up with might email or post a potential weekly produce list online, the farmers themselves won't know what's perfect for picking until they're in the fields, which can leave you wondering what the heck you'll do with all those mystery greens. It's almost always an adventure.
Many farms include recipe suggestions for what to do with an abundance of herbs, lettuces, yams or those mysterious greens so you're not left bewildered by how to incorporate them into dinner. The Moussallis include recipes on their website to help customers plan meals around the weekly share. One, for "massaged kale salad," has me rethinking my own approach to the vegetable.
If you want to dip a toe in the CSA experience but worry that you won't use up your weekly vegetables, you could go in with a friend. It's easy to swap and mix and match so nothing gets wasted. Moussalli said a typical share, costing $25 per week, is enough to feed a family of four (Frog Bottom also offers half-shares, as do many farms).
What I love about getting the bulk of my fruits and vegetables through a CSA share is that it challenges me. OK, this week I have a lot of squash and chard, so how I can use them up in interesting ways? Should I bake with the peaches, or just eat them in long, juicy slices? I try to hold off a mad dash to the store to get mushrooms. Maybe I can just do without when I have so many other things from which to choose. Of course, everything tastes so much better when it's eaten within a few days of being picked.
Cooking from a CSA forces me to cook outside my comfort zone, to try new things, to experiment. It also saves me money, because I force myself to cook mainly from the weekly share — augmented with staples such as bread, cheese, beans and dried goods, and the occasional trip to the farmers market — until I use up everything.
Then there is the concept of investment that goes beyond the monetary. I truly care about the farm I've contracted with, and worry whether the spring rains will delay the tomato planting or how a particularly dry summer will affect the overall harvest. For an urbanite such as myself, being connected to a farm brings a bit of the country into the city. It reminds me that there's a vast acreage out there not bound by concrete and tall buildings, helps me to eat with the seasons, and brings home how important it is to know the source of my food.
"In a CSA, all our customers are regulars," Moussalli says. "We really love getting to know people over the course of one or more seasons. ... A strong local food culture, and especially a CSA, is a powerful tool for building strong and caring communities."
The trick to CSA-share cooking is to embrace what you get. Ingenuity is key, and imagination is necessary. Too many greens? Make soup or freeze for later consumption. An abundance of carrots? Pickle 'em. Fruit and tomatoes can be sauced, jarred, canned, turned into jam. And if you're blessed with a pint of just-picked blueberries, eat them slowly out of hand and wonder what will be in your box next week.
---
Talking With The Farmers
Following are excerpts from an interview with Lisa Moussalli, who along with husband Ali Moussalli owns Frog Bottom Farm in Virginia. The Moussallis met while working on organic farms in the area and have been steering Frog Bottom for three seasons. Moussalli estimates the farm provides about 200 full CSA shares during a season that runs from June to Thanksgiving. The couple also sells produce at two local farmers markets that run from May to October.
How long have you been running your farm? Any specific main crops?
This is our third season here at Frog Bottom. We grow a wide variety of vegetables and a few small fruits, and this year we're adding eggs from pastured chickens, and also pastured pork. We planted a large blueberry patch this spring and hope to put in a small orchard this year as well, so, fingers crossed, in a few years we'll be selling those berries and some stone fruits as well. Our approach is to grow honest, delicious food — to provide families with most of their staple vegetables, with enough diversity to keep things interesting.
Nicole Spiridakis for NPR
How do you sell/distribute your produce? How important is the CSA program to the overall business of the farm?
Our CSA is the heart of our farm. ... It's by far where most of our income comes from. The market scene within reasonable driving distance of our farm now is much younger and it's not producer-only. The markets are fun and lively with a really nice mix of vendors, but they're not yet strong enough to fully support our farm. We added the CSA to our business out of financial necessity, bearing in mind the lower population density here and the newness of the farmers market scene. I was also very, very eager to add the CSA — to have a part of the business where relationships were central. Market days are always a blast, full of energy and work and laughter. But with my education and nonprofit background, I was really missing the authentic relationships that were at the heart of my old work, so I was very ready for this new step.
How does the CSA share work?
Well, we look at what's ready out in the field (having done intensive crop planning over the winter, based on our projected CSA membership, our knowledge of how our land yields and what the weather is typically like throughout the growing season), and we put together the best share we can for the money people have paid. ... We run our pickups "market style" — all the food is in bins and bunches on a long table or two, with signs in front of each item telling members how much to take. We give some basic cooking suggestions on the signs right there at the pickup, and then offer more detailed recipes via our farm blog and our Facebook page. This year we'll also try ... more emails, perhaps some forums on the website and simple printed recipes at the CSA pickups and markets.
What goes on during the winter at a farm?
Our first season at Frog Bottom we offered a two-month winter CSA, and that was a real challenge. November was fairly mild, but in December things turned very cold very fast and we got two big snows. Root vegetables were frozen in the ground, the row cover over our greens was covered in a foot of snow — really exhausting. Our son was only a few weeks old so I couldn't help in the fields at all. Our second season, we decided to nix the winter CSA idea but extended our regular season by a month to go up to Thanksgiving. This worked well and we anticipate this is how we'll keep doing things. This year we're contemplating a winter CSA but it'll look a bit different, perhaps just three or four pickups, perhaps every other week. Or perhaps we'll sell through an online market in the winter. Real-time online sales are a logistical challenge for farmers, who often don't know how much is available until they're out there in the squash patch with bushel basket in hand.
Every winter we rectify our books and do our taxes, do major equipment repairs, work on farm infrastructure projects (irrigation, outbuildings, animal housing, roads, fencing), buy new equipment and supplies, and spend a lot of time doing crop planning and seed orders. We also take a few wonderful weeks to visit our families.
Why do you run a CSA and why do you think it's important?
Well, it's no understatement to say that without our CSA we couldn't make a living as farmers. But we've come to love much more than just the financial security it affords. One powerful thing about the CSA model is that there's very little waste. When you sell at market, it's always a gamble — you have to take more than you think you can sell, and variables like the weather or other events in town on the same day can change the day's earnings by 50 percent easily. But in the CSA, you know who you're growing for. We do intentionally overplant, expecting that we'll lose some of our crop to drought, disease, insects and other pests. But we have a pretty good idea of what to expect out of our land, and since CSA members make up such a high percentage of our total customers, we just know how much to plant. After working so hard to seed and tend and weed and harvest and sort and clean and pack all those vegetables, it feels good knowing almost all of that food is going into people's bellies. Also, in a CSA, all of our customers are regulars. We really love getting to know people over the course of one or more seasons. It's just really nice sharing recipe ideas, watching kids grow, eating food together at farm potlucks, catching up. A strong local food culture, and especially a CSA, is a powerful tool for building strong and caring communities.
Recipes With This Story
Wilted Greens With Caramelized Red Onion And Toasted Walnuts
Many greens will work wonderfully in this dish – try chard, kale, collards or spinach (though the latter will cook down much more quickly). I add caramelized red onions (yellow or white will work fine, too) to add a touch of sweetness. The walnuts add a nice crunch. Serve with baked white beans or pile on top of toast for a light, healthful dinner.
Nicole Spiridakis for NPR
Makes 4 servings
4 tablespoons olive oil
1 cup walnuts, coarsely chopped
1 large red onion, very thinly sliced in rounds
1 large bunch chard, kale, collards or 2 bunches spinach, washed, ribs and stems removed, and roughly chopped
In a large frying pan over medium heat, toast the walnuts for about 5 minutes, shaking the pan occasionally and watching carefully to make sure they don't burn. Remove from heat and set aside in a small dish.
Return the frying pan to the burner and heat the olive oil over medium heat. Add the onions and cook for a few minutes on medium, then reduce the heat to low and cook for 10 to 15 minutes, until the onions are very soft and release their juices. Cook long enough so the onions very slightly brown and begin to caramelize.
Add the greens to the frying pan, along with a splash of water. Cook, stirring occasionally, until the greens are well-cooked and very wilted (with kale or collards especially, you want to cook them until they are very soft, which will take longer than the chard or spinach). Stir in the walnuts and a pinch of salt to taste.
Herb Pesto
Pesto — or a pestolike sauce — is an ideal CSA recipe. It can be made traditionally with basil leaves and pine nuts, or with almonds and parsley, or even with walnuts and mint. What follows is a base recipe that can be modified according to what you have on hand. Serve stirred into pasta or swirled into soups.
Makes about 1 1⁄2 cups
4 tablespoons pine nuts (almonds or walnuts)
4 garlic cloves, coarsely chopped
2 to 3 cups firmly packed fresh basil leaves (or other herb)
1/2 cup extra-virgin olive oil, plus more as needed
3 tablespoons lemon juice plus 1 tablespoon lemon zest
Salt
In a food processor, combine the pine nuts and chopped garlic. Process to chop coarsely. Add about half the basil and process to chop coarsely. Add the remaining basil and olive oil all at once, and process until a thick green sauce forms. Add the lemon juice and zest. If the sauce is too thin, add more basil. If it is too thick, add more olive oil. Salt to taste.
Farm Egg Souffle With Vegetables
You can make this souffle even if your farm doesn't offer eggs, of course, but try to make sure they're as fresh as possible to ensure that beautiful puffy rise in the oven. Many seasonal vegetables will work here, but try not to overwhelm the souffle — less is more. This tastes delicious alongside wilted greens or with a big salad.
Nicole Spiridakis for NPR
Makes 6 to 8 servings
3/4 to 1 cup chopped scallions
1 cup heavy cream
1 thyme sprig
Assortment of CSA vegetables, finely chopped
4 tablespoons unsalted butter
4 tablespoons all-purpose flour
1 1/2 cups whole milk
1 cup grated Parmesan cheese
1 teaspoon salt
1/2 teaspoon pepper
Chopped fresh herbs if you have them
4 large egg yolks
6 large egg whites
Preheat the oven to 375 degrees. Butter a 6-cup souffle dish and dust with a sprinkling of the Parmesan cheese.
Put the garlic, cream and thyme in a small saucepan over low heat. Bring slowly to a boil, then turn off the heat, cover and let steep for 10 minutes.
For the vegetables, I use whatever I have on hand from the share, although some will work much better than others. Try a combination of finely chopped spinach and red bell pepper, or roast a butternut squash and mash it well before folding into the batter. If you're using vegetables such as garlic, mushrooms or greens, saute in 2 tablespoons of olive oil in a frying pan over medium heat for about 5 minutes until soft, then set aside.
Melt the 4 tablespoons of butter in a saucepan and stir in the flour, whisking, over low heat. Cook for one minute while whisking slowly. Whisk in the milk and stir until it thickens. Turn off heat and stir in the Parmesan, salt, pepper, herbs, egg yolks, vegetables and cream mixture.
In another bowl, beat the egg whites with a whisk or a hand mixer until they form soft peaks. Fold the whites into the base and scrape the batter into the souffle dish. Bake until golden brown and set, about 30 minutes.
Catch-All Herb Salad With Lemon-Sage Vinaigrette
This is a delicate, fresh salad that makes the most of spring and summer lettuces and herbs. Make this within a day or two of receiving your CSA box so the greens are still tender. Don't worry if you don't have everything — try to experiment a bit with what you do have (example: add more arugula if you don't have purslane), and add more vegetables such as raw grated beets or thinly sliced lemon cucumbers if you like. I call this a "catch-all" salad because nearly every herb or green has a home here, and you can adjust the quantities of each as desired.
Nicole Spiridakis for NPR
Makes 4 to 6 servings
2 cups butter lettuce leaves
2 cups mixed greens (for example: baby spinach, miner's lettuce, watercress)
2 tablespoons basil leaves
1/2 cup flat-leaf parsley leaves
1/2 cup purslane
1/2 cup baby arugula
5 radishes, washed and thinly sliced (or 1bunch)
3 to 4 thin-skinned small carrots, scrubbed and sliced thinly lengthwise
Sea salt and freshly cracked pepper
Optional additions: sunflower seeds, sliced almonds, strawberries, feta cheese
Vinaigrette
1/2 cup olive oil
1/4 cup fresh lemon juice
1 garlic clove or 1 shallot, finely chopped
Pinch salt
2 tablespoons Dijon mustard
1 tablespoon honey
4 tablespoons chopped fresh sage
Tear the greens and herbs into bite-sized pieces, taking care not to bruise. Toss with the radishes and carrots. Season with salt and pepper.
For the dressing, whisk ingredients together until well blended, or place in a food processor and pulse well to combine.
Gently fold the dressing into the salad, tossing to lightly coat the vegetables.
Roasted Red And Sweet Potatoes With Green Beans And Garlic
I love to roast vegetables, and potatoes (and sweet potatoes) are some of my favorites to receive this treatment. The addition of green beans and garlic gives this dish a punch of green and a bit of a bite. I could eat this very happily with the catch-all salad and call it lunch.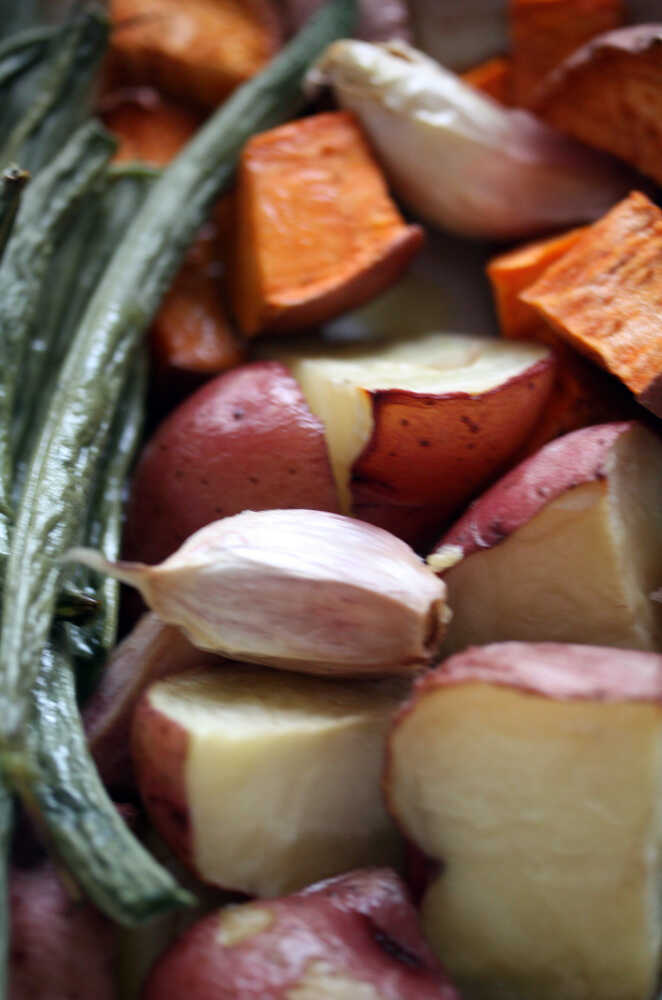 Nicole Spiridakis for NPR
Makes 6 servings
10 small red potatoes, scrubbed and quartered
3 to 4 small sweet potatoes, peeled and quartered
5 cloves garlic, in their skins
1/2 pound green beans, washed and trimmed
3 tablespoons olive oil
Salt and pepper
3 tablespoons chopped fresh herbs or parsley
Preheat oven to 400 degrees. Spread the potatoes, garlic and green beans in a large baking dish and drizzle with the olive oil, turning to coat well. Season with salt and pepper, and sprinkle with the herbs or parsley. Roast for about an hour, checking a few times and giving the pan a good shake. Cook until the potatoes are crisp and the sweet potatoes release their juices and begin to caramelize and the green beans are slightly blackened.
Maple-Oatmeal Fruit Crisp
This is the kind of recipe that makes the most of any CSA fruit. I love crisps because they come together in a flash and are very forgiving — if you don't have plums, try nectarines. But I try to always use a combination of seasonal fruits and lightly sweeten them with maple syrup. You don't need much sweetener because the fruit itself is so sweet. I encourage you to play around with this to reflect what you have on hand that week.
Makes 6 to 8 servings
Topping
1/4 cup whole-wheat pastry flour
1/2 cup rolled oats
1/4 cup sugar
4 tablespoons butter
3 tablespoons maple syrup
Filling
2 peaches or other stone fruit, pitted and chopped
1 cup blueberries, raspberries or blackberries, or a combination
1/4 cup dried cranberries
4 tablespoons chopped walnuts or almonds
1/4 cup unsweetened flaked coconut
1/2 teaspoon ground cinnamon
1/2 teaspoon ground ginger
1 tablespoon flour
5 tablespoons maple syrup
Preheat oven to 350 degrees.
Mix the flour, oats and sugar together. Cut in the butter, working the mixture until it resembles coarse meal. Drizzle in a bit of maple syrup, adding more if the mixture is very dry.
In a large bowl, mix the fruit, nuts, coconut, cinnamon, ginger and flour together and stir well to combine. Drizzle with maple syrup to taste (if the fruit is not too sweet, add a little more).
Spread the fruit in an 8-inch square baking dish and cover with the topping. Bake for 30 to 40 minutes, until fruit is bubbling and topping is crisp.
Pickled Carrots
An alternative to freezing or canning, making pickles is a great way to maximize an abundance of vegetables. I've used carrots in this recipe, but beets, sugar snap peas, pearl onions, cucumbers or even bell peppers are delicious as pickles. This recipe is for refrigerator pickles, which will keep up to 1 month in a tightly sealed jar in the fridge.
Nicole Spiridakis for NPR
Makes 1 pint jar, easily doubled
1 pound small carrots, well-scrubbed with tops trimmed and discarded
1 cup cider vinegar
1/4 cup sugar
2 garlic cloves, lightly crushed
1 tablespoon dill seeds
2 sprigs fresh tarragon
2 springs fresh rosemary
2 bay leaves
1 1/2 tablespoons salt
Blanch carrots in a 4-quart, nonreactive saucepan of boiling salted water for 1 minute, then drain in a colander and rinse under cold water to stop cooking. Place the carrots in a large glass jar, packing them in loosely so they stand upright.
Bring the vinegar, sugar, garlic, dill, tarragon, rosemary bay leaves and salt to a boil in the saucepan, then reduce heat to low and simmer about 2 minutes. Pour the pickling liquid over carrots and cool, uncovered. Cover and chill carrots, covered, for at least 2 days, letting flavors develop before serving.