July 4 Barbecue From America's Melting Pot
Foley Square, Lower Manhattan. Circa 1950. My grandfather had dragged his young sons all the way downtown for a simple exercise: to extol the glories of his adopted country. He lined the boys up in front of the courthouse and pointed to its inscription: "The true administration of justice is the firmest pillar of good government."
Then he turned to them, nodding solemnly. "United States of America," he proclaimed. And then they went home.
My grandfather came to the U.S. from Syria in 1914, and like most immigrants, he became a proud American. He learned English. He watched the news. He voted. He saluted the flag. And on the Fourth of July, he did what every good American does: He fired up the grill.
Independence Day is the biggest grilling day of the year, according to the Hearth, Patio and Barbecue Association, and burgers are the most popular meal. But Giddau — my grandfather — didn't know a hamburger from a hot dog, North Carolina pulled pig from Kansas City tomato-mopped ribs. Instead, he would hunch over an ice-cold bowl of marinated lamb and thread the chunks onto 2-foot skewers, punctuating each piece with bright green peppers, red cherry tomatoes and satiny onions. Or he would massage onion, parsley and mint into ground lamb for succulent kebab — which my brothers and I ate on toasted buns with ketchup and called "lambburgers." Ditto for my Indian mother-in-law, whose Weber has never seen a T-bone. Instead, she rubs thick salmon fillets with tandoori masala, turning the pink flesh a deep, dark red. If she's feeling ambitious, she wedges ears of corn into the embers, just like a Mumbai street vendor.
About The Author
On the Fourth of July, America's melting pot becomes a red-hot grill. Korean-Americans might lay down salty-sweet kalbi, beef short ribs seasoned with sesame and eaten in a lettuce wrap. Japanese families might serve up yakitori, dainty skewered bits of chicken liver, pork belly, shishito peppers, shiitake mushrooms or prawns with the head on. And a mixed grill from Latin America could be Argentine steak with bacon and eggs, Uruguayan Pamplona — chicken breast stuffed with ham, cheese and peppers — or sensual Peruvian chicken marinated in cumin, garlic and yellow chilies. Look over the fence to your Australian neighbors and you'll see "shrimp on the barbie," while the Greek family on the other side might be charring oregano-dusted octopus.
All over the world, people have been grilling since they discovered fire, and when they came to the United States they brought their signature flavors with them. Many of these flavors have, of course, made their way into American barbecue traditions.
Barbecue expert Steven Raichlen provides examples of what immigrants have brought to the grill: In California, Mexican ranch hands contributed Santa Maria Tri Tip, sirloin steak served with salsa and pinquito beans, the small pink sister of Boston baked beans; in the Midwest, an Austrian immigrant introduced bratwurst, an often beer-poached sausage that's a staple of Wisconsin cookouts and any self-respecting college football tailgate; and in the Texas Hill Country, the beef links known as Texas Hot Guts came from the Czechs who settled the region.
"When you go to Italy or Argentina, they are so happy and content with their local grilling tradition that they would never dream of augmenting it," Raichlen says. "But we have this wonderful gift, because we're a nation of immigrants, to embrace foods and make them our own."
And sometimes the embrace is more like a bear hug. Giddau's lambburgers are still a favorite on my family's grill, but these days, so is Greek-style chicken marinated in oregano and lemon, spicy Spanish chorizo and clams and big, fat German wurst. It's true that justice is one of our most treasured values. But I think even Giddau would agree that nothing says "United States of America" like a grill that pops and sizzles with flavors from around the world.
More Recipes For The Grill, For A Picnic, For A Crowd
Giddau's Kebab (Lambburgers)
These are great on toasted ciabatta, or they can be served more formally with mashed potatoes. Add a side of fattoush — green salad with toasted pita chips — for awesome flavor complements. This recipe is adapted from A Taste of Syria (Hippocrene Press 2003), written by my cousin Virginia Gerbino and my uncle Philip Kayal.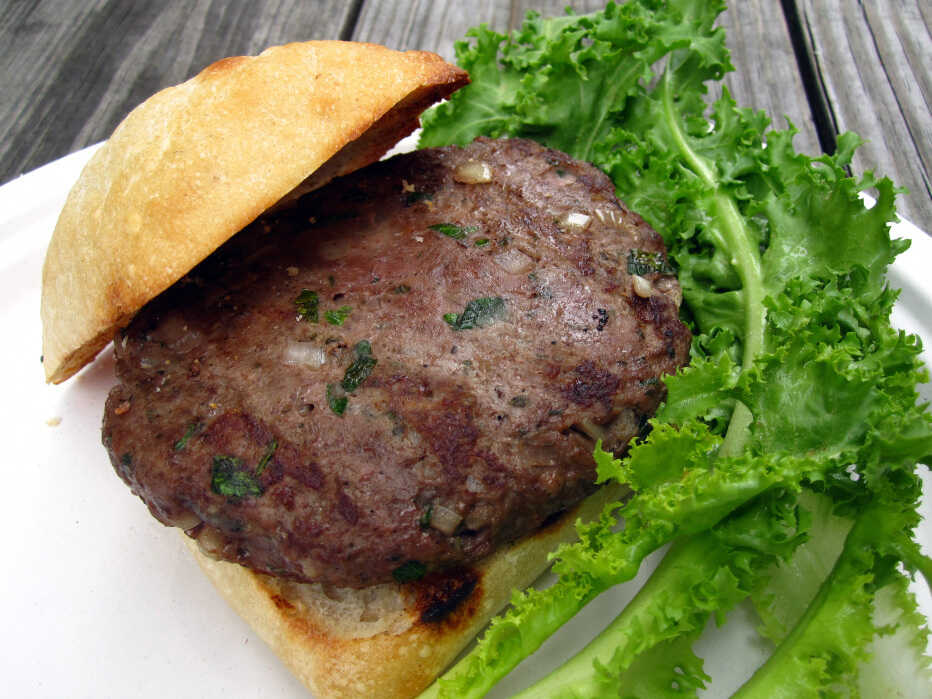 Makes 6 servings
1 1/2 pounds ground lamb
1 teaspoon allspice
1 medium yellow onion, minced
3 tablespoons chopped flat leaf parsley
1 teaspoon dried mint
1/4 cup pine nuts, optional
1 teaspoon kosher salt
2 teaspoons Worcestershire sauce
Combine all ingredients in a bowl and mix well by hand, kneading in all ingredients. Shape the meat into 6 individual patties.
Heat your grill to high and sear the burgers, turning once to achieve a char on both sides. If using a gas grill, turn the heat to medium and close the top. Cook for another 5 minutes or so. If you're using a charcoal grill, watch for flare-ups. Grill for another 5 to 7 minutes or until just slightly pink on the inside.
Nandini's Terrific Tandoori Salmon
My mother-in-law, Nandini, has been known to omit strategic items from recipes she passes on, but this one seems to be intact. (Just kidding, Mom.) Try this for a twist on your usual grilled salmon. Great with corn on the cob, roasted in the husks over the coals.
Makes 4 servings
1 tablespoon dried fenugreek leaves (kasoori methi)*
2 tablespoons tandoori masala*
1 teaspoon salt (if the masala is not already salted)
Cayenne pepper to taste (optional)
Juice of 1/2 lemon
1 pound salmon fillet, skin on
*Available at Indian markets
Mix the fenugreek, tandoori masala, salt, cayenne pepper if using, and lemon juice into a paste. Rub it onto all sides of the salmon, massaging gently so the spices penetrate. Cover with plastic wrap and refrigerate 1 hour.
Preheat the grill to medium high. When ready, set the fish skin-side down on the grates. Remove from the heat when it is almost — but not quite — done, about 8 minutes if 1-inch thick. Let sit for 2 minutes before serving.
Korean Kalbi (Butterflied Sesame-Grilled Beef Short Ribs)
The nuttiness that comes from sesame seeds and sesame oil is one of the distinguishing characteristics of Korean barbecue, says expert Steven Raichlen. Serve with kimchi, mung bean sprout salad and other Korean accompaniments purchased at an Asian market. This recipe is adapted from Raichlen's book Planet Barbecue (Workman Publishing 2010).
Makes 4 servings
1 small Asian pear, peeled and seeded, or 1/2 cup pear nectar
3 cloves garlic, coarsely chopped, plus 8 cloves garlic, peeled and skewered on toothpicks
1 tablespoon finely chopped peeled fresh ginger
1 tablespoon toasted sesame seeds, plus 1 tablespoon for garnish
2 tablespoons brown sugar
2 teaspoons coarse salt
1/2 teaspoon freshly ground black pepper
1 teaspoon Asian (dark) sesame oil
2 pounds beef short ribs, butterflied and cut into 2-inch lengths
1 bunch scallions, white and green parts, trimmed
1 head romaine lettuce, washed and separated into individual leaves
Kochujang (Korean chili paste), Sriracha or other hot pepper paste
Puree the Asian pear, chopped garlic, ginger, 1 tablespoon of sesame seeds, sugar, salt and pepper in a food processor. Add sesame oil and blend.
To butterfly the short ribs:
Think of this as unrolling a carpet. Hold the rib with the short end of the bone facing you. Using a small, sharp knife, cut the meat away from the top of the bone, but do not detach the meat from the bone. Cut only to the very edge. Fold back the meat flap. Cut through the meat flap about 2/3 of the way down its thickness, stopping just at the edge (again, do not detach the meat). Fold back that flap. Continue doing this until you have a long strip of meat with the bone at one end. You could also ask the butcher to do this for you.
Score the meat with a sharp knife with 1/8-inch deep cuts. Arrange the butterflied ribs in a single layer in a nonreactive baking pan. Pour the pear marinade over the ribs, turning them to coat both sides. Let the ribs marinate in the refrigerator, covered, for 4 hours.
When ready to cook, preheat the grill to high. Scrub the grate clean, and then oil it. Drain the ribs, discarding the marinade. Lay them on the grill, along with the skewered garlic and scallions. Cook each item 2 to 4 minutes per side, until all are browned.
Transfer the ribs to a warm platter and use kitchen shears to cut into bite-sized pieces. Cut the garlic cloves in half. Cut the scallions into 1-inch pieces.
To eat the kalbi, spread a lettuce leaf with the chili paste. Place beef, garlic and scallion on the leaf. Roll it up and eat.
Classic Yakitori
A staple of Japanese pubs called izakaya, these tasty skewers make great beer food. Try a variety of items – chicken livers, mushrooms, shishito peppers, head-on prawns — for an eclectic meal. This recipe is adapted from The Japanese Grill by Tadashi Ono and Harris Salat (Ten Speed Press 2011).
Makes 8 to 10 skewers
1 pound boneless skinless chicken thighs, cut into 1/2-inch-wide slices
1/2 teaspoon kosher salt
1/2 cup classic yakitori sauce (see recipe below)
For The Skewers
Fold each slice of chicken in half and thread onto a skewer using a twisting motion. Each skewer will hold 4 to 5 pieces of chicken, covering about 4 inches of the skewer. Lightly season with salt on all sides.
Preheat the grill to medium high. Lay the skewers down in a row. Turn the skewers every minute or so to ensure even browning, for a total cooking time of about 8 minutes.
When the meat is lightly browned (after about 6 minutes), brush the sauce on top. Grill for another 2 minutes, turning every 30 seconds and brushing on more sauce with each turn. This will produce a rich, roasted soy sauce aroma.
Transfer skewers to a platter, drizzle with 1 tablespoon more sauce and serve immediately.
---
Yakitori Sauce
Makes 2 cups
Bones from 1 chicken, coarsely chopped, or 1/2 pound chicken wings
1 cup water
2 cups mirin (sweet Japanese rice wine)
2 cups soy sauce
1 cup sake
2 tablespoons packed brown sugar
3 to 5 cloves crushed garlic
1 bunch scallions, ends trimmed
1 thumb-sized piece of fresh ginger, thickly sliced (no need to peel)
Preheat an oven broiler. Arrange the chicken bones or wings in a roasting pan. Place the pan under the heat. Broil until the bones/wings are browned, about 5 minutes on each side, using tongs to turn them.
Transfer bones to a large stockpot. Deglaze roasting pan with the water, then add the water to the pot. Add the mirin, soy sauce, sake, brown sugar garlic, scallions and ginger. Bring stockpot to a boil over high heat. Decrease the heat to low and simmer, uncovered, until the liquid is reduced by half and becomes glossy, at least 1 hour. Strain to remove bones and discard. Let the liquid come to room temperature before using. If boiled after each use, unused portion can be refrigerated for up to 1 month.
Grilled Clams And Chorizo (Curanto Al Disco)
Briny clams and spicy chorizo make this Latin clambake a favorite in coastal countries such as Chile. Shrimp, mussels and other types of seafood also work well. Wash it down with an ice-cold sparkling rose. This recipe is adapted from Latin Grilling by Lourdes Castro (Ten Speed Press 2011).
Makes 8 servings
1 stick (1/2 cup) unsalted butter, diced
1 1/2 cups white wine
4 cloves garlic, minced
3 shallots, sliced
2 tomatoes, chopped
1 1/2 teaspoons smoked paprika
Salt and freshly ground black pepper
1 1/2 pounds fresh chorizo (not dried)
36 small clams in the shell, scrubbed
Extra virgin olive oil
1 baguette, halved lengthwise
1/4 cup lightly packed flat-leaf parsley, chopped
3 lemons, cut into wedges
First, soak the clams in cold, salted water for 1 hour to let them expel any sand.
Heat the grill to medium high. Close the lid and allow to preheat for 15 minutes. Oil the grates with a vegetable oil-soaked paper towel held with a long pair of tongs.
Place the butter, white wine, garlic, shallots, tomatoes, paprika, salt and pepper into a roasting pan. Set the pan on the grill. Stir occasionally.
Place the chorizo on the other side of the grill, close the lid and cook for 8 to 10 minutes, or until it is a deep golden brown. Turn the sausage over and grill for another 4 to 5 minutes, until the skin is charred and shriveled.
Remove the chorizo from the grill and slice it into thin rounds. Place them in the roasting pan with the sauce and stir to combine.
Increase the grill heat to high and leave the lid open. Place the clams directly on the grill grate and cook until they pop open, about 3 to 6 minutes. Use tongs to transfer the clams to the pan as soon as they open. Discard any clams that remain shut after 8 or 9 minutes.
Toss the clams, chorizo and sauce together and set aside.
Brush the cut side of the bread with olive oil and place it cut side down on the grill. Allow to toast for a few minutes until slightly charred. Remove and cut into chunks.
Garnish the clams and chorizo with parsley and serve with the bread and lemon wedges.