Fresh, Feisty Arugula: More Than A Salad Green
It was 1985, and I was starting high school. Like any teenager, I was anxious to fit in. So I took a few fashion-forward steps: I slipped into my Guess jeans, lined my eyes with teal green, sparkly eyeliner and got the haircut of the decade: part Duran Duran, part Pat Benatar — slicked-back sides crunchy from gel, pin-straight, spiky bangs and a whoosh of hair teased and sprayed to impossible heights on the top of my head. It was awesome.
I was not as adventurous with food. For me, exotic meant ordering fried clams for lunch on Fridays, strips only, no squishy bellies. What I did eat a lot of was salads, which typically consisted of a bowl of iceberg lettuce topped with a single cold tomato and cucumber slice — that is, except for special occasions, when a pepperoncini pepper and canned artichoke heart were added.
Things changed in the '90s. That's when inventive chefs introduced salads made from new ingredients such as mesclun, endive and radicchio. Suddenly salad seemed sexy. No ingredient, however, had more impact than arugula, this aromatic green revolutionized salads. Today it's as recognizable as romaine lettuce, though a lot feistier.
Arugula is much more than just a salad green. Sautee it in olive oil and garlic for a simple side dish. Blend it with pine nuts, olive oil and cheese for a distinctive pesto-like sauce that can be tossed with either pasta or warm potatoes for a modern potato salad. To appreciate its unadulterated full flavor, enjoy it raw, tossed in a salad with salty prosciutto and sweet watermelon, scatter it on top of a warm-from-the-oven salami and mozzarella pizza, or nestle it inside a hot, gooey grilled cheese smeared with olive tapenade.
First cultivated in the Mediterranean, arugula has been enjoyed since Roman antiquity, when it was prized for its culinary, medicinal and aphrodisiac qualities. Though still most closely associated with Italian cuisine, today arugula is cultivated in countries across the globe.
About The Author
Susan Russo is a food writer in San Diego. She publishes stories, recipes and photos on her cooking blog, Food Blogga. Her latest cookbook is Recipes Every Man Should Know. When she isn't writing about her Italian family back in Rhode Island or life with her husband in Southern California, she can be found milling around a local farmers market buying a lot more food than two people could possibly eat.
It's known as "rocket" in Britain, roquettte in France and roka in Turkey, which can be traced to the Latin eruca, which means a type of cabbage. Italians who immigrated to America called it rucola, which likely became arugula to us.
Arugula is a member of the Brassicaceae family which includes crucifers, cabbages and mustard greens — hence its distinctive hot, peppery flavor. Its peak season runs from late spring to early fall, though it's available year-round in the bagged salad area of most supermarkets. If you have a green thumb, you can try growing your own. And if you spy some white, redolent flowers at the end of the stalks, don't throw them away. In our San Diego farmers markets, mesclun mixes with arugula flowers can fetch $9 to $10 a pound.
In the past couple of years, wild arugula has entered the culinary scene. Wild arugula has slightly thinner, darker, more sharply fluted leaves and an edgier flavor than regular arugula. Most chefs suggest eating wild arugula raw or just wilted to truly appreciate its flavor. It's found at farmers markets, specialty organic markets and some major supermarkets and usually costs slightly more than regular arugula.
If you buy a bunch of fresh arugula or wild arugula that hasn't been pre-washed and bagged, wrap it in paper towels before storing in the crisper drawer of the refrigerator for no more than a day or two. Trim any thick or yellowed stalks before using, wash it well and chop it or tear it by hand.
When cooking with arugula, embrace its inherent spiciness by pairing it with complementary foods such as salty pancetta and anchovies, sweet berries and melons and acidic vinegars and fruits. Arugula pairs well with most meats and seafood, especially chicken, steak, veal and mild-flavored white fish such as halibut and tilapia.
Perhaps the simplest yet most sublime way to enjoy arugula is to toss it with extra virgin olive oil and aged balsamic vinegar, a squeeze of fresh lemon juice, a few Parmesan cheese shavings and a dash or two of sea salt and crushed red pepper flakes. Vine-ripened strawberries wouldn't hurt, either.
While I still have short hair — a la Halle Berry rather than Duran Duran — I'm now more daring with new salad greens. A couple of weeks ago, I discovered agretti at my local farmers market. This springtime Mediterranean succulent, or water-retaining plant, looks like a cross between fennel fronds and dill. It also has a singular grassy flavor. I predict that agretti will begin showing up on menus of trendsetting restaurants soon. If so, arugula had better watch its back.
Recipes With This Story
Grilled Nectarine, Arugula And Prosciutto Salad
The next time you fire up the grill, make this salad. When nectarines are grilled, their sugars caramelize, creating an intoxicatingly sweet and smoky flavor that complements the salty prosciutto and spicy arugula in this salad.
Makes 4 servings
Dressing
1 tablespoon extra-virgin olive oil
2 tablespoons white balsamic vinegar*
1 teaspoon lemon juice
1 tablespoon fresh parsley, finely chopped
Salt and pepper, to taste
Salad
2 small ripe yet firm nectarines
Olive oil for brushing fruit
2 ounces thinly sliced prosciutto
6 to 7 ounces arugula, about 8 packed cups
2 tablespoons chopped, lightly toasted walnuts
2 tablespoons crumbled blue cheese
To make the dressing, whisk all of the ingredients in a small bowl and set aside.
To grill the nectarines, preheat grill to medium-high. Slice fruit in half and remove pits. Brush flesh with a little olive oil and place flesh-side down on the grill. Grill for a few minutes, just until grill marks appear and the fruit is tender.
Place prosciutto in a small skillet over medium-high heat. Cook for 60 to 90 seconds, flipping once, until just browned and crispy. Remove and cut into strips.
To prepare the salad, place arugula, nectarines and walnuts in a large bowl. Add dressing and toss gently to coat. Divide the salad among 4 plates, topping each with prosciutto strips and crumbled blue cheese.
*White balsamic vinegar is made from white wine vinegar and grapes. Because it is milder than traditional brown balsamic vinegar and doesn't stain food, it's preferable for this fruit salad. It can be found at specialty markets and most major supermarkets. Rice vinegar can be substituted.
Salami, Banana Pepper And Wild Arugula Pizza
Banana peppers, also called wax peppers, are firm, crisp, long peppers, usually yellow like bananas, but sometimes red or orange. Lightly sauteed and paired with salty salami and spicy fresh wild arugula, it makes this a pizza worthy of "gourmet" status. Serve it with a robust red wine or a crisp Italian beer. For a speedier version, use 1 pound store-bought dough. If you can't find wild arugula, use regular arugula instead.
Makes a 12-inch round pizza, about 8 slices
Pizza Dough
1 (1/4-ounce) packet active dry yeast
3/4 cup warm water
1 teaspoon salt
1 teaspoon sugar
2 1/2 to 3 cups all-purpose flour
1 tablespoon olive oil
In a medium bowl, dissolve yeast in warm water and let rest for 5 minutes. Using a spoon, gently stir in salt and sugar. Add 2 1/2 cups all-purpose flour and 1 tablespoon olive oil to start. Blend with a spoon just until the dough starts to form, then, using your hands, transfer to a floured surface. Knead well for a couple of minutes, adding flour if it's too sticky. The finished dough should be soft and smooth.
Place the dough in a large, clean bowl coated with olive oil and rub some olive oil on top of the dough. Cover with a clean, dry dishtowel and let rise in a warm, draft-free area until doubled in size (about 2 hours). Punch the dough down to release air bubbles. Transfer dough to a lightly floured surface to roll out. If you like, you can let the rolled-out dough rest for about 30 minutes; it will rise slightly and create a puffier crust.
Pizza Toppings
3 teaspoons olive oil, divided
2 banana peppers, stems removed, sliced crosswise into 1/2-inch thick slices
1/3 cup tomato sauce
1/2 teaspoon crushed red pepper flakes
1 cup shredded mozzarella cheese
1/4 pound salami
1 to 1 1/2 packed cups wild arugula
1/3 cup grated Reggiano-Parmigiano cheese, optional
Preheat oven to 500 degrees if using a pizza stone, or 450 if using a baking sheet.
Roll out dough on a lightly floured surface. Transfer to a sheet of parchment paper (if using a stone) or to a parchment-lined baking sheet. Brush with 1 teaspoon olive oil.
In a large skillet over medium heat, warm remaining 2 teaspoons olive oil. Add pepper slices and cook about 5 minutes until lightly browned and tender.
Spread tomato sauce on dough, leaving a 1-inch border. Sprinkle evenly with crushed red pepper flakes and 1/2 cup mozzarella cheese. Add salami slices, then cooked peppers. Sprinkle with remaining mozzarella cheese.
For a pizza stone, bake for about 10 minutes, or until both the top and bottom of the crust is brown and the cheese is melted. For a baking sheet, bake for 20 to 25 minutes, or until both the top and bottom of the crust are brown and the cheese is melted. Top with fresh arugula and, if using, sprinkle with grated Reggiano-Parmigiano cheese before serving.
Warm Red Quinoa, Chicken And Arugula Salad
Although prettier in color and slightly nuttier in flavor, red quinoa has the same nutritional benefits as traditional cream-colored quinoa and should be used the same way. This grain salad is best served at room temperature and makes a lovely picnic lunch especially when paired with a sparkling or fruity white wine.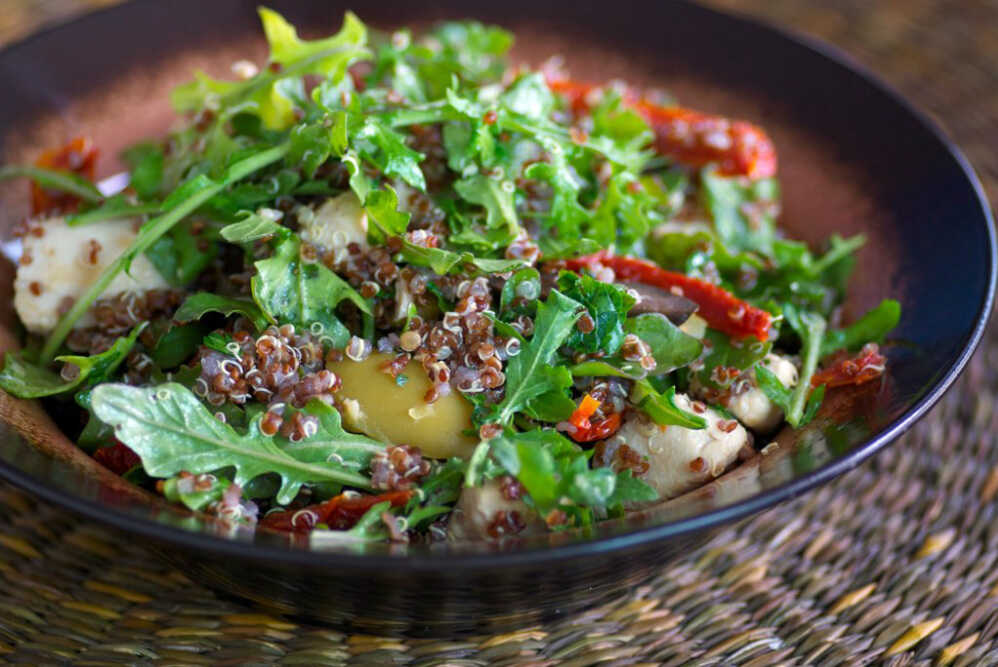 Makes 6 servings
1 cup dry red quinoa
2 cups water
Salad
2 teaspoons olive oil
1 1/4 to 1 1/2 pounds boneless, skinless chicken breast, sliced into 1-inch pieces
1 cup sliced mixed olives such as black Kalamata and green Cerignola
1 cup sliced sun-dried tomatoes
1/4 cup chopped, lightly toasted walnuts or pistachios
3 packed cups arugula
Dressing
3 tablespoons extra-virgin olive oil
2 tablespoons sherry vinegar
Zest and juice of 1 lemon
1/8 teaspoon salt
1/8 to 1/4 teaspoon freshly ground black pepper
To make the dressing, whisk all ingredients in a small bowl and set aside.
Add quinoa and water to a medium pot, and bring to a boil for 2 minutes. Lower heat to a simmer and cook, partially covered, for 13 to 15 minutes, or until the water is absorbed. Cover and let sit for 5 minutes, then fluff with a fork.
In a large saute pan over medium-high heat, warm olive oil. Add chicken and cook 8 to 10 minutes, or until lightly browned all over. Remove from heat.
In a large bowl, combine quinoa, chicken, olives, sun-dried tomatoes, nuts and arugula and toss. Pour dressing over salad and toss until well coated. Serve at room temperature.
Creamy Mascarpone Cheese And Wild Arugula Pasta
This luxurious pasta is elegant enough to serve for a dinner party yet quick enough to enjoy as a midweek meal. Mascarpone cheese is a creamy, spoonable cheese found at Italian delis and specialty markets as well as the cheese section of most major supermarkets. If you can't find wild arugula, use regular arugula instead.
Makes 2 large or 4 small servings
1/2 pound gemelli, or other similar shaped pasta, such as fusilli, rotini, or cavatelli
3 ounces mascarpone cheese
Zest and juice of 1/2 lemon
1/8 teaspoon salt
1/8 teaspoon freshly ground black pepper
1 to 2 tablespoons hot pasta water
3 packed cups wild arugula
3 to 4 tablespoons grated Reggiano-Parmigiano or Grana Padano cheese
1/8 teaspoon of red pepper flakes
Extra virgin olive oil for drizzling, optional
In a large pot, cook pasta in salted boiling water according to directions, until al dente.
Meanwhile, in a small bowl, whisk mascarpone cheese, lemon zest, lemon juice, salt, black pepper and hot pasta water until smooth and creamy.
Drain pasta and return to pot. Add arugula and toss. Add the cheese sauce and toss until well coated. Divide among plates. Sprinkle with grated cheese, red pepper flakes and, if desired, a drizzle of extra virgin olive oil. Serve immediately.