At Teen's Trial, Bullying Of Gays In Focus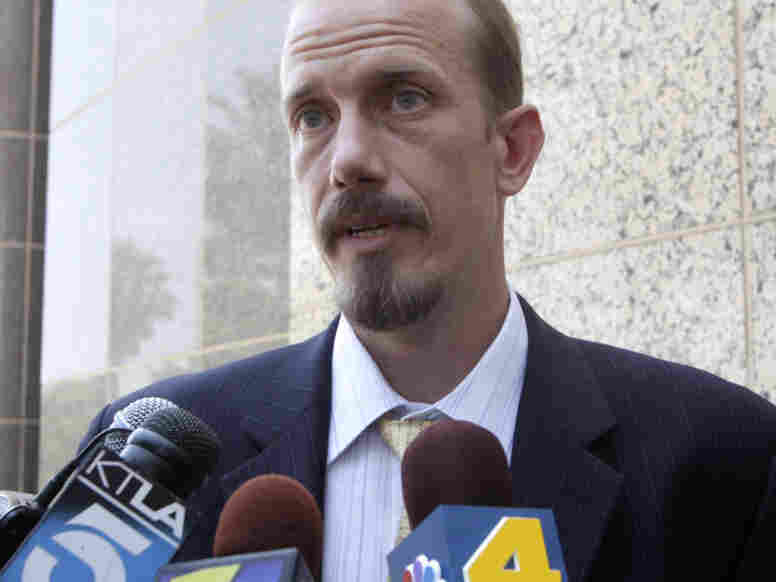 The trial of a teen accused of killing a gay classmate is bringing national attention to the problem of gay bullying.
Prosecutors in Southern California say the defendant murdered 15-year-old Lawrence King out of his hatred of homosexuals, but defense attorneys say their client snapped after being repeatedly harassed by the openly gay teen.
The murder took place three years ago in the working-class town of Oxnard, about 60 miles north of Los Angeles. Brandon McInerney, 14, walked into first period computer lab, sat behind Larry King and pulled a gun out of his backpack.
According to prosecutors, he shot King once in the back of the head, looked around the class, made eye contact with several students, then shot King again.
Those two shots resonated far beyond the walls of E.O. Green Junior High in Oxnard.
Talk show host Ellen DeGeneres and gay rights advocates around the country took to the airwaves. They started Facebook tributes and held annual vigils. Gay teens, they said, were facing an epidemic of bullying in schools.
"Larry was not a second-class citizen. I am not a second-class citizen," DeGeneres tells her audience. "It is OK if you are gay."
The trial has been moved into Los Angeles County because of pretrial publicity. A much taller and older looking 17-year-old Brandon McInerney spends his days emotionless in the courtroom.
Prosecutor Maeve Fox says McInerney is a cold-blooded murderer.
"The evidence in this case will prove to you that this killing was an execution," Fox told the jury.
Fox said that McInerney killed King out of his hatred for homosexuals, something he learned as an avid follower of white supremacist, Nazi teachings. McInerney is also charged with a hate crime. If convicted of premeditated murder, he faces life in prison.
Surprisingly, Fox also told jurors that there will not be any evidence in the trial about the victim's sexuality. Fox said that question will never be answered. Prosecutors declined to comment on this story.
Laurie Levenson, a former federal prosecutor, says Fox is trying hard not to put the victim on trial.
"It doesn't really matter what the victim's actual sexual orientation was. What matters is what the defendant thought it was, and whether the defendant killed him because he was against gays," Levenson says.
Levenson says the prosecution may also not want to open the door into King's sexuality in case there are jurors who don't approve of gays and lesbians.
But King's sexuality is the central focus of the defense's case. Attorney Scott Wippert told jurors that King was openly gay, wore makeup and girls' clothing to school and constantly harassed his client.
"He targeted Brandon McInerney. He knew that what he was doing to Brandon was bothering him, and he did it over and over and over again. He made unwanted sexual advances to a 14-year-old boy," Wippert says.
Wippert says King pushed McInerney to the breaking point. If found guilty of the lesser charge of manslaughter, McInerney could be eligible for parole before he's 40.
Several friends of the two teens have testified that the day before the murder King had told McInerney, "I love you, baby," and asked him to be his valentine.
Neither side in the trial is disputing that McInerney killed King, but what remains undecided is the motive. The defense insists that McInerney is not racist and that the Nazi material he possessed was for an eighth-grade project on World War II. Several classmates, including African-American students, have testified that McInerney never said anything racist.
Jay Thomas, who heads the Rainbow Alliance, a local advocacy center, says everyone is anxious to put this case behind them. But, he says, the issues of bullying and gay teens is still not being adequately addressed in local schools.
"I think that there is a desire within the school system, within certain teachers and educators, to learn more and do more. But, I do think the schools are uncomfortable and don't know what to do," he says.
Unfortunately, Thomas says, his group will not be able to help anymore. The alliance's state funding was cut, and will close its doors at the end of the month.