Linguine With Slow-Cooked Zucchini, Basil And Cream
A wonderful thing happens to zucchini when you slowly cook it over a low flame. It transforms from a bland, watery vegetable to a lovely, pulpy sauce with a subtly nutty flavor. Of course, the addition of good olive oil, savory pancetta and cream doesn't hurt. Slippery linguine is my first choice here, but spaghetti works well, too. This dish, adapted from my book The Glorious Pasta of Italy (Chronicle Books 2011), is light yet substantial, so I like to serve it with a side of sliced tomatoes drizzled with olive oil and sprinkled with salt and chopped fresh basil.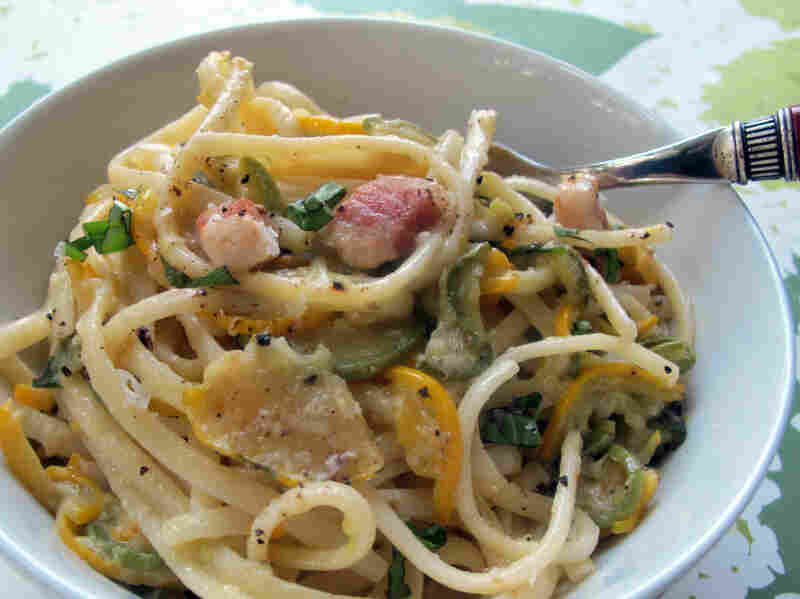 Domenica Marchetti for NPR
Makes 4 to 6 servings
2 tablespoons extra-virgin olive oil
4 ounces thickly sliced pancetta, cut into narrow strips
2 cloves garlic, cut into paper-thin slices
6 to 8 small to medium zucchini or other summer squash, sliced into thin coins
1 teaspoon kosher or fine sea salt
Freshly ground black pepper
1/2 cup heavy cream
5 large fresh basil leaves, cut into narrow strips (chiffonade)
1 pound dried linguine
1/2 cup freshly grated Parmigiano-Reggiano cheese
1/2 cup freshly grated pecorino Romano cheese
Warm the olive oil in a large frying pan over medium heat. Add the pancetta and saute, stirring frequently, for 8 to 10 minutes, or until the pancetta begins to render its fat and is slightly crispy. Reduce the heat to medium-low and stir in the garlic. Cook, stirring occasionally, for 5 minutes, or until the garlic begins to soften. Do not let the garlic brown. Add the zucchini, salt and a generous amount of pepper and cook slowly over medium to medium-low heat, gently tossing from time to time, for about 30 minutes, or until completely tender. The zucchini should be very soft and pulpy, and some (but not all) of the coins will have broken up.
Gently stir in the cream and cook for a few minutes longer, or until the cream has thickened slightly. Turn off the heat and add the basil, tossing the sauce gently to incorporate. Reheat the sauce briefly when the pasta is almost done cooking.
Bring a large pot of water to a rolling boil and salt generously. Add the pasta, stir to separate the noodles, and cook according to the manufacturer's instructions until al dente. Reserving about 1 cup of the cooking water, drain the pasta in a colander set in the sink.
Transfer the pasta to the frying pan and gently toss the pasta and sauce to combine thoroughly, adding a splash or two of the cooking water if necessary to loosen the sauce. Add the Parmigiano and pecorino cheeses and toss again, adding more cooking water if necessary. Transfer the dressed pasta to a warmed serving bowl or shallow individual bowls and serve immediately.