Dive Into A Danish Tale Of Seafarers And Dreamers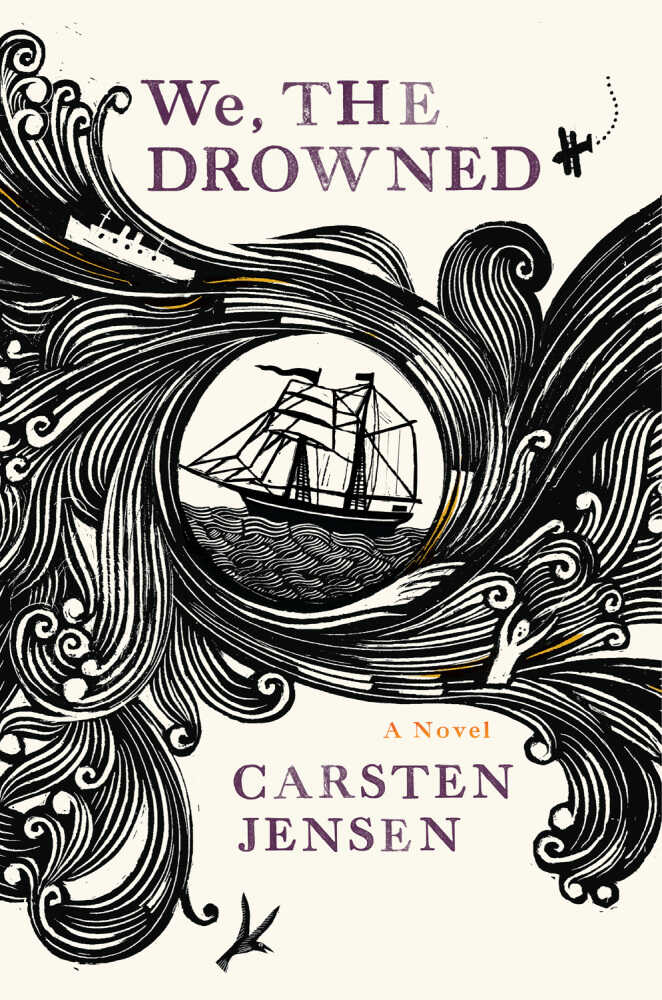 We, the Drowned
By Carsten Jensen
Hardcover, 688 pages
Houghton Mifflin Harcourt
List Price: $28
The "we" in the title of Danish author Carsten Jensen's We, the Drowned, an international bestseller just released in the U.S., is the citizenry of Marstal, a small town on the Danish island of Ærø — where sailing around the world on freighters is the addictive way of life for the men and a torturous waiting game for the wives and mothers they leave behind. Like in any typical small town, the populace of Marstal is concerned, nosy and, above all, patriotic, making it the ideal narrator of this engrossing hundred-year tale.
The story begins in 1848 with the outbreak of the First Schleswig War, a three-year battle between Denmark and Germany. Marstal is thrown into the only naval battle of the conflict, and it's a stalemate at that. But it makes for a dramatic introduction to the charming characters that populate this book. At the center of the action is Laurids Madsen, who, as a father of four, has already spent many years at sea before he is thrown into fiery battle and is traumatized by the experience. When the battle is over, he takes off on what his wife thinks is just another job. He never returns.
Driven by his ineluctable fate as a Marstaller, Madsen's favorite son Albert soon begins his own career as a sailor (happily, because at school he and his friends are tormented by an abusive teacher who fuels their own violent impulses). Albert's journey around the world collecting paychecks and climbing a ship's ranks soon gives way to a search for his father. Spurring him on is a pair of magical boots: The elder Madsen credited the boots with saving his life during the war, and when he leaves them behind before embarking on his latest journey, the son takes it as a sign that his father has hung up his metaphorical boots. Laurids Madsen is declared dead after several years, but Albert senses this was no ordinary sailing job, and that his father is still alive.
Throughout his exciting and harrowing quest to find his father — and beyond — the boots serve Albert well. By the time he settles into his retirement years back in Marstal, the boots still intact, he has seen much of the world and has a new totem to prove it: the shrunken head of a man alleged to be the explorer James Cook, who was killed in Hawaii following a conflict with the natives. But Albert is lonely. Without any family and plagued by nightly visions of wars to come, he wanders around Marstal looking for friends. Albert's outgoing, almost mayoral devotion to the town leads him to Knud Erik, a young boy who has recently lost his father at sea. Albert entertains Knud Erik with tales of his adventures, and the boy grows up to inherit Albert's passion for the sea, as well as his knack for making unlikely friends.
For the most part, the women of Marstal endure the enterprise that keeps their town running. But one widowed mother, in an attempt to quell her lifelong anxiety, tries to take the future of the town into her own hands. Having inherited a fleet of ships, she lets them bob in the harbor for years, refusing to lease them out, only to watch the men take ferries to Copenhagen and beyond to find work on other ships. Instead of waiting for time to change the town, which it gradually does, this woman wants to force change. But the town's ships always find a way to be useful.
This is where Jensen's "we" narrator comes in handy: For many of the Marstallers, life in the town is about waiting — for a loved one to return, or, in the case of its boys, to be old enough to set sail. What these land-bound citizens do while they wait can be as fascinating and frightening as what the men do at sea. It's thanks to this omniscient narrator, who takes the shape of a young boy, a widow and everyone in between, that we can see Marstal from all sides.
Readers may crave more seafaring action, but being stuck in Marstal's port has some wonderful rewards. In one chapter, Knud Erik and his friends forge the town's two teenage gangs into a single brotherhood called the Albert Gang, in honor of Knud Erik's admirable surrogate father. What this gang does together is a child-size version of life at sea. Looking for treasure, they, like Albert before them, come across a human head floating in the water, and it's an important clue in a subplot that covers half the book. In another episode, the gang leader, Anton, unsuccessfully tries to shoot an apple off another boy's head, which earns him both the nickname William Tell and a prescription for eyeglasses. This last appears to doom Anton to life on land: Without perfect eyesight, he won't make the best sailor. But like any good Marstaller, Anton finds his way onto a ship in the end.
Excerpt: 'We, the Drowned'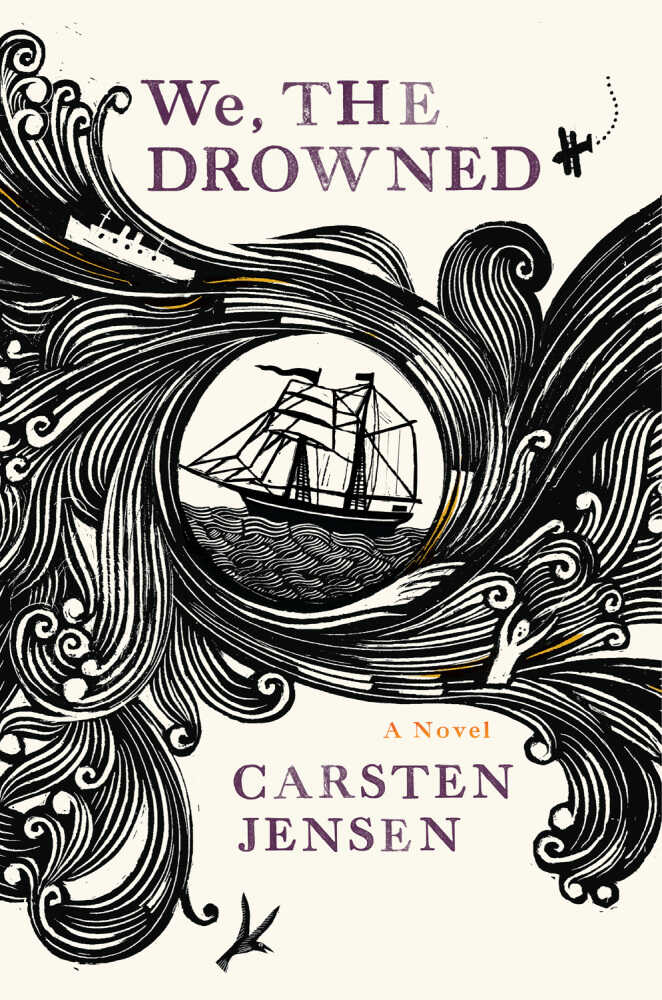 We, the Drowned
By Carsten Jensen
Hardcover, 688 pages
Houghton Mifflin Hartcourt
List Price: $28
Many years ago there lived a man called Laurids Madsen, who went up to Heaven and came down again, thanks to his boots.
He didn't soar as high as the tip of the mast on a full-rigged ship; in fact he got no farther than the main. Once up there, he stood outside the pearly gates and saw Saint Peter — though the guardian of the gateway to the Hereafter merely flashed his bare ass at him.
Laurids Madsen should have been dead. But death didn't want him, and he came back down a changed man.
Until the fame he achieved from this heavenly visit, Laurids Madsen was best known for having single-handedly started a war. His father, Rasmus, had been lost at sea when Laurids was six years old. When he turned fourteen he shipped aboard the Anna of Marstal, his native town on the island of Ærø, but the ship was lost in the Baltic only three months later. The crew was rescued by an American brig and from then on Laurids Madsen dreamt of America.
He'd passed his navigation exam in Flensburg when he was eighteen and the same year he was shipwrecked again, this time off the coast of Norway near Mandal, where he stood on a rock with the waves slapping on a cold October night, scanning the horizon for salvation. For the next five years he sailed the seven seas. He went south around Cape Horn and heard penguins scream in the pitchblack night. He saw Valparaiso, the west coast of America, and Sydney, where the kangaroos hop and the trees shed bark in winter and not their leaves. He met a girl with eyes like grapes by the name of Sally Brown, and could tell stories about Foretop Street, La Boca, Barbary Coast, and Tiger Bay. He boasted about his first equator crossing, when he'd saluted Neptune and felt the bump as the ship passed the line: his fellow sailors had marked the occasion by forcing him to drink salt water, fish oil, and vinegar; they'd baptized him in tar, lamp soot, and glue; shaved him with a rusty razor with dents in its blade; and tended to his cuts with stinging salt and lime. They made him kiss the ocher-colored cheek of the pockmarked Amphitrite and forced his nose down her bottle of smelling salts, which they'd filled with nail clippings.
Laurids Madsen had seen the world.
So had many others. But he was the only one to return to Marstal with the peculiar notion that everything there was too small, and to prove his point, he frequently spoke in a foreign tongue he called American, which he'd learned when he sailed with the naval frigate Neversink for a year.
"Givin nem belong mi Laurids Madsen," he said.
He had three sons and a daughter with Karoline Grube from Nygade: Rasmus, named after his grandfather, and Esben and Albert. The girl's name was Else and she was the oldest. Rasmus, Esben, and Else took after their mother, who was short and taciturn, while Albert resembled his father: at the age of four he was already as tall as Esben, who was three years his senior. His favorite pastime was rolling around an English cast-iron cannonball, which was far too heavy for him to lift — not that it stopped him from trying. Stubborn-faced, he'd brace his knees and strain.
"Heave away, my jolly boys! Heave away, my bullies!" Laurids shouted in encouragement, as he watched his youngest son struggling with it.
The cannonball had come crashing through the roof of their house in Korsgade during the English siege of Marstal in 1808, and it had put Laurids's mother in such a fright that she promptly gave birth to him right in the middle of the kitchen floor. When little Albert wasn't busy with the cannonball it lived in the kitchen, where Karoline used it as a mortar for crushing mustard seeds.
"It could have been you announcing your arrival, my boy," Laurids's father had once said to him, "seeing how big you were when you were born. If the stork had dropped you, you would have gone through the roof like an English cannonball."
"Finggu," Laurids said, holding up his finger.
He wanted to teach the children the American language.
Fut meant foot. He pointed to his boot. Maus was mouth.
He rubbed his belly when they sat down to eat. He bared his teeth.
"Hanggre."
They all understood he was telling them he was hungry.
Ma was misis, Pa papa tru. When Laurids was absent, they said "Mother" and "Father" like normal children, except for Albert. He had a special bond with his father.
The children had many names, pickaninnies, bullies, and hearties.
"Laihim tumas," Laurids said to Karoline, and pursed his lips as if he was about to kiss her.
She blushed and laughed, and then got angry.
"Don't be such a fool, Laurids," she said.
Excerpted from We, the Drowned by Carsten Jensen. Copyright 2011 by Carsten Jensen. Published by Houghton Mifflin Harcourt. All rights reserved.
Books Featured In This Story
We, the Drowned
Hardcover, 678 pages |
purchase
Buy Featured Book
Title

We, the Drowned

Author

Carsten Jensen
Your purchase helps support NPR programming. How?