Race, Humor And Family Intersect In 'My Korean Deli'
"Shopkeepers make good narrators because they're passive and steady," writes Ben Ryder Howe in his memoir, My Korean Deli: Risking It All for a Convenience Store. "Plus, in the end, something awful always happens to them."
Howe knows from both narrators and shopkeepers: My Korean Deli follows Howe as he works days as an editor at The Paris Review and nights at his family's Brooklyn deli. And Howe, though a fairly lousy shopkeeper, makes for an excellent narrator: His book is an engaging and funny tour of the down-and-dirty world of New York City small business, whether that business is an Upper East Side literary magazine (The Paris Review later moved downtown) or a Boerum Hill bodega.

Howe and his wife, Gab, bought the deli as a last-ditch effort to earn enough money to move out of Gab's parents' house in Staten Island ("New York's pariah borough"). But the deli also serves as Gab's way to give something back to her mother, Kay, a steely Korean immigrant devoted to hard work and hard truths. "What's the matter?" she asks Howe, when he expresses his desire to own an upscale market rather than a downscale junk-food and phone-card emporium. "You not like money?"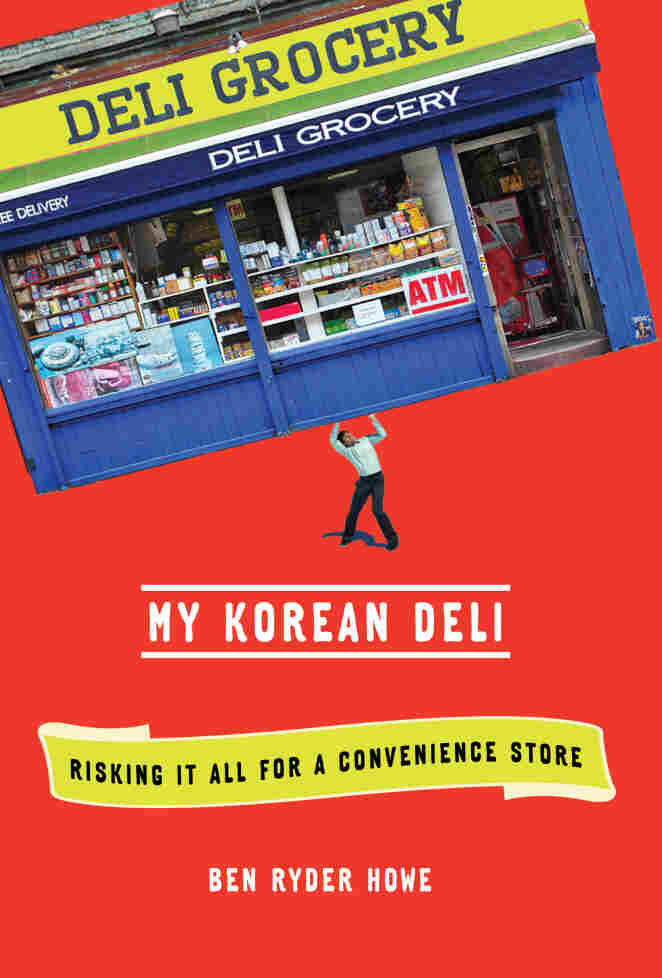 My Korean Deli
By Ben Ryder Howe
Hardcover, 320 pages
Henry Holt and Co.
List Price: $25
"I would say that one of my biggest faults as a human being," Howe muses, "is that I do not love money, which makes me lazy and spoiled." The most satisfying parts of the book track Howe's evolution from a reserved and snobbish WASP to, essentially, an honorary Korean, thanks to the way that working inhuman hours in a failing family business breaks down boundaries between him and his striving immigrant in-laws.
And Howe and his relatives do spend an awful lot of time failing. The store makes less money than expected even as it is hit with massive tax bills; vendors and deliverymen screw over the new owners, leaving cartons of unwanted products on the floor of the store and then invoicing later. The city also tries to confiscate the deli's refrigerators and nails Howe for selling tobacco to a minor. Howe's evocation of the financial knife-edge on which he finds himself is so convincing that even if you step away from the book and go out into the world, you'll still thrum with low-level panic.
Meanwhile, Howe is witness to the last years of the legendary George Plimpton's reign over The Paris Review, that bastion of amateurism in the big world of literary publishing. At times, Howe can't get over the idea that the entire staff is playacting, especially when compared with the gritty reality of his deli. "The Paris Review was not a real place," he writes. "It was a fantasy, a make-believe world (poems! stories!) inside a bubble of privilege." Plimpton himself, though, is very real in this telling, "as tall as an NBA small forward, as pale as New England fog," a man who is ferocious in defending the precarious state of his magazine but who also shows the office an MRI of his testicles, "injured at a writers' conference in a late-night collision with a golden retriever."
Even as the deli's finances bottom out, the editors at the Review find themselves fighting for their jobs due to unforeseen tragedy. In addition to everything else, My Korean Deli is likely to be the best look we'll ever get at the inner workings of the most important literary magazine in the world during its awkward transition from an icon's pet project to a smaller, more serious concern.
The third of the big personalities populating My Korean Deli is Dwayne, a longtime employee of the store — he conveyed from the prior owner — whose expertise and work ethic make him indispensable, even as his penchant for loud jeremiads and obscene phone calls make Howe consider dispensing of him. Like Kay and Plimpton, Dwayne is secure in his own skin but essentially unknowable; Howe draws a fascinating portrait of all three complicated characters, while never suggesting he has plumbed their depths more than is believable.
Through it all, Howe's engaging, prickly personality shines through. Though the memoir, at times, gets too wrapped up in the minutiae of the day-to-day — whether in the deli, or at the Review, or in Howe's marriage — it's well worth it just to read Howe flying off on such comic tangents as his concerns that Gab's problems conceiving might be the fault of his dithering, reflective sperm. "Who gets to ascend the fallopian tube first, I can see them wondering, and how does that 'privilege the narrative' of the fallopian crossing?"
Does My Korean Deli have a happy ending? It depends how you define it, I guess. Would it be happy if Howe's deli achieves great success and Ben gets to work there for years to come? Or would it be happy if Howe's deli fails, and Ben isn't forced to work there for years to come? One of the strengths of this plucky, thoughtful memoir is that either possibility, in the end, seems both triumphant and bitterly disappointing.
Dan Kois is the author of Facing Future, about the Hawaiian musician Israel Kamakawiwo'ole. He lives in Arlington, Va., and writes for The New York Times, New York magazine, Slate, the Washington Post and other publications.
Excerpt: 'My Korean Deli'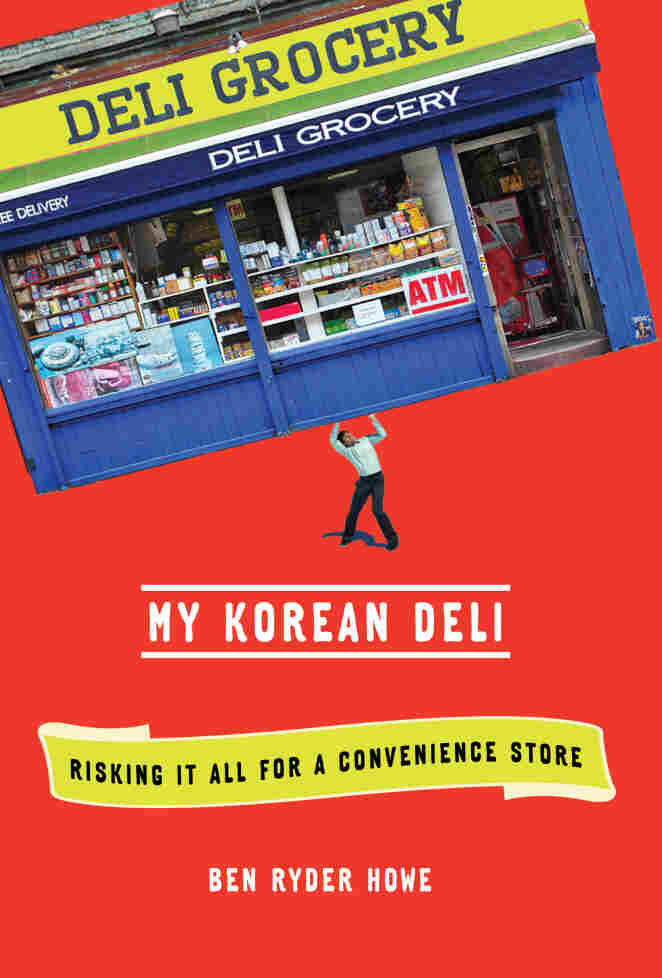 My Korean Deli
By Ben Ryder Howe
Hardcover, 320 pages
Henry Holt and Co.
List Price: $25
Steam Table
Fall 2002
Last summer my wife's family and I decided to buy a deli. By fall, with loans from three different relatives, two new credit cards, and a sad kiss good-bye to thirty thousand dollars my wife and I had saved while living in my mother-in-law's Staten Island basement, we had rounded up the money. Now it is November, and we are searching New York City for a place to buy.
We have different ideas about what our store should look like. My mother-in-law, Kay, the Mike Tyson of Korean grandmothers, wants a deli with a steam table, one of those stainless steel, cafeteria-style salad bars that heat the food to just below the temperature that kills bacteria—the zone in which bacteria thrive. She wants to serve food that is either sticky and sweet, or too salty, or somehow all of the above, and that roasts in the dusty air of New York City all day, while roiling crowds examine it at close distance—pushing it around, sampling it, breathing on it. Kay's reason for wanting a deli of this kind is that steam tables bring in a lot of money, up to a few thousand dollars per hour at lunchtime. She also wants a store that is open twenty-four hours and stays open on Christmas and Labor Day. She'd like it to be in the thick of Manhattan, on a street jammed with tourists and office workers.
I don't know what I want, but an all-night deli in midtown with a steam table isn't it. I'm the sort of person who loses my appetite if I walk past an establishment with a steam table. I get palpitations and the sweats just being around sparerib tips. Of course, I don't have to eat the food if we buy a deli with a steam table. I just have to sell it. That's what Kay says she plans to do. But Kay has an unfair advantage: years ago, after she came to America, she lost her sense of smell, and now she can't detect the difference between a bouquet of freesias and a bathroom at the bus station. My nose, on the other hand, is fully functional.
Luckily, I'm in charge of the real estate search, and so far I have successfully steered us from any delis serving hot food. As a result, Kay's frustration is starting to become lethal.
"What's the matter?" she asked me the other day. "You not like money? Why you make us poor?"
These are not unfair questions. I would say that one of my biggest faults as a human being is that I do not love money, which makes me lazy and spoiled. Like finding us a store, for example. Call me a snob, but somehow a deli grocery—a traditional fruit and vegetable market—seems more dignified than a deli dishing out slop by the pound in Styrofoam trays. Is that practical? We are, after all, talking about the acquisition of a deli, not a summer home or a car. If dignity is so important, why not buy a bookstore or a bakery? Why not spend it on a business where I have to dress up for work?
Don't get me wrong: I'm not insecure about becoming a deli owner. I even sort of like the idea. Aside from a few "gentleman farmers," no one can remember the last person in my family who worked with their hands. After blowing off law school and graduate school, after barely getting through college and even more narrowly escaping high school, why would I suddenly get snobbish?
But the truth is, I'm still young (thirty-one is young, right?) and can afford to be blasé. It's like the job I had as a seventeen-year-old pumping gas outside Boston, a gig I remember as brainless heaven. I enjoyed coming home smelly. I enjoyed looking inside people's cars while scraping the crud off their windows. I enjoyed flirting with women drivers twice my age.
Who knows how I would have felt if seventeen were just the beginning, and I could look forward to fifty more years of taking orders from strangers.
Today we are looking at a deli with a steam table. This morning I was informed of the news by a fire-breathing giant, a creature escaped from a horror movie about mutants spawned by an industrial accident, who hovered at my bedside until I awoke with a start, upon which the creature said: For two weeks you be in charge of finding our store, and you not come up with anything. So starting today we do it my way. Then the creature exited, accompanied, it seemed to my half-asleep ears, by the sound of dragging chains.
For the rest of the morning I lie there under the sheets as a form of protest, not intending to get out, until my wife, Gab, sits down on the bed next to me with a cup of coffee.
"I want you and my mother to go together," Gab says. "I can't come because I have things to do at home."
The store is near Times Square and has a name like Luxury Farm or Delicious Mountain. Its Korean owners claim to be making eight thousand dollars a day, a preposterous sum that nevertheless has Kay all excited.
"Don't be afraid of steam table," she says as we drive to the store. "If smelling something stranger, close nose and think of biiig money."
I exhale deeply and try to follow her advice, but instead of fistfuls of cash all I can think of are slabs of desiccated meat loaf slathered in congealed gravy and the smell of boiled ham. So I focus on the drive into midtown—the glowering skyscrapers, the silhouettes of bankers and lawyers behind tinted windows a few stories above the traffic, the gigantic television screens featuring high-cheekboned models talking on cell phones, and at street level my future comrades among the peonage: the restaurant deliverymen, the tarot readers, the no-gun security guards and the DVD bootleggers.
Excerpted from My Korean Deli by Ben Ryder Howe. Copyright 2011 by Ben Ryder Howe. Published in 2011 by Henry Holt and Company. All rights reserved. This work is protected under copyright laws and reproduction is strictly prohibited. Permission to reproduce the material in any manner or medium must be secured from the Publisher.
Books Featured In This Story
Risking It All for a Convenience Store
Paperback, 304 pages |
purchase
Buy Featured Book
Title

My Korean Deli

Subtitle

Risking It All for a Convenience Store

Author

Ben Ryder Howe
Your purchase helps support NPR programming. How?