Talking About 'Harry Potter' From Under A Nice, Warm Blanket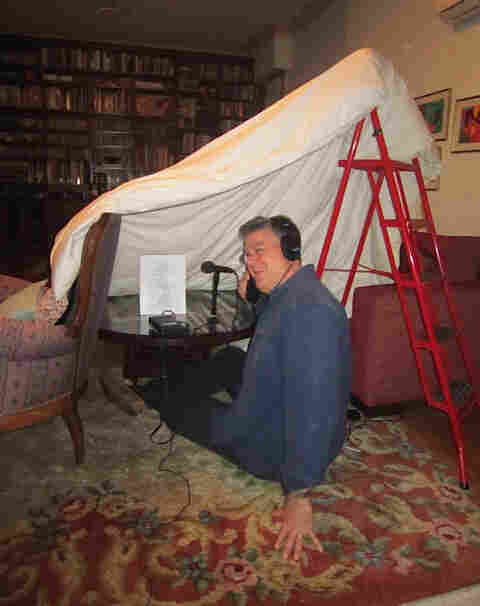 When I say that Harry Potter's latest movie took me back to my childhood, I don't mean it in quite the way most people would.
Oh sure, watching the eighth Potter movie, Harry Potter and the Deathly Hallows Part 2, took me back in the conventional sense. At this point in my career, I don't show a lot of emotion at screenings. But did I sniffle as BFFs Harry, Ron, Hermione and a theaterful of fans all arrived together at that moment where innocent eyes cloud with the realization that childhood ultimately ends? Yup ... sniffle I most certainly did.
It was what came after, though — when I was prepping for an All Things Considered movie chat with host Guy Raz — that I started feeling like a kid again.
See, while I'd caught the movie in Buenos Aires, Guy was 5,000 miles away in Washington D.C., and neither of us much likes the scratchy sound of a long-distance phone connection. So turning our conversation into broadcast-quality audio would require a couple of low-tech special effects.
Extremely low-tech. I brought my blankie. And a ladder. And rearranged furniture just like I did when I was ten, and my cousins visited from NY.
Back then we used sheets and blankets to turn a chair, a bed, a cot, and a bureau into a makeshift maze through which we could tunnel with flashlights, giggling long past our bedtimes.
This time, I used a down-filled duvet (it's winter here in Argentina) to turn a coffee table, a couch, a ladder and a high-backed chair into a makeshift radio studio. I then recorded my end of the conversation and emailed it as a digital file to NPR, where engineers synchronized it with Guy's side of the conversation to make a — hopefully — seamless whole.
Why the duvet tent? Well, the idea is to reduce the sorts of extraneous noise you find outside a soundproof studio – street traffic, water gurgling through pipes, the whoosh of central heating — while taming the tiny echoes a microphone will detect as a voice bounces off plaster walls. Studios use fabric, sound-absorbing tiles, all manner of tricks to deaden ambient sound so the voice is highlighted for the mic.
To duplicate that when there's no studio at hand, reporters come up with their own methods — some shut themselves up in clothes-filled closets, others do the tent trick with quilts and blankets.
Given my memories of tunneling with my cousins, the tent trick seemed appropriate this time — a quiet nod to childhood fantasies as Guy and I talked about a grand Hollywood fantasy thundering to a close.
Hear Muggle Mondello's Under-Cover Report