Beethoven's Best: The Ultimate 5th Symphony
*a weekly guide to essential classics*
Kean Collection/Getty Images
Hear The Music
Carlos Kleiber's mid-1970s Beethoven recordings with the Vienna Philharmonic remain the finest works of their kind.
Beethoven: Symphonien Nos. 5 & 7
Beethoven: Symphonien Nos. 5 & 7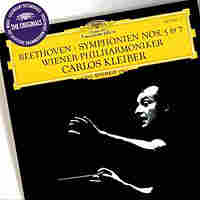 Beethoven's Fifth Symphony — with its famous, jolting first four-notes — broke expressive ground and overturned many of the formal concepts on which the classical symphony had been based. The scoring is lean and severe, and the music doesn't flow smoothly; it's constantly being stopped and held back, which adds to the listener's sense of unease.
As familiar as it has become, the symphony's first movement still arouses the feelings of "nameless foreboding" that Beethoven's contemporary E.T.A. Hoffman noted in a review.
Of the many strange and wonderful moments in this movement, perhaps the strangest is the subdued passage in the middle of the development section, in which a series of hushed chords alternates in the winds and strings, suggesting the eerie calm in the eye of a storm. But calm of any sort is short-lived in this, one of the most tightly wound and disturbing symphonic movements ever written.
Beethoven's Fifth begins in urgency and foreboding and ends in triumphant celebration. It's a metaphor for transcendence, and probably the most influential piece of music ever written.
The Kleiber Magic
It's hard to settle on a single reason, but it's the chemistry between Carlos Kleiber and the Vienna Philharmonic Orchestra that seems to make this recording so special.
In a performance of notable urgency, Kleiber gets the Vienna Philharmonic to play the Fifth as if it were a first encounter. The reading is violent, sinuous, shadowy and impassioned, the effect compelling without seeming overwrought. Kleiber presides over a gripping first movement that goes like a shot, and is to be commended for observing such musicological niceties as the exposition repeats of both the first movement and finale.
With a barn-burning account of the Seventh Symphony as a bonus, this disc is to die for.
To hear last week's feature, click here.
For a full archive of NPR's Classical 50, click here.
Related NPR Stories