Mozart's Turbulent Final Symphonies
*a weekly guide to essential classics*
Ted Libbey And Fred Child Recommend Mozart's Late Symphonies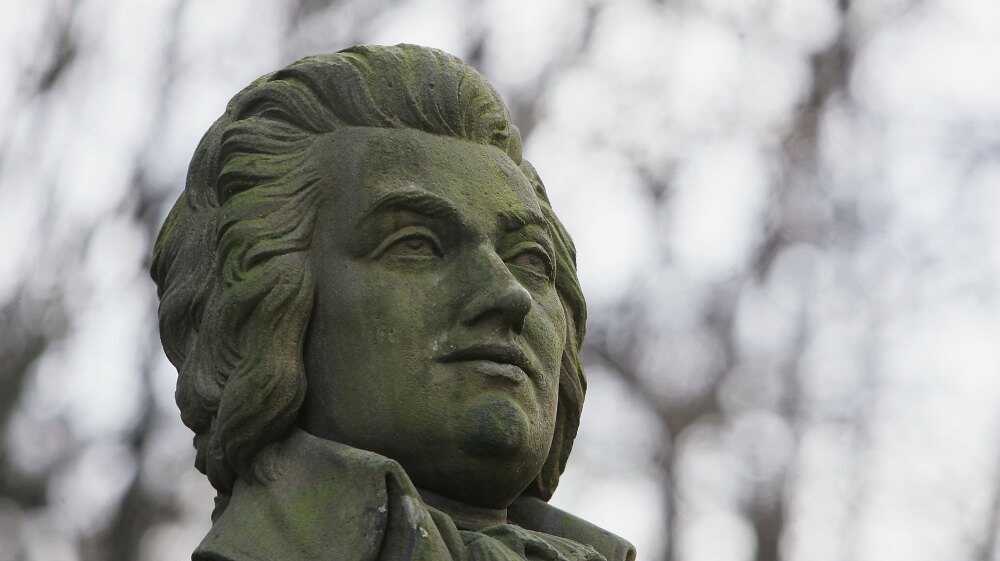 hear the music
Symphony No. 40 in G minor, K. 550
Symphony No. 41 in C major ("Jupiter"), K. 551
Karl Böhm conducts the Berlin Philharmonic
By any measure, Mozart's Symphony No. 40 in G minor, his next to last, is his most emotional and rigorously argued symphony. The minor mode had a special significance for Mozart, almost always compelling him to vent feelings of extraordinary turbulence and passion. On that plane, this symphony stands alone — not only among Mozart's works, but among all the symphonic works of the 18th century.
The opening Allegro immediately delivers a feeling of restlessness, as divided violas accompany the principal subject in quiet agitation. The tone of this subject is both poignant and tense, and Mozart's treatment of it ranges from anxious to nearly manic.
After that harrowing look into the abyss, it's necessary to withdraw — yet the second movement offers at best a temporary reprieve. The third movement's minuet and its trio contrast sharply, one poignant and heavy, the other pastoral and light.
The symphony's finale returns to the passionate sentiment of the opening movement, only now more fierce and demonic. When its almost cheerful second theme returns in the minor, in the recapitulation, the feeling is funereal. With this cry from his soul, Mozart closes the most unflinchingly grim symphony of the 18th century.
Karl Boehm At His Best
The Austrian conductor Karl Boehm worked with Bruno Walter and Richard Strauss — two great Mozarteans from whom he learned a lot — but he also brought his own ideas to the interpretation of Mozart's symphonies. Boehm is able to find the animation in Mozart's music largely because he was a master of the opera. But he's also able to give it the sense of breathing and expression that it demands. His sense of tempo, above all, is just about unimpeachable. Boehm was always able to pick the right tempo in Mozart and you get that sense in these recordings.
To hear last week's feature, click here.
For a full archive of NPR's Classical 50, click here.