At 61, Nyad Resurfaces For Cuba To Key West Swim
At 61, Nyad Resurfaces For Cuba To Key West Swim
More than 30 years after her last big swim, Diana Nyad is back in the water. Nyad, a former commentator for NPR's Morning Edition, became well-known in the 1970s for her swim around Manhattan Island and, a few years later, for swimming from the Bahamas to Florida.
Now, at age 61, she'll soon be attempting a 103-mile swim from Cuba to Key West. She has been training relentlessly — with 9-hour, 15-hour, even a 24-hour swim.
On a recent day, she's out for a short swim — just three hours — on the "Voyager" a 32-foot power catamaran. She and her team of trainers, boat pilots, meteorologists and shark divers are ready. They're just waiting for the weather.
As we pull out of the harbor at Key West, her navigator, David Marchant tells her there are several days of rough weather ahead.
"It's making me crazy," Nyad says.
She needs the water in the Florida straits to be as warm as possible — hopefully in the high 80s. Once she takes off from Cuba, she'll swim for at least two-and-a-half days straight — an estimated 60 hours — without a wet suit. Hypothermia is a concern when just a few tenths of a degree can make a big difference.
She also wants calm seas.
Today, there's some wind, and even small waves are a problem. Nyad says she hopes to begin her marathon swim in a dead, flat calm.
"We're looking for that magic they call the doldrums," she says. "Then you glide across the surface. Your legs aren't working to get up to get a breath. Your arms aren't slapping and boxing the surface. You're just above it."
Looking at a map, Marchant points to the spider web of ocean currents Nyad will have to negotiate between Key West and Cuba.
"We're going to be leaving here," he says, pointing to a spot just west of Havana. "And we're going to be headed toward there."
He's pointing to Fort Jefferson, 70 miles west of Key West. With the currents pushing Nyad east, that route should land her close to Key West, Marchant says.
A Second Attempt At The Route

Nyad actually tried this swim once before — in 1978, when she was in her late 20s. She was in the water for more than 40 hours before she was forced to quit. Strong currents and high winds in the Florida straits pushed her off course, making a landing in Florida impossible.
Nyad says that experience taught her that it's crucial to have someone aboard who understands the currents.
"You can take any boat across," she says. The real question, she says, is: "Can you take a swimmer across? Can you navigate that Gulf Stream and the eddies off Cuba and the tides off Florida? And every time I stop in the Gulf Stream to take my nutrition, I'm being dragged to the East. So, it's a tricky navigational proposition."
Nyad will also bring along a team of kayakers and divers with a singular mission — to keep sharks away. The kayaks will have electronic shark repelling devices. The divers are there as a backup to drive off any sharks that become too inquisitive — especially oceanic white tips, an aggressive species common in the Caribbean.
Since Nyad first tried it, one person — Australian Susie Maroney — successfully completed the Cuba to Key West swim, but that was in a shark cage — a massive enclosure that circles and protects the swimmer. Nyad plans to do this trip without the cage.
"I have nothing against that," she says. "Those are dangerous white tips out there. It's no joke. But, I don't want an asterisk next to my name. So, you can do it, but it says make sure you know this was with a shark cage. I just want to swim in the clear, open ocean with all the elements."
Important To Find A Rhythm

Nyad's trainer and best friend, Bonnie Stoll, interrupts to tell her it's time to get ready to swim. With goggles and swim cap in place, Nyad splashes off the side of the boat into the water.
She quickly finds her rhythm — strong, steady strokes. In her younger days, Nyad powered 32 miles across Lake Ontario and 50 miles along Australia's Great Barrier Reef. Those achievements, and many others, landed her long ago in the International Marathon Swimming Hall of Fame.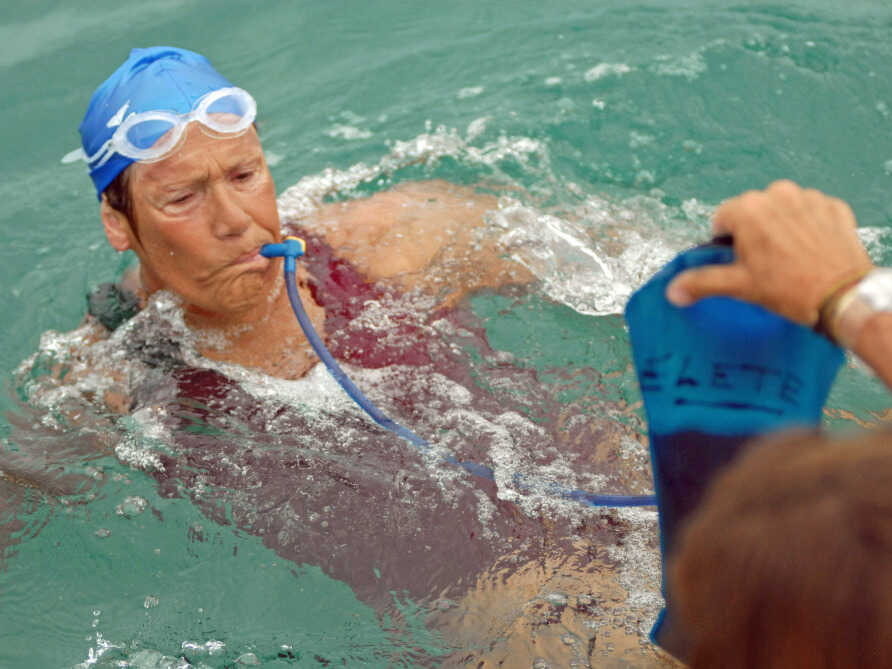 After an hour and a half, it's time for Nyad's first break to take water and food. She comes up alongside the boat with a question for her boat crew.
"It's driving me crazy. Help me remember the words," she says. She begins singing "A Horse with No Name," the 1970s hit by the band America. She's stuck on the lyrics. "After three days in the desert sun," she sings, then stops. "Now what's that next line? That's the line I'm missing."
Pretty soon, everyone on the boat is singing. Eventually, we come up with the missing lyrics, Nyad's goggles are back on, and she completes her swim.
Afterward, back on the boat, Nyad recalls a 15-hour swim she did last year off the coast of Mexico. When she came up at the end, a friend asked her what she was thinking about on her long swims. Nyad laughs as she recalls her answer.
"To be really frank with you, right that minute, I was singing the Beverly Hillbillies theme song 2,000 times."
60th Birthday An Inspiration

After retiring from distance swimming, Nyad spent the next three decades pursuing a career as a radio and TV journalist. During all that time, she stopped swimming. But then, two years ago, faced with her impending 60th birthday, she decided to begin training for one more big swim.
She was ready last year, but permission from Cuban and U.S. authorities came through late in the summer — and the weather didn't cooperate. Now, within the next few weeks, she expects to complete her dream — and at the same time set the record for the world's longest unassisted ocean swim.
With her support team and her training, Nyad has nothing but confidence — even though she concedes she's not as fast as she used to be.
"I'm 15 pounds heavier than I was," she says. "I used to feel more like a thoroughbred racehorse." With another laugh, she says, "Now I feel more like a Clydesdale."
It takes a rare person who, at age 61, is eager to spend 60 hours in the ocean, braving sharks and strong currents to swim more than 100 miles. And, if you're Diana Nyad, it helps to have a head full of old songs — and a sense of humor.