Cry Baby Cry: Songs That Make You Weep
Cry Baby Cry: Songs That Make You Weep
No one wants to see two grown men cry — especially not at work. For this week's all-tearjerker episode of All Songs Considered, Bob Boilen and Robin Hilton took the conversation offline and set up shop in Bob's apartment, armed with some home recording gear, a box of Kleenex and a bottle of wine.
Thousands of listeners contributed stories about the music that makes them cry, and while there were some usual suspects — Adele, Sufjan Stevens, and Paul Simon, to name a few — Bob and Robin discovered that a song needn't necessarily be sad to get the waterworks going. Listen to the discussion here, then head to the All Songs blog for more.
Cry Baby Cry: Songs That Make You Weep
Do You Know What It Means to Miss New Orleans?
from Best of Louis Armstrong: The Complete RCA Victor Recordings
by Louis Armstrong
Submitted by Ryan:
"It takes me back to my sophomore year at LSU when, right after Katrina hit they turned our basketball arena, the PMAC, into a triage for people bused in from the city. The song got a lot of play after the storm when so many folks were displaced and it always reminds me of the storm and makes me hopeful about the comeback the city is making."
If It's the Beaches
from The Gleam
by The Avett Brothers
Submitted by Lauren:
"Every time I hear this song, I remember the way that he loved me. The way that he promised me the beaches to take me away and do whatever he could."

End of the Rainbow
from I Want to See the Bright Lights Tonight [Bonus Tracks]
by Richard & Linda Thompson
Submitted by Bob:
"When I heard this song... I thought is was the saddest view of life that any human being could ever hold."
Plea from a Cat Named Virtute
from Reconstruction Site
by The Weakerthans
Submitted by Robin:
"It's 100 percent association for me. The first time I ever heard that song, a number of years ago, was the day my cat died."
Something So Right
from There Goes Rhymin' Simon
by Paul Simon
Submitted by Chris:
"I met a wonderful girl during a dark time in my life. She had just recently gone through a rough patch as well.We played this song together, symbolizing our parallel existences."
Keep Ya Head Up
from Greatest Hits [Edited Version]
by 2Pac
Submitted by Chris:
"He talks about how he might be heading to the pen and the next line is, 'I try to find my friends/ But they're blowing in the wind.' That always really strikes me. I think it's because I grew up with a lot of people that just aren't around anymore."
To Be Alone With You
from Seven Swans
by Sufjan Stevens
Submitted by Steven:
Before my daughter went to college, my wife instigated a family sing along. My daughter came home to visit for Thanksgiving, and she helped us learn Sufjan Steven's "To Be Alone With You." The following February, our daughter was killed by a drunk driver. We discovered that "To Be Alone With You" was the music that she chose to play when her MySpace page was opened."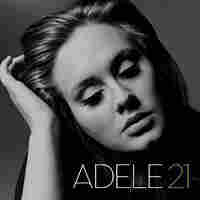 Someone Like You
Submitted by TJ:
"I think the things that she is singing about are themes that as adults we've pretty much all experienced. So it sort of pulls at your heartstrings each time you listen to it."