Another Chance At Life On 'Another Earth'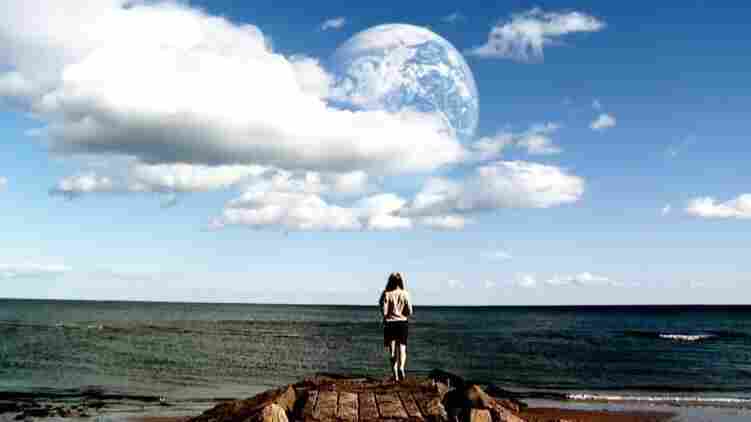 Another Earth
Director: Mike Cahill
Genre: Drama
Running Time: 92 minutes
Rated PG-13 for disturbing images, some sexuality, nudity and brief drug use
With: Brit Marling, William Mapother, Meggan Lennon, Matthew-Lee Erlbach
(Recommended)
Watch Clips
'We Have To Celebrate'
'We Have To Celebrate'
'Are You Going'
'Are You Going'
'Russian Cosmonaut'
'Russian Cosmonaut'
So there's this sad young astrophysicist who works, by choice, as a high school janitor. Not by chance, she shows up at the neglected home of an even glummer man whom she wronged years ago, even though they've never met. She offers herself as a housekeeper. After much cleaning, hemming and hawing the two fall in love, and why not? They both favor knitted caps, rumpled sweats and extremely long faces. Meanwhile, a humongous new planet inhabited by people who look suspiciously like us drifts into frame and stations itself right next to Earth, to the evident delight of the evening news. What gives?
Like many an ambitious novice, director Mike Cahill has stuffed every movie he ever wanted to make, every cockamamie parallel he wanted to draw, into his feature debut. I salute his guts and passion, and his imaginatively careless way with genre. Hold Another Earth up to one starry light and you'll see a sci-fi fantasy about parallel worlds. Look through a grainier lens, and you see a Sundance melodrama of moral and emotional recovery from trauma and crippling guilt. Both are goofy and good.
More than anything, though, Another Earth is an impressive calling card for Brit Marling, who wrote and produced the movie with Cahill, a classmate from Georgetown University. Marling also steals the movie as Rhoda Williams, a fledgling scientist whose four-year prison stint for a terrible crime has left her crippled by guilt and, in her view, fit for nothing but cleaning school toilets.
Marling is blond and gorgeous, and she has been noticed around Hollywood, where she's already tapped to play opposite Richard Gere in an upcoming thriller. With any luck, she will bat away all requests to file down her molars, tweeze her gloriously untended eyebrows or wriggle out of those baggy sweats. A fierce intelligence shines out of those delicate features, and as Rhoda, Marling gives quiet desperation a good name.
Marling brings a far-out premise down to earth with her sublimely implicit invocation of a woman creeping through a life derailed by her one tragic mistake. Blitzed and fragile though she is, Rhoda grows attached to the forbiddingly gruff John Burroughs (William Mapother, released from bad-guy duty and clearly loving it), a composer of avant-garde music who seems as undone by his past as she is. They dump the beanies and start dressing like real people. Soon she's in his bed, the movie's washed-out palette surges into warm color, he plays space music on a chainsaw, and love promises to purge both their hearts and minds of toxic matter.
Until, that is, Rhoda spills the beans. It would take a spare planet to sort out the mess that follows, but you don't have to share Cahill and Marling's taste for blending catastrophe and ecstasy to be entranced by the alternate earth that heaves into view, accompanied by a celestial score from the British duo Fall On Your Sword. The planet will play a crucial turning point in Rhoda and John's lives, but mostly it just hangs in the sky, a place of enchantment rather than threat, and promising all kinds of renewal.
Another Earth is cluttered with unnecessary debris, a philosophizing voice-over from real-life scientist Richard Berendzen and an elderly janitor (Kumar Pallana) who dispenses opaque wisdom every time he opens his mouth. Just looking at Marling and the shimmering globe is delight enough, but for Rhoda the New World represents repair and the possibility of escape from her pain and guilt. A ticket to fly lands in her lap, and she must decide whether to use it or face the music within. How the events unfold is not as self-evident as it seems, but it's weirdly satisfying to know that one of the lovers wins balm for the soul, while the other wins what most of us need — an encounter with a better self. (Recommended)