Book Excerpt: 'I Feel So Good: The Life And Times Of Big Bill Broonzy'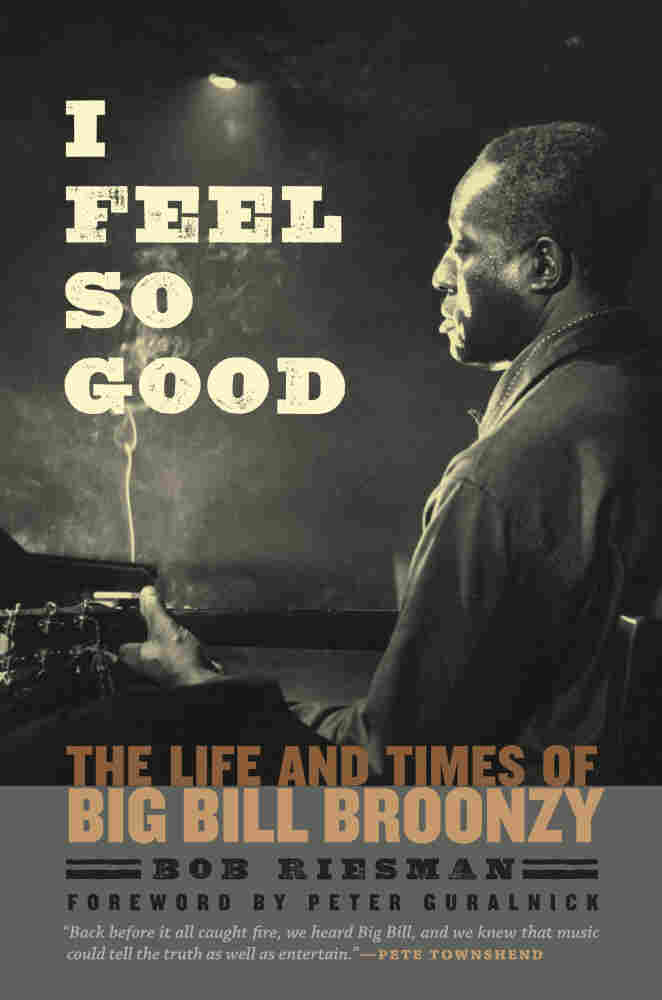 University of Chicago Press
I Feel So Good: The Life and Times of Big Bill Broonzy
By Bob Reisman
Hardcover, 366 pages
University of Chicago Press
List Price: $27.50
There are several pieces of paper that Big Bill Broonzy's grandniece Rosie Tolbert keeps among her prized family possessions. They are a set of printed forms dating from the end of the nineteenth or the beginning of the twentieth century. Each has an elaborately drawn crimson-and-gold border enclosing the preprinted text appropriate to its purpose: to record births, marriages, and deaths. Each has an engraved image related to the event, ranging from an infant sitting in a half-shell on a beach surrounded by flowers to an angel kneeling at a grave site. On these pages, brown with age but carefully preserved, are the names and dates of these events for the members of Bill's family. Along with census records and other documents, they contain the vital statistics of the story of Big Bill Broonzy's origins.
His father, Frank Bradley, was likely born in South Carolina during the early to mid-1860s, as the Civil War was under way. The family records list a birth date for him of November 22, 1861. By 1882 he had made his way to Jefferson County, in east-central Arkansas, and in August of that year he married Anna Lou Sparks, age eighteen. The date of Frank's birth year varies by several years among different census records, as well as on his 1882 marriage license.
On December 29, 1889, Frank married a second time, to Mittie Belcher in New Gascony, Arkansas, a rural community several miles outside of Pine Bluff. Mittie was probably born in Arkansas sometime in the range of 1869 to 1873, with various birth dates indicated on census records, her marriage license, and her death certificate. The family records show that she was born on March 1, 1869, in Arkansas. Whether Frank had become available because the first Mrs. Bradley had died or because they had split up is not known, but the union with Mittie Belcher was to last forty years.
By the time the census-taker stopped by the Bradley household in Vaugine Township in rural Jefferson County in June 1900, the family included seven children. Andrew, the oldest of the three boys, was born in 1882, followed two years later by Mattie. Rachel, born in 1887, was likely the first child born to Mittie Belcher Bradley. Their numbers had swelled in the 1890s with the births of James in 1890, Sallie in 1892, Frank Jr. in 1897, and Gustavia in 1899.
On June 26, 1903, Frank and Mittie welcomed Lee Bradley, the fourth and last boy. The entry in the family birth record appears as "Lee Conly Bradley," but in all other official documents in which he is listed as a Bradley, it is just as Lee Bradley. "My name," he told a Danish jazz club audience in 1956, "is William Lee Conley Broonzy," and he was half right. His full given name was most likely Lee Conley Bradley.
Lannie Bradley, the sister Bill was closest to, was born on August 4, 1906. The youngest child, Mary, was born in 1909, when Mittie was either thirty-six or forty years old, depending on her actual birth date. She had been bearing children for at least two decades, and Frank had been a father to small children for over twenty-five years.
---
Here is Bill's account of his family history in his autobiography, Big Bill Blues:
My father told me how he met my mother in slave time. He said they had to pick so much cotton a day and she didn't get her task done and he'd seen her get a lashing, and after that he said he would pick cotton fast to get his task done and crawl through the grass and weed and help her, and he did that every day.
So when they was freed and sent back to their home they found out that both lived in Baton-Rouge [sic], Louisiana, and they got married. Often I have heard my mother say:
"Any time a man takes a chance on his life to help me, he's good enough for me to marry and have a baby for."
If this is Bill's creation myth, it is a good place to start in looking at the ways in which he chose to present his family and himself. There are elements here that run through much of his creative output in songs, commentaries, articles, interviews, and autobiography. In fact, they include some of his most characteristic themes and devices.
First, he linked his family's personal events to the larger African American experience. In Bill's telling, his parents were slaves, forced to work under coercive and abusive conditions. In this way, he claimed the status of the son of a survivor, who had heard the stories of his parents' suffering from the intimate perspective of a child. This gave his words a powerful authenticity that established his authority as a commentator.
Beyond that, he had a deep understanding of what made for a gripping tale. In a few short sentences, he told a story with dramatic tension—the reader can easily picture his mother straining to maintain her dignity under the blows of the overseer while his father scuttles along the rows of green plants, quickly peeking above the tops as he scans for white faces. With the economy that writing good blues lyrics demands, he presented characters, engaged the audience, and resolved the tension.
He also ended with a statement of philosophy. In noting that he "often" heard his mother conclude that his father had met her conditions for marriage, he offered a vision of a world where it was possible to make sense of things. Evil existed, as his mother's beating demonstrated, but out of that pain some wisdom could be found. The world as Bill saw it contained much injustice, but there were alternatives to hopeless despair and blind rage.
Reprinted with permission from I Feel So Good: The Life and Times of Big Bill Broonzy by Bob Riesman, published by the University of Chicago Press. © 2011 by The University of Chicago. All rights reserved.