How A Park Helped One Town Weather The Recession
How A Park Helped One Town Weather The Recession
Part 2 of a 6-part series
During the worst of the recession, new development ground to a halt and small businesses closed their doors on many Main Streets throughout the country.
That wasn't the case in Greenville, S.C. And while it seems improbable that a city would thrive during the recession, Greenville's mayor credits a mix of good luck and good fundamentals.
'Our Own Little Rockefeller Center'
The "nickel tour" of Greenville, population 58,000, starts at a window on the 10th floor of City Hall.
"Our perfectly gorgeous city is very visible from over here," says Mayor Knox White who, with a can of Starbucks espresso in one hand, uses his neon green BlackBerry to point out a half-dozen construction projects under way downtown.
The most recent is a park. "[It's got] green space in the middle, which is an ice skating rink in the winter ... kind of like our own little Rockefeller Center."
White has been the city's Republican mayor for 15 years and is running unopposed for another term. He's slim, middle-aged, a bit frenetic, and eager to show off the project that helped Greenville weather the recession.
The city has a beautiful, natural waterfall smack in the middle of its downtown that was hidden for decades by a concrete overpass, warehouses and boarded-up buildings. White took some political heat, but convinced the city to fund a 20-acre public garden around the waterfall and a suspension foot bridge above.
"The park cost $13 million," White says. "Within two years, over $100 million in private investment was created around the park — hotels, restaurants, condominiums, apartments. The entire, what we call the West End of our downtown, just blossomed."
That was 2004, and crowds have been steady since. The timing was perfect: Development money was easy to come by, and projects were well under way when the recession hit. Greenville was one of the rare downtowns where cranes and construction crews worked right through the economy's darkest days.
To attract developers, the city pays for green space and parking garages connected to projects. White has even been known to line up land and funding for companies. He's Greenville's chief cheerleader, but only 1 of 7 votes on the City Council, split 4 to 3, Republican to Democrat. Those lines don't mean much, though, says Democratic Councilwoman Gaye Sprague.
"There is a fiscal conservatism that crosses party lines," she says, "so when it comes time to tighten the belt, if that's right for the citizens of Greenville, that's what we all get behind."
Economic Snapshot: Greenville
Unemployment
Personal Income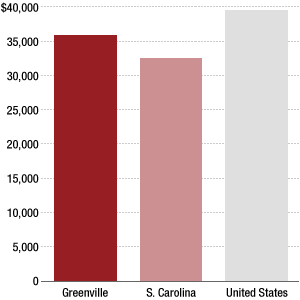 Note
Unemployment numbers are seasonally adjusted.
Per capita personal income is for 2009. It is defined as income received by persons from all sources, including but not limited to the sum of wage and salary disbursements, supplements to wages and salaries, rental income, and personal dividend income.
'Strong Fundamentals,' But Problems Remain

Years of minimal spending made the belt-tightening in Greenville less painful than for many other cities. The region's property values never overheated, so tax revenues have remained stable. Schools and social services are the county's responsibility to fund. And since South Carolina is a right-to-work state, Greenville's public employees don't bargain collectively for pay and pension.
The city delayed some purchases, froze salaries for two years, but had no major layoffs. Just 32 of about 900 positions were eliminated, including attendants in the city's downtown parking garages.
"We definitely established some strong fundamentals in place before the recession," says White. "There's no doubt about that."
And, he points out, those fundamentals led Standard & Poor's to upgrade Greenville's debt rating last week to the highest level possible. The rating agency cites the city's moderate debt and diverse employer base, which includes large outposts for BMW, Fluor, Michelin and GE. That's a far cry from the 1970s, when Greenville was a textile region and that industry imploded.
Strong as Greenville is today, University of South Carolina economist Doug Woodward says it is not immune to economic turmoil.
"If the national economy goes down, they're gonna go down with it," Woodward says. "There's certain things they certainly can't control."
And Woodward notes that the Greenville area's unemployment is still around 9 percent. People without technical skills or advanced degrees struggle the most to find jobs.
Tawana Morales waited with nearly 100 others for the Greenville unemployment office to open one morning last week. Morales worked for nine years at a diner.
"And the money was really good," she says. "But then, the last two years I just noticed the economy was so low, and when I was used to making $150 a day, and it went down to $75, and I was paying $25 to go to work, gas was so high — I just couldn't do it."
She's hoping for a job at a chicken processing plant nearby. The high-paying positions at BMW and Michelin are out of her reach, as are the expensive restaurants downtown.
But leaving Greenville hasn't crossed her mind. The job outlook is better here than in most other cities — plus, none of those cities has a waterfall downtown.