First Listen: Flourishing, 'The Sum Of All Fossils'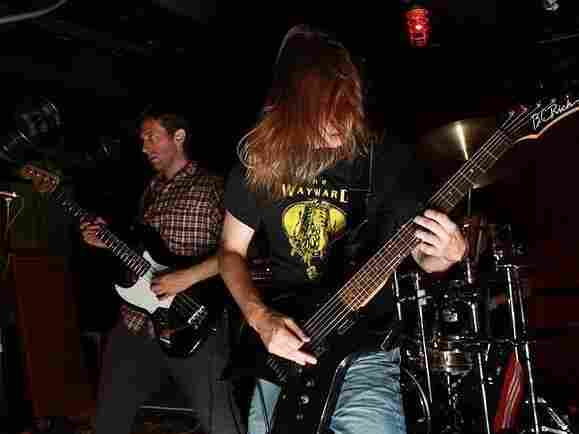 Audio for this feature is no longer available.
We're living in an exciting time for metal. From Nachtmystium's Blake Judd teaching the black-metal kids how to dance via Killing Joke LPs to The Cure's atmospheric goth ambiance popping up on records by everyone from Krallice to Thou, there are more resources than ever for digging into whatever awakens your inner caveman. But with great bandwidth comes great responsibility. Flourishing draws from a wide, Jackson Pollock-splattered palette of death metal, grindcore, noise-rock, post-hardcore and industrial music, but its music never feels disjointed. Take a few steps back from the New York City trio's debut, The Sum of All Fossils (out Aug. 2), and the crumbling ruins fall into place, beat by bludgeoning beat.
While extreme genre-splicers like John Zorn's Naked City and Mike Patton's Mr. Bungle cracked open listeners' ears to spastic metallic chaos, many of their followers forget to seek out the source material. Even when they do, the result often sounds like a dated experiment. This is where the likes of Tombs, Ulcerate and now Flourishing forge new ground: These bands embrace an undefinable era of music while acknowledging a rich history of extreme sound. In a recent interview, guitarist Garett Bussanick (also of Wetnurse) sums up his approach to music-making: "At the risk of sounding cheesy, maybe it could be said that I like to treat a song like an actor refining his role, and then treat an album like a director directing the actors."
There's a lot going on with The Sum of All Fossils, and while Flourishing often shows its seams, not one stitch is out of place. Take "By Which We're Cemented," for example. The first 27 seconds pummel from the low-end, blast-beating Godflesh-on-Napalm Death speed before giving way to the kind of sustained guitar dissonance that Sonic Youth lifted from Glenn Branca. "Fossil Record" accomplishes the same basic idea to greater effect, marrying a pensive guitar melody with a crushing groove. But if you're looking for straight-up wrecking balls, Flourishing has those, too. "Summary" is the kind of nasty, aggro-death-metal track that wouldn't sound out of place on one of Amphetamine Reptile Records' infamous video comps. And drummer Brian Corcoran is absolutely vicious in "In Vivid Monochrome," with fills just as destructive as Bussanick's corkscrew guitar figures.
Sure, it's fun to pick out which bass tone comes from where or what brief blip of a riff looks to Morbid Angel; over the course of a discography, those immediate references will fade away as the band comes together more. But all I hear on The Sum of All Fossils is a powerful group synthesizing everything that came before it, while still facing forward. I hear Flourishing.