Jeff Bridges: An Actor Who Can Actually Sing
Jeff Bridges: An Actor Who Can Actually Sing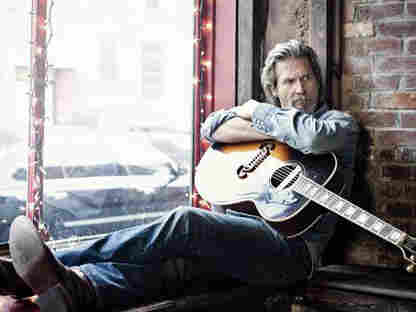 In the movie Crazy Heart, Bad Blake was an alcoholic former star who'd slid to the bottom of the country-music industry. For his musical performances, Jeff Bridges affected a shrewd mixture of Waylon Jennings, Billy Joe Shaver and a breezy boozer. This approach was good enough to win an Oscar, but upon receiving a collection of songs called Jeff Bridges, I thought, would it be good enough to result in a decent album? The good news is that Jeff Bridges is not Bad Blake, in more ways than one.
The album's terrific opening track, "Oh What a Little Bit of Love Can Do," was co-written by the late Stephen Bruton, a friend of both Bridges and album producer T-Bone Burnett. The song leads off the album for a good reason: Bridges and Burnett knew it was the performance that would immediately prove to any listener that Bridges' own singing voice was not that of his movie characters. There's no Bad Blake or Rooster Cogburn growl in Bridges' vocals. He sings naturally in a slightly higher register, and phrases with an insinuating slipperiness, frequently letting one word slide into the next. This Los Angeles-born actor rarely affects a Southern accent in the country- or blues-influenced songs here. Instead, he croons in the manner of the L.A. singer-songwriters he undoubtedly grew up listening to, if not hanging out with.
Related NPR Stories
In "Everything but Love," one might be tempted to poke fun of a rich movie star recording a song with the tired old sentiment that money can't buy you love. But as a singer, Bridges burrows so comfortably into the lyric that it doesn't come off as foolish or arch. Bridges didn't write "Everything but Love," but he did write or co-write three songs here, the best of which takes another old saw, about exceeding one's reach and ruing the failure, and renders it an artistic success. It's called "Falling Short," with some subtle back-up vocals by Sam Phillips.
Perhaps the most problematic song on Jeff Bridges is what's conceived as its magnum opus, a six-minutes-plus effort called "Slow Boat." It's co-written by Bridges, Burnett and Thomas Cobb, and it heaves into our ears with the deliberate pace of an ocean liner whose motor has been shut down. There is, to be sure, dark and mysterious beauty to much of this song about fog and confusion, and Rosanne Cash contributes a gorgeous background vocal. But, like another T-Bone Burnett production, Robert Plant and Alison Krauss' Raising Sand, there are moments here when the slowness of "Slow Boat" is a strain toward the profound. Still, I like a song with the courage of its own pretensions.
After "Slow Boat," the album does a slow crawl for its two remaining songs, "Either Way" and "The Quest" — really, no one should ever tackle a song called "The Quest." But before that, this collection is pretty spiffy. The odds are against Jeff Bridges becoming a big hit; people tend to think of these items as vanity projects. Among actors who sing, a diverse list that ranges from Tony Danza to Eddie Murphy to Zooey Deschanel, Jeff Bridges can be placed among those for whom talent is equal to the ambition he's set for himself. In that sense, this one isn't a vanity project; it's a modesty project.