Libya Rebels In Tripoli, Gadhafi Defenses Collapse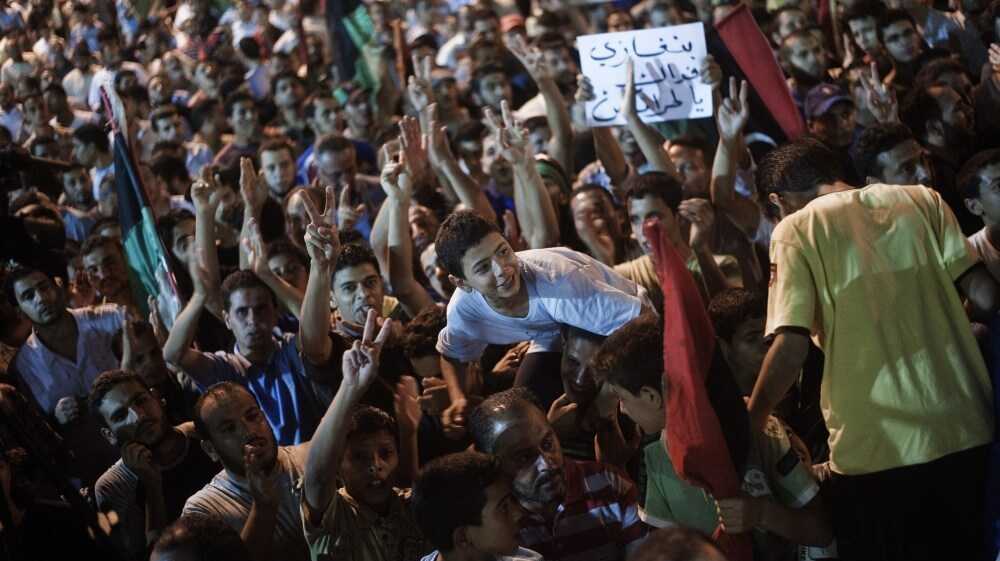 Gianluigi Guercia/AFP/Getty Images
Libyan rebels raced into Tripoli Sunday and met little resistance as Moammar Gadhafi's defenders melted away and his 42-year rule rapidly crumbled. The euphoric fighters celebrated with residents of the capital in Green Square, the symbolic heart of the fading regime.
The fighters and Tripoli residents who support them flooded Green Square, shooting in the air in celebration, clapping and waving the rebels' tri-color flag, according to television footage of the scene. Some set fire to the green flag of Gadhafi's regime and shot holes in a poster with his image.
Green Square holds profound symbolic value. The regime has held pro-Gadhafi rallies there nearly every night since the revolt began in February, and the historic Red Fort that overlooks the square is a favorite scenic spot for the Libyan leader to deliver speeches to his loyalists.
Reporting from Libya, NPR's Lourdes Garcia-Navarro says a forward group of about 100 rebels initially reached the western edges of the capital and were greeted by civilians that remained with cheers and the waving of the rebel flag. Within hours the rebels had taken control of significant portions of the capital, though she says that parts of the city are still contested.
"There are still areas that are unsafe and there has continued to be some fighting," she reports. "By and large [the rebels] believe that if they can control Tripoli they have essentially won the civil war."
George Joffe, an expert on Libya and a lecturer at the Department of Politics and International Studies at Cambridge University, says he was surprised at how quickly Tripoli appears to have fallen.
"For the city to fall so easily shows that despite all the bluster of the Gaddafi regime, it had lost the confidence of the Libyan people a long time ago," Joffe says.
In a statement issued Sunday, President Barack Obama said that the surest way for the bloodshed to end is for Moammar Gadhafi and his regime to recognize that he no longer controls Libya.
"He needs to relinquish power once and for all," the president said in his statement. "Meanwhile, the United States has recognized the Transitional National Council as the legitimate governing authority in Libya."
President Obama said that the future of Libya was now in the hands of the Libyan people, and that the United States would continue to stay in close coordination with the TNC.
Obama's statement came after a Sunday evening conference call with his national security team.
Filippo Monteforte/AFP/Getty Images
He promised to work in close coordination with the rebels and said the U.S. will "continue to insist that the basic rights of the Libyan people are respected."
Where's Gadhafi?
Gadhafi's whereabouts were unknown, but he delivered a series of angry and defiant audio messages broadcast on state television. Garcia-Navarro says that in one of his latest messages he appealed for a negotiation, but that rebels she talked to said there would be no deal.
"Many of them would like to see [Gadhafi] killed, others certainly would like to see him face trial," she says," but nobody wants to give him any clemency or leniency."
Gadhafi was not shown in the messages he's aired on state Libyan television the past two days. In a message Sunday, he acknowledged that the opposition forces were moving into Tripoli and warned the city would be turned into another Baghdad.
"How come you allow Tripoli the capital, to be under occupation once again?" he said. "The traitors are paving the way for the occupation forces to be deployed in Tripoli."
He called on his supporters to march in the streets of the capital and "purify it" from "the rats."
Rebel "special forces" arrested Seif al-Islam Gadhafi, a son of Moammar Gadhafi indicted along with his father on crimes against humanity charges, the prosecutor of the International Criminal Court said early Monday.
Seif Gadhafi was indicted with his father and Libya's intelligence chief earlier this year for allegedly ordering, planning and participating in illegal attacks on civilians in the early days of the violent crackdown on anti-regime protesters.
Prosecutor Luis Moreno-Ocampo told The Associated Press that Seif Gadhafi had been detained by "rebel special forces." He declined to give more details of the arrest or the source of the information.
"Tomorrow morning we will talk to them," Moreno-Ocampo said of the rebels. "It is time for justice, not revenge."
Moreno-Ocampo said he had no word on the whereabouts of Libyan leader Gadhafi.
"We hope that Moammar Gadhafi is also arrested and also faces justice," he said. "There is no more impunity for these crimes."
Rebels Advance, With Help From NATO
Tripoli is effectively surrounded, Garcia-Navarro reports; the roads to the east, south and west are cut off by rebels.
In an advance earlier in the day, Libyan rebels captured a major military base that defends Tripoli. An Associated Press reporter traveling with the rebels saw them take over the base of the Khamis Brigade, west of the capital. After a brief gunbattle, Gadhafi's forces fled.
"NATO bombed it, and the rebels have overrun it, and they are taking the weapon stores from it now," Garcia-Navarro reports from the city of Al-Mayah. "The rebels here are celebrating their victory; they're now about 10 miles away from the capital.
"This was a town that was held by Gadhafi's forces this morning, and it is now in the control of the rebels this afternoon," Garcia-Navarro says.
Gadhafi's 27-year-old son Khamis commands the 32nd Brigade, also known simply as the Khamis Brigade, one of the best trained and equipped units in the Libyan military.
NATO's bombing campaign has picked up significantly in the last few days. "Just last night there were 25 strikes in and around the front lines here between Zawiya and Tripoli," Garcia-Navarro reports. "And today, again, we've seen NATO bombing strikes play a significant role, allowing the rebels to move forward."
For its part, NATO said the shifting battle lines and concentration of fighting in towns and villages are making it more difficult to identify and engage targets for airstrikes.
"It's much tougher to do in an urban area," NATO spokesman Col. Roland Lavoie said. "This requires very precise and deep intelligence to achieve without endangering the civilian population."
Tripoli Residents Protest, Fight, Flee
Meanwhile, large anti-regime protests erupted Sunday in several Tripoli neighborhoods, where thousands braved the bullets of snipers perched atop high buildings, residents and opposition fighters said.
Mukhtar Lahab, a rebel commander closing in on Tripoli and a former captain in Gadhafi's army, said his relatives inside the capital reported mass protests in four neighborhoods known as sympathetic to the opposition: Fashlum, Souk al-Jouma, Tajoura and Janzour. He said mosques there were rallying residents with chants of "Allahu Akbar" or "God is great," broadcast on loudspeakers.
Snipers loyal to Gadhafi were firing on protesters in at least one of the four restive neighborhoods, Lahab said. Residents contacted in the city by telephone also reported snipers firing on civilians.
There have been armed cells in Tripoli operating against Gadhafi throughout Libya's months-long conflict. "Those armed cells yesterday coordinated a sort of uprising, if you will, in several neighborhoods," Garcia-Navarro reports, and the fighters are now facing heavy oppression by Gadhafi forces.
"They are using heavy weapons against these fighters — and these fighters only have very light weapons," she says. "It's becoming very difficult to hold their neighborhoods."
Other civilians are fleeing the capital city. "There's been long lines of cars leaving Tripoli, leaving other battle zones for safer areas, some with their belongings strapped on their back," Garcia-Navarro says.
Tripoli is home to 2 million people. Some neighborhoods are loyal to Moammar Gadhafi and others are allied with the rebels. "There's bound to be some clashes there," she says.
"People do feel, as one person told me, that this is the 'zero hour,'" she reports. "This is culminating in the final face-off between the two sides."
Material from The Associated Press was used in this report.