Gadhafi Loyalists Resist Rebels In Tripoli
Patrick Baz/AFP/Getty Images

Francois Mori/AP

Daniel Berehulak/Getty Images

Sergey Ponomarev/AP

Daniel Berehulak/Getty Images

Photo by Daniel Berehulak/Getty Images

Francois Mori/AP

Sergey Ponomarev/AP

Filippo Monteforte/AFP/Getty Images

Patrick Baz/AFP/Getty Images

Mahmud Turkia/AFP/Getty Images

Patrick Baz/AFP/Getty Images

Patrick Baz/AFP/Getty Images

Gianluigi Guercia/AFP/Getty Images

Gianluigi Guercia/AFP/Getty Images

Gianluigi Guercia/AFP/Getty Images

Sergey Ponomarev/AP

Sergey Ponomarev

Sergey Ponomarev/AP

Filippo Monteforte/AFP/Getty Images

Florent Marcie//AFP/Getty Images

Alexandre Meneghini/AP
Libya's opposition leadership declared Monday that the decades-old regime of Moammar Gadhafi is finished, but intense fighting raged in parts of Tripoli as loyalists refused to cede control of the capital.
After six months of often brutal fighting, rebels pushed into Tripoli over the weekend in what many Libyans hope marks the end of Gadhafi's 42-year reign.
Gadhafi's whereabouts remained unknown amid violent clashes in the area around his sprawling Bab al-Aziziya compound and in other parts of Tripoli. But three of his sons, who have been key figures in the regime, were reportedly under arrest.
"Now I say with all transparency that the era of Gadhafi is over," said Mustafa Abdel Jalil, the chairman of the Transitional National Council, at a news conference in the rebel stronghold of Benghazi.
Jalil vowed that if captured, Gadhafi would receive a fair trial. He acknowledged that rebels had yet to consolidate control of the capital.
President Obama said Monday that the situation in Libya had "reached a tipping point."
Tripoli 'Far From Secure'
NPR's Lourdes Garcia-Navarro said that after a night of flag-waving and cheering celebrations in Tripoli, fighting had resumed as Gadhafi loyalists launched counteroffensives against the rebel advance. She said the capital was "far from secure."
"There was an initial euphoria coming into Tripoli that it was going to be easy to take the capital," Garcia-Navarro said. "What we've seen today is that is simply not the case."
At A Glance: What's Happening In Libya
For the latest developments, check The Two-Way news blog and follow NPR's Andy Carvin, who is rounding up reports from Libyans and others on Twitter (@acarvin).
Mustafa Abdel Jalil, chairman of the National Transitional Council, declared "the era of Gadhafi is over" at a Monday news conference in Benghazi.
Crowds in the capital, Tripoli, the rebel stronghold of Benghazi and elsewhere have poured into the streets to celebrate.
Fighting continues in pockets of the capital, including around Gadhafi's compound at Bab al-Aziziya. The rebel leadership tells NPR it could still be a week before Tripoli is secured.
Moammar Gadhafi's whereabouts are unknown, but rebels quickly captured one of his sons, Seif al-Islam. Another two sons, Mohammed and Saadi, also were reportedly under arrest.
President Obama has promised U.S. cooperation with the rebels, and British Prime Minister David Cameron says frozen Libyan assets will be released soon.
She described running street battles and mortar attacks, with wounded from the fighting being taken into makeshift clinics made at private residences.
Fighting near Gadhafi's command center was especially fierce.
As chaos reigned in parts of the country, Jalil called on Libyans "to exercise self-restraint and to respect the property and lives of others, and not to resort to taking the law into their own hands."
Speaking through a translator, he warned that the "coming era will not be a bed of roses. We face many problems and have many responsibilities."
Jalil, who served as justice minister under Gadhafi but resigned in February as the anti-government uprising got under way, thanked the international community for supporting the rebels and pledged that the new government would seek to "prove to the world that we are a moderate Islamic nation that respects human rights."
Apparently referring to NATO countries, including the U.S., that took part in an air campaign against Gadhafi, Jalil said nations that "stood by the revolution" from the beginning would enjoy "special relations" with the new Libya.
The fighting in the capital followed a long night of celebration on Tripoli's Green Square, the symbolic heart of Gadhafi's power. Revelers on the square, once the scene of almost nightly rallies organized by the regime, fired triumphant shots into the air, set fire to the green flag of Gadhafi's government and blasted holes in a poster with the leader's image.
By Monday, however, rebels told NPR that loyalist snipers had made it impossible to secure the square.
International Reaction
President Obama, speaking from Martha's Vineyard, where he is vacationing, said Monday that "the situation is still very fluid. There remains a degree of uncertainty.
"This much is clear: The Gadhafi regime is coming to an end," he said.
Obama praised U.S. pilots who launched some of the opening salvos in the NATO air campaign against Gadhafi that began in March.
British Prime Minister David Cameron, whose country played a lead role in the military campaign against Gadhafi, said the Libyan leader is "in full retreat."
"I would like to see Col. Gadhafi face justice for his crimes," Cameron said Monday. "He has perpetrated horrendous crimes against his people."
Britain was prepared as soon as possible to establish a diplomatic presence in a free Libya and to release Libyan assets that have been frozen since February to sanction the Gadhafi regime, he said.
U.N. Secretary-General Ban Ki-moon said the United Nations "stands ready to extend all possible assistance to the Libyan people."
A Sudden Reversal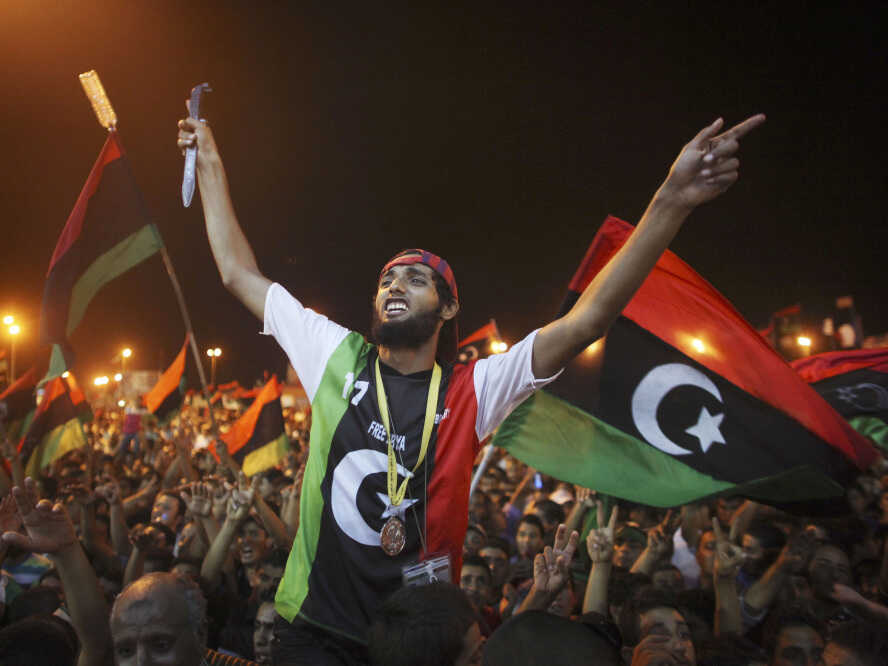 Gadhafi's defiance in angry audio messages broadcast on state television Sunday raised the specter of a last-ditch fight over the capital, home to 2 million people.
Government spokesman Moussa Ibrahim claimed the regime has "thousands and thousands of fighters," and vowed: "We will fight. We have whole cities on our sides. They are coming en masse to protect Tripoli to join the fight."
NATO vowed to continue its air campaign until Gadhafi was defeated. The alliance's secretary-general, Anders Fogh Rasmussen, said the regime was "clearly crumbling" and that the time to create a new democratic Libya has arrived.
The uprising against Gadhafi broke out in mid-February, and anti-regime protests quickly spread. A brutal crackdown transformed the protests into an armed rebellion. Rebels seized Libya's east, setting up an internationally recognized transitional government there, and two pockets in the west: the port city of Misrata and the Nafusa mountain range.
Until recently, Gadhafi seemed to have had a firm grip on western Libya despite months of NATO airstrikes on his military. Rebels had been unable to make any advances as they bogged down on the main fronts with regime troops in the east and center of the country.
In early August, however, rebels launched an offensive, intending to open a new, western front to break the deadlock. They fought their way down to the Mediterranean coastal plain, backed by NATO airstrikes, and captured the strategic city of Zawiya.
'Time For Justice'
As opposition fighters pushed into Tripoli, they quickly captured Gadhafi's son and one-time heir apparent, Seif al-Islam, who along with his father faces charges of crimes against humanity at the International Criminal Court in the Netherlands.
Seif al-Islam, his father and Libya's intelligence chief were indicted earlier this year for allegedly ordering, planning and participating in illegal attacks on civilians in the early days of the crackdown on anti-regime protesters.
Another Gadhafi son, Mohammed, appeared to be under house arrest Monday. Mohammed, who is in charge of Libyan telecommunications, told the Arabic satellite channel Al-Jazeera that his house was surrounded by armed rebels.
A third Gadhafi son, Saadi, who commands a government brigade blamed for taking part in a brutal crackdown at the start of the uprising, was also captured Monday, Jalil, the National Transitional Council chairman, told Al Arabiyah television.
NPR's Lourdes Garcia-Navarro in Tripoli and Soraya Sarhaddi Nelson in Benghazi contributed to this report, which contains material from The Associated Press.
Related NPR Stories