A Controlled Glimpse Of A Restive Syrian Town
A Controlled Glimpse Of A Restive Syrian Town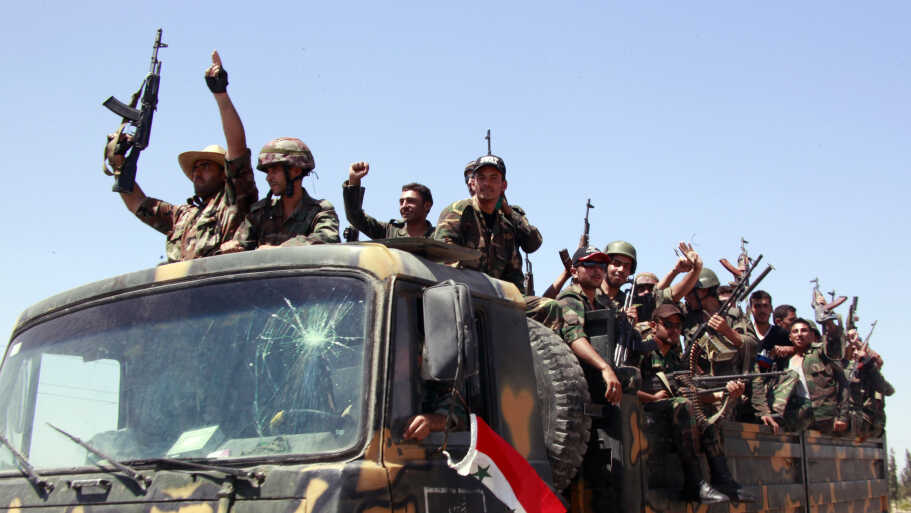 NPR's Kelly McEvers is in Syria on a tour organized by a youth group aligned with the government of President Bashar Assad. Most foreign journalists are barred from entering the country otherwise. The tour's theme is "Syria Is Fine." Most of the reporters are from countries that have a history of supporting the Syrian regime — Russia and Iran among them. McEvers is the only American reporter in the group, which also includes some European journalists.
On Monday, the group traveled by bus to Hama, the city where many thousands of government opponents were killed in a 1982 uprising. The city has also been a hotbed of demonstrations in recent months.
Over the past five months, thousands and thousands of people have stood in the streets of Hama in protest. At one point, this city was a kind of free zone of anti-government sentiment.
That is no more. On the way in, we saw truckloads of soldiers and armed men. There are several checkpoints around the city where soldiers are perched behind sandbags with guns at crucial points in the city, in the squares and at banks.
Our minders tell us Hama is now safe, and life is getting back to normal. They herd us into the gorgeous, Ottoman-Islamic style municipal building for a press conference with Hama's governor, Anis al Na'en.
Na'en says protests in Hama were peaceful in the beginning. But they recently turned violent. First, he says, protesters built their barricades to keep security forces out. Then, he says, activists began attacking security forces.
This, he says, is why so much force was used in Hama. Meanwhile, anti-government groups are calling the recent military action the Ramadan massacre. This month alone, activists say, 100 peaceful protesters were killed in Hama. But given the restrictions reporters face, those reports cannot be verified.
Outside, just across the street from the municipal building, we see a group of young men who have assembled. At first we think this is part of the orchestrated tour.
Heard On NPR
Middle East
Assad Warns Other Countries To Stay Out Of Syria
Assad Warns Other Countries To Stay Out of Syria
But soon the group starts shouting the telltale slogan of the Arab uprisings — "the people want the fall of the regime."
Plainclothes security men surround them. A young guy walks up wearing sunglasses and cupping his hands over his mouth.
"I can't show my face because of the security. A lot of security around here. And we have a lot of arrested people in the prisons. Dozens, dozens of them," he says.
Just then, the crowd surges and runs into the street.
What happened? I ask.
Another man replies: "They arrested him, because he say what's the truth in Hama."
Desperate voices in the crowd: "Please help us, please help us." Soon after, they say that anyone who talked to us was arrested and thrown into a car.
Then our handlers round us up and direct us back to the bus. At one point, one of the handlers says, "If you don't get in the bus now, we will leave you here. Alone."
Another minder can hardly control herself as she screams at a French camera crew.
Back in the bus — where we had earlier been given badges and T-shirts with President Bashar Assad on them — the minders are back in control of the story.
They show us buildings they claim were bombed and burned by terrorists, and a bridge where they say terrorists threw bodies of soldiers into the river. This, too, cannot be verified.
Related NPR Stories