'Iron Crows': Surviving In A Toxic Shipyard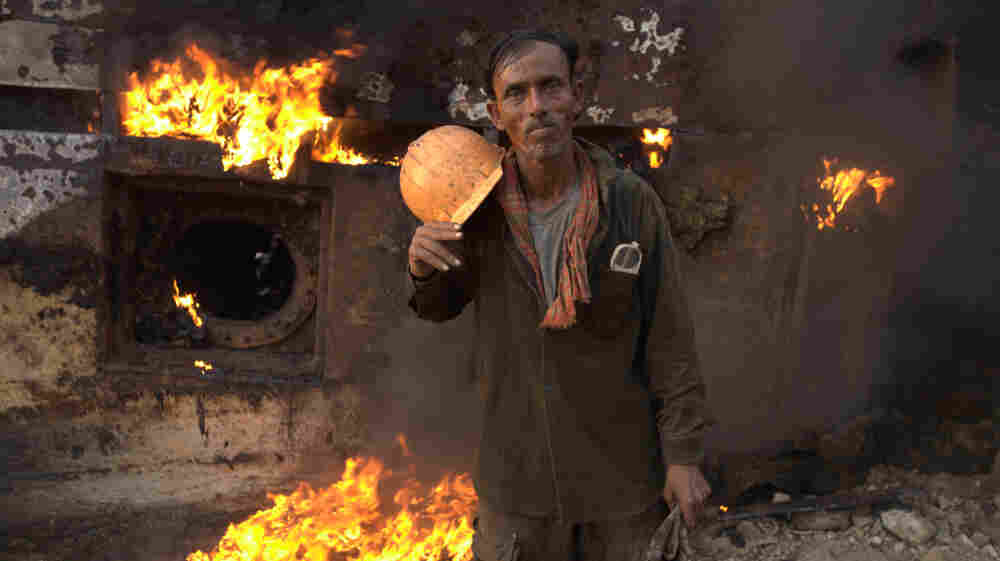 Iron Crows
Director: Park Bong-Nam
Genre: Documentary
Running Time: 93 minutes
In Bengali with English subtitles
This film has not been rated by the MPAA
With: Moon Ye-Won, Lorne Oliver, Park Bong-Nam
"Well, it beats working in the salt mines."
Homespun expressions like these help people shrug off a tough day at the office. Because no matter how much they resent the grinding drudgery of filing paperwork or sitting through meetings or seeing the new Conan the Barbarian movie in 3-D, at least they're not doing the worst job they can possibly imagine.
The powerful Korean documentary Iron Crows suggests an alternate phrase: "Well, it beats working as a Bangladeshi ship-breaker."
Ranging in age from 12 to however old they can get before their bodies start to crumble, the ship-breakers of Chittagong, a port city in one of the poorest nations on Earth, handle over 50 percent of the world's retired vessels. These rotting, decrepit, megaton behemoths are grounded in the knee-deep muck near the shoreline, where 20,000 men on 20 sites then methodically deconstruct them with blowtorches, hammers and other implements. The images over the opening credits none too subtly evoke hell incarnate: Showers of sparks, hissing rivulets of molten metal, flames teasing the oozing black sludge that leaks out of the ships' every orifice.
The ship-breakers have a low life expectancy. Working on what's essentially a demolition site, surrounded by tons of falling iron, they spend their eight-hour shifts in persistent danger. (They've only recently been given hard hats.) They navigate shards of metal in bare feet or flip flops, and at the end of the work day, their shoulders are bruised and calloused from hauling iron sheets or dragging debris on ropes like sled dogs. And all of this for $2 a day, most of which they send away to families they can't afford to visit.
Yet Iron Crows isn't the miserablist wallow you might expect. While director Park Bong-Nam observes the hazards of ship-breaking with a thoroughness that borders on fetishization, he also catches the humor and camaraderie of men in the trenches. Each new ship brings not dread but gratitude for the next payday, and group tasks are often executed with cheery work songs and gentle ribbing. At night, the men eat rice and greens, sleep shoulder to shoulder on site and act as a kind of surrogate family as they fret about their real families residing in some faraway village.
Saiful Huq Omi/Film Forum
A few personalities emerge: a 13-year-old neophyte who dodges inquiries about the legality of his employment; a 21-year-old who mourns for his infant daughter back home, who was born blind due to his wife's malnourishment; a middle-aged former employee forced into early retirement after a fumbled metal sheet cut off his foot at the ankle. (Despite this amassment of personal tragedy, they look no more put-upon than a white-collar American with dodgy cellphone reception.)
Like the recent docs El Bulli (about the innovative Spanish restaurant of the same name) and Over Your Cities Grass Will Grow (about painter/sculptor Anselm Kiefer), Iron Crows is long on process and short on context. Park's rigor in limiting the ship-breaking world to a worker's-eye-view leaves many nagging questions unanswered: What's the cost of dismantling a ship? How is that money distributed? Is there any interaction between these workers and their supervisors? What's the history and politics behind this unusual trade? Park's narrow scope has its advantages — viewers will know roughly how a ship gets broken down, from the ritual goat sacrifice that commences it to the torch work that shaves off chunks with a thunderous bang — but it's incomplete by nature.
Still, the portrait of human resilience and heart in Iron Crows resonates strongly. The title refers to the crows that scavenge the sites in large flocks, constructing temporary nests out of twiglike pieces of metal. It's a sad image — a violation of nature, and of the comforts of home — yet a neat metaphor for workers grappling with extreme poverty and danger at every moment. Their lives may be unenviable by any standard, but they make do.