Plain Vanilla No More: Ice Cream To Swoon For
My 10-year-old son and I were lolling in our chairs in a post-dinner torpor, sweating from every pore even though all we'd had to eat was cold pasta salad. "Hey, do you feel like going for an ice cream?" I asked him. He sprang to his feet, like a human exclamation point. "That's exactly what I was going to say."
We left the dishes and drove, in a shared cloud of pesto breath, to the soft-serve stand a couple of miles away. Noah got a root beer float. I got a malted milkshake. I sipped and chewed on the straw — a bad habit I can't seem to shake — and waited to be transported. Vanilla. Sugar. A hint of malt. Vanilla. Sugar. A hint of malt. The same thing, over and over. Sure, it was freezing cold, which was without question a relief. Still, I wanted to be swept off my feet, yet here I was, strictly earthbound.
Noah was happy with his float, and I too should probably have just ordered one of my favorites — mint chip or maple walnut or some other chunk-studded flavor. But I'd just wanted to get something different from my usual, and I thought the platonic plainness of a malted would serve.
But it just didn't. So I decided: Next time, different would have to mean different. Really different. After all, what is the use of having 700 cookbooks if you can't find a recipe or two for weird-flavored ice creams?
As I fired up EatYourBooks.com, the cookbook-indexing website that allows me to actually use my too-big-to-browse collection, I pondered what would make an ice cream truly different. I didn't want an ice cream flavor that was uncommon here but conventional in its country of origin, like green tea (Japan) or rosewater (India). As I see it, simply coming from far away doesn't make you exotic. Not in a country like this one.
I wanted something that you wouldn't expect to find in an ice cream at all. An ice cream that included not fruit, but vegetables. Not candy morsels, but herbs and spices. Not sugar, but vinegar. I wanted ice creams that not only refused to meet you halfway but dared you to chase them all the way back to their savory, salty, pungent sources.
About The Author
I'm not the first to have this idea. As I soon discovered, it's easy to find outlandish-sounding recipes based on any number of unexpected ingredients, ranging from avocado to zabaglione.
You don't have to go to terrific lengths if you want to go to the Twilight Zone of frozen treats. You can get an ice cream to express a deeply contrarian character with a single ingredient — black pepper. From the first taste of black pepper ice cream, you know beyond a doubt that something is definitely Not Normal. Yet it instantly grows on you — the coarse heat of the pepper and the chill of the cream echoing each other in quick succession like a series of slaps and kisses.
Even more intriguing, to my mind, are the ice creams that sound like an ordinary weeknight dinner prep that has taken a violent left turn. What about basil and pine nut ice cream? (That's practically pesto, said Noah.) Or caramelized onion and balsamic vinegar ice cream? Which sounds as though it ought to be served atop a steak and a salad.
The kids were surprisingly enthusiastic about our adventure on the dark side of ice cream. "Hey, wouldn't it be funny if we had garlic ice cream?" exclaimed Noah. "We have," I pointed out. "At the garlic festival a couple years ago." My son was unfazed. "Well, let's have it again." Meanwhile, his little sister's face disappeared deep inside her bowl as she licked up the last of the pepper ice cream and hunted for stray particles. Eventually she re-emerged, her nose generously daubed with pepper-flecked custard.
I'm sure those black wizards, the molecular gastronomists, could and would go farther. I'm sure they could find a way to make fried chicken ice cream or baby octopus ice cream or pretzel-with-mustard ice cream. And I don't blame them a bit for going to town with their dehydrators and liquid nitrogen and Pacojets. They're mad scientists, and that's just what they do.
But no such sorcery is necessary for my family. We're pretty balanced eaters who just need a little variety from time to time. None of us is terribly picky, and for the most part we'll try anything once. Moreover, we've always been good about eating our vegetables — even when they happen to be in ice cream.
Recipes With This Story
Black Pepper Ice Cream
The Perfect Scoop by David Lebovitz (10 Speed Pres, 2007) is possibly my favorite ice-cream book ever. It has normal sorts of ice cream like vanilla and chocolate and butterscotch pecan. But it also has orange-szechwan pepper and avocado and prune-Armagnac ice cream. Best of all, these recipes work. This adaptation of Lebovitz's pepper ice cream recipe makes just 2 cups, but that's OK because it's good in small quantities. Lebovitz recommends serving it alongside cold melon in lime syrup, which sounds just fine. However, my batch was gone too fast to try.
Makes 2 cups
1/2 cup whole milk
1/3 cup sugar
1 tablespoon black peppercorns, coarsely cracked
Pinch of salt
1 cup heavy cream, divided
3 large egg yolks
Warm the milk, sugar, peppercorns, salt and 1/2 cup of the cream in a medium saucepan. Cover, remove from heat, and let steep at room temperature for 1 hour.
Rewarm the peppercorn-infused mixture. Pour the remaining 1/2 cup cream into a large bowl and set a mesh strainer on top. In a separate medium bowl, whisk together the egg yolks. Slowly pour the warm mixture into the egg yolks, whisking constantly, then scrape the warmed egg yolks back into the saucepan.
Stir the mixture constantly over medium heat with a heatproof spatula, scraping the bottom as you stir, until the mixture thickens and coats the spatula. Pour the custard through the strainer, pressing the peppercorns gently to extract as much flavor as possible. Discard the peppercorns and stir the custard into the cream. Stir until cool over an ice bath.
Chill the mixture thoroughly in the refrigerator, then freeze it in your ice cream maker according to the manufacturer's instructions.
Basil And Pine Nut Praline Ice Cream
I got the idea for this ice cream from a recipe in Jeni's Splendid Ice Creams by Jeni Britton Bauer (Artisan 2011). It was a recipe that relied on cream cheese as well as cream — no eggs — and I had some difficulty making it work. So I fell back to my tried-and-true egg-yolk method, which was simpler anyway, and I was pleased with the results. I hope you will be, too. (The pine nut technique is also slightly altered from Bauer's, though the composition is the same.)
Makes about 1 quart
1/2 tablespoon butter
1 tablespoon light brown sugar
1 tablespoon honey
Pinch of salt
1 cup pine nuts
5 or 6 sprigs of basil (with 5 or 6 leaves on each)
1 1/2 cups milk (whole or 2 percent)
1/2 teaspoon kosher salt
5 large egg yolks
2/3 cup sugar, divided
2 cups heavy cream
For The Pine Nut Pralines
Preheat the oven to 350 degrees.
Melt the butter in a medium cast iron pan or other oven-safe heavy skillet. Add the brown sugar, honey and salt and stir well to combine with a heat-proof spatula. Add the pine nuts and stir thoroughly to coat.
Put the pan in the preheated oven for about 12 to 14 minutes, stirring once or twice so the nuts color evenly. When they have attained a deep golden brown and the mixture has dried slightly, take the pan out and let it cool for 10 minutes. Be sure to stir a few times while it's cooling, as the praline will harden rapidly.
For The Ice Cream
Shred the basil leaves into about 1-inch pieces, discarding the stems. In a medium saucepan, combine the milk, salt and shredded basil and heat gently until small bubbles appear around the edge of the milk. Remove from heat and leave to steep while you work on the egg and cream mixtures.
Whisk the egg yolks and 1/3 cup of the sugar together until thick and pale yellow. (You can use a mixer with a whip attachment, an egg beater, or an immersion blender fitted with a whisk attachment)
Scatter the remaining 1/3 cup of sugar over the base of a large, nonreactive skillet, and then add the cream (the sugar on the bottom helps keep the cream from scalding). Bring just to a simmer. Remove from heat and pour about 1/2 cup of the cream over the whipped yolks.
Return the warmed yolks to the skillet with the cream. Add in the basil-infused milk (including the shredded basil). Cook over a gentle heat, stirring constantly, until the mixture is thick enough to coat the back of a spoon (or heat-resistant rubber spatula). Be careful not to let it boil. (Just before it boils, you may see some of the following signs: tiny bubbles around the edge of the pan; a dull, quiet, suppressed boiling sound beneath the surface, like a teakettle before it whistles; a faint heaving and expansion of the surface. If you detect any of these signs, pull the pan off the flame right away.)
Strain the mixture into a sturdy gallon zip-top bag. Cool the ice cream quickly by carefully placing the bag in a bowl of iced water. When it is thoroughly cool to the touch, churn the ice cream in an ice-cream maker until the mixture resembles semi-whipped cream. Fold in the pine nuts, and then freeze until firm.
Caramelized Onion And Balsamic Ice Cream
Red wine, onions, balsamic vinegar — they're strange, savory foils that veil the orange heart of this ice cream and render it mysterious. Perhaps the oddest thing about this recipe is that it comes out looking almost exactly like coffee ice cream. Pranksters, take note. The recipe is adapted from A Passion for Vegetables by Paul Gayler (Lyons Press, 2003).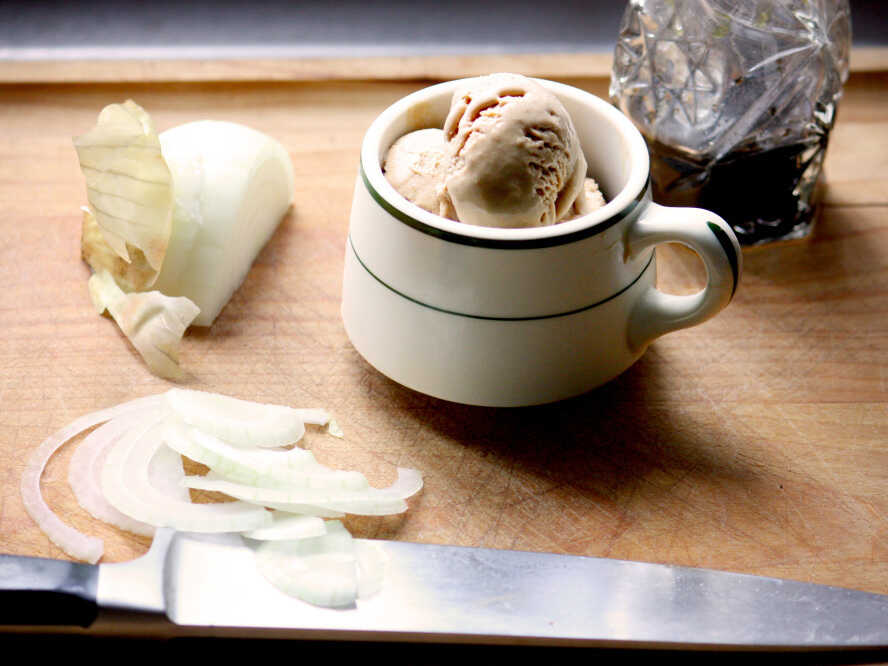 Makes about 1 quart
1/2 cup thinly sliced onions
2 tablespoons unsalted butter
1/2 cup sugar
2/3 cup red wine
Juice and grated zest of 1 orange
4 large egg yolks
1 large egg
2 cups milk
1/2 cup heavy cream
1 tablespoon balsamic vinegar
Put the onions in a pan of boiling water, simmer for 5 minutes, then drain. Repeat, then dry well on a kitchen towel. Melt the butter and 1/4 cup of the sugar gently in a heavy pan, add the onions and cook for 15 to 20 minutes, stirring occasionally, until caramelized to a deep brown color (take care — the color will turn quickly at the end and may burn if you don't watch it). Add the red wine, orange juice and zest and boil until reduced by half.
Whisk the egg yolks, whole egg and the remaining sugar together until the mixture is thick and pale yellow. Add the milk and cream to the onions and bring to a boil, then pour over the egg mixture little by little, stirring. Return to a clean pan and cook over a gentle heat, stirring constantly with a wooden spoon, until the mixture is thick enough to coat the back of a spoon. Be careful not to let it boil. (Just before it boils, you may see some of the following signs: tiny bubbles around the edge of the pan; a dull, quiet, suppressed boiling sound beneath the surface, like a teakettle before it whistles; a faint heaving and expansion of the surface. If you detect any of these signs, pull the pan off the flame right away.)
Strain the mixture into a clean bowl and stir in the balsamic vinegar. Cool the ice cream quickly by standing the bowl in a larger bowl of iced water and stirring until cold (even better, pour the ice cream into a sturdy freezer bag and cool the bag in the iced water). Churn in an ice-cream maker until the mixture resembles semi-whipped cream, then freeze until firm.