Green Tomatoes: An End-Of-Summer Bonus
I have a waste-not-want-not approach to pretty much everything in life. Lemon peels get tossed in a jar to infuse into limoncello, worn bed sheets are ripped into rags, and nothing thrills me more than to freestyle a stellar meal from a shelf full of random leftovers (a game known, in my house, as Iron Pantry Chef). But the flip side of this thrifty Depression-era mentality is that any sort of egregious waste seriously bums me out. Like green tomatoes.
An autumn garden can be a thing of beauty. Sure, your early-summer crops have come and gone. But apples are dripping off the trees, vines are laden with ridiculously large squashes and melons, and tomatoes are everywhere. Then the days get a bit shorter, a nip bites at the edge of the air, and you know that all of that lush promise is going to stop delivering. As soon as the frost descends, those tomato plants are done for. Vines shrivel up and pounds of green tomatoes plop down to rot. But, ever the spendthrift, I can't let them go (especially after all the hours I've spent watering and weeding the damned things). Sure, you can try to ripen them indoors, but even under the best conditions (left on an uprooted, withering plant that you've stashed in your basement, or wrapped in brown bags with some ripe fruit to give off some ethylene and convince the green ones to realize their destiny), the results are still pretty lackluster. So I start hunting around for green tomato recipes.
About The Author
Deena Prichep is a Portland, Ore.-based freelance print and radio journalist. Her stories on topics ranging from urban agriculture to gefilte fish have appeared on The Splendid Table, Morning Edition, All Things Considered, Marketplace, Voice of America, The Environment Report, Salon.com, The Northwest News Network and Culinate.com and in The Oregonian and Portland Monthly. She chronicles her cooking experiments at Mostly Foodstuffs.
Most Americans are familiar with fried green tomatoes, where the under-ripe fruits are dredged in a flour or cornmeal coating and pan-fried to a delicious crisp. But there are only so many fried green tomatoes one can (or, likely, should) eat. Luckily, there is a trove of recipes, from Indian chutneys to American pickles, that make good use of the garden's detritus.
The flavor of green tomatoes is significantly different from that of their fully ripened brethren. Ripe red tomatoes are all soft juicy flesh and a balance of sweet, sour and richly savory flavor that screams summer. Green tomatoes are barely the same animal. Green tomatoes are firm (though they'll soften upon cooking), moist but hardly dripping, and sour to the point of astringency. These characteristics keep you from popping a raw green tomato in your mouth, but they prove to be a boon in cooking.
With their firm flesh, green tomatoes stand up well to pickling (although they're not as common as cucumber pickles, the fermented garlicky green tomato pickles were a beloved staple of my childhood deli visits). They also do well when baked, providing a bit of moisture without collapsing into mush, and their firm texture and sour-sweet flavor allows you to swap them for tart green apples in recipes from cakes to pies. Their bright flavor also works well in sauces, and in the beloved fried green tomatoes, it provides a juicy counterpoint to all that crispy coating.
Sometimes my efforts to avoid waste lead to some truly terrible ideas (in case you're wondering, using leftover oatmeal as the basis of a cookie does not work — at least not the way I did it). But these green tomato recipes are all, thrift aside, delicious recipes in their own right. Yeah, it's hard to ever get truly excited about the harvest season drawing to a close. But green tomatoes offer a savory way to soften the blow.
Recipes With This Story
Green Tomato And Pimento Cheese Biscuits
This recipe combines two Southern favorite flavors in one deliciously flaky biscuit. The tart, juicy green tomatoes provide a welcome counterpoint to the savory, salty cheese. Giving the tomatoes a brief turn in the oven first ensures that they'll end up well cooked and won't make the biscuits soggy with their juices.

Makes about 12 biscuits, depending on the size of cutter used
1 1/2 heaping cups green tomatoes, cut into a 1/2-inch dice
2 cups all-purpose flour
1 tablespoon baking powder
1/2 teaspoon baking soda
1 teaspoon salt
1 teaspoon paprika
1/2 teaspoon garlic powder (optional)
Hefty pinch fresh-ground black pepper
Hefty pinch cayenne
1 stick (4 ounces) unsalted butter
1/2 cup buttermilk
1 large egg
1 cup grated sharp cheddar, tossed with a few spoonfuls of all-purpose flour
4-ounce jar of pimientos (roasted red peppers), drained, or substitute 1/4 cup roasted red peppers cut into a 1/4-inch dice
2 tablespoons melted butter
Preheat the oven to 375 degrees. Line a sheet tray with parchment, spread out the green tomato cubes and bake until they dry out slightly and just begin to color, 10 to 15 minutes. Remove and set aside to cool. Raise the oven temperature to 425 degrees.
Sift together the flour, baking powder, baking soda, salt, paprika, garlic powder (if using), pepper and cayenne. Using a food processor, pastry cutter, or your hands, cut the butter into the flour until it is reduced to oatmeal-sized bits. Beat together the buttermilk and egg, and then gently mix this into the flour-butter mixture until just barely combined. Add the cheddar, pimientos and cooked and cooled green tomatoes, and gently mix until combined. Place a fresh piece of parchment on the empty cooking sheet.
Turn the dough out onto a floured countertop, and press into a rectangle that's about 1 inch high. Fold the dough over on itself, like an envelope. Give it a 90-degree turn, and press out again to a 1-inch high rectangle (this builds in layers, to make it extra flakey.) Repeat the folding and pressing. Cut into biscuits with a 2- to 3-inch biscuit cutter, and place on the prepared baking sheets. The biscuits will rise significantly, so leave a couple of inches of space between them. Brush the tops of the biscuits with melted butter, then bake until lightly browned, 15 to 20 minutes. They can be eaten warm or cold, but are especially delicious straight from the oven.
Fried Green Tomatoes With Shrimp Remoulade
This recipe, a Southern classic, comes from New Orleans' famous Upperline Restaurant. The hot fried tomatoes are set off by the tangy, mustardy, chilled shrimp remoulade. The remoulade sauce can be made up to 3 weeks in advance.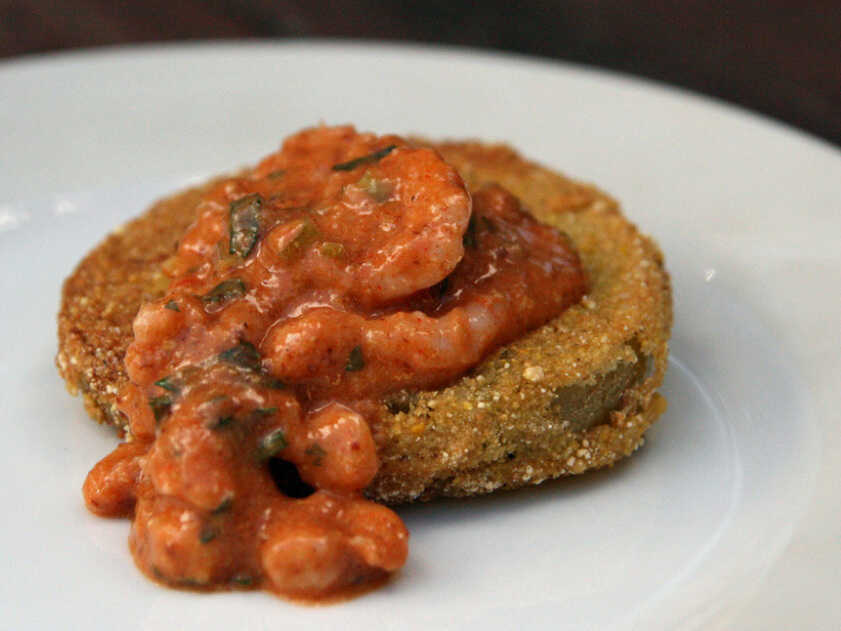 Makes 4 appetizer or 2 main dish servings
1/2 cup Creole mustard (if available; otherwise substitute another mustard)
2 tablespoons ketchup
1 teaspoon Worcestershire sauce
2 teaspoons prepared horseradish
1 garlic clove, minced
1 teaspoon lemon juice
1 1/2 teaspoons paprika
1/4 teaspoon white pepper
1/8 teaspoon ground black pepper
1/8 teaspoon cayenne
Salt to taste
2 tablespoons olive oil
1/4 cup finely chopped celery ribs (leaves included)
1 1/2 teaspoons finely chopped parsley
1 tablespoon grated onion
1 tablespoon finely chopped green onion top
Hot sauce to taste
1 cup yellow cornmeal
1/2 teaspoon salt
1/4 teaspoon fresh-ground black pepper
1 large egg
1 cup buttermilk
8 (1/2-inch) slices green tomatoes
1/2 cup vegetable oil
1/2 pound cooked and chilled shrimp (Gulf shrimp are used in Louisiana, but I substituted our smaller Oregon pink shrimp to equally delicious effect)
To make the remoulade, whisk together the mustard, ketchup, Worcestershire sauce, horseradish, garlic, lemon juice, paprika and white, black and cayenne peppers and season with salt to taste. While whisking, add the olive oil in a slow stream. Add the celery, parsley, onion and green onion and hot sauce to taste. Cover and refrigerate.
To make the tomatoes, whisk together the cornmeal, salt and pepper in a shallow dish. In a separate bowl, combine the egg and buttermilk. Dip the tomato slices in the egg mixture, then dredge through the seasoned cornmeal.
While you're dredging, heat the oil in a large saute pan over a medium heat. Place tomato slices in the hot oil in a single layer, and cook until golden brown on the bottom, about 3 minutes. Flip and brown on the other side. They will be cooked through, but not mushy.
To serve, place the warm tomato slices on a plate and top with a few shrimp and a few spoonfuls of remoulade. Serve immediately.
Green Tomato Pickle
South Indian pickles are pungent salty, sour, spicy condiments, meant to aid digestion with helpful fermented bacteria while adding a shot of flavor and spice to your food. Some recipes ferment the vegetables and spices for several days, but for those with bad pickling luck, you can try this cooked version instead. A healthy dollop brightens up bland rice dishes, or provides a nice complement to your curry.
Make about 1 1/2 cups
3 tablespoons oil (pickles tend to be made with mustard oil or untoasted sesame oil, but you can easily substitute canola if you don't have access to these)
1 tablespoon black mustard seed
Hefty pinch asafetida*
1 teaspoon ground fenugreek*
1 teaspoon ground turmeric
1 tablespoon hot Indian chili powder**
1 1/2 pounds green tomatoes, cut into a 1/2-inch dice
2 tablespoons lemon or lime juice
1 scant tablespoon coarse salt
Heat the oil in a large skillet over a high heat. When hot but not smoking, add the mustard seeds, and let them pop (cover with a lid to prevent them from popping out of the pan). When the popping subsides, cut the heat down to medium and add the remaining ground spices. Stir and allow to toast for half a minute, then add the tomatoes, salt and lemon or lime juice. Let simmer, stirring occasionally, until the tomatoes are broken down and saucy, and the mixture has thickened, 30 to 40 minutes.
Serve immediately, or store in the refrigerator for future meals. Because of the high salt and low pH, this mixture will keep, refrigerated, for several weeks.
*Both asafetida (a pungent, oniony ground resin) and fenugreek (a seed with a flavor reminiscent of maple syrup) can be found at Indian groceries and some well-stocked health food stores.
**Substitute any ground hot chili powder, as long as it only contains chili — not a Mexican-style chili powder pre-mixed with cumin and other spices. If your chili powder isn't terribly hot, you can supplement with some cayenne.
Spaghetti With Green Tomatoes (Spaghetti Con Pomodori Verdi)
According to Mario Batali's Molto Italiano (HarperCollins 2005), from which this recipe is adapted, this is a Palermo variation on the classic pesto Genovese. The sour green tomatoes, punchy mint and arugula (in addition to the usual basil), as well as the omission of the standard nuts, make this pesto particularly light and tangy. It's perfect for a warm evening, especially with a generous dusting of aged Parmigiano.
Makes 4 to 6 servings
1/4 cup mint leaves
1/4 cup basil leaves
1/4 cup Italian parsley leaves
1/4 cup arugula
5 green tomatoes, coarsely chopped
1 clove garlic, chopped
1/4 cup extra virgin olive oil
Salt and pepper to taste
1 pound spaghetti
1/4 cup grated Parmigiano-reggiano
Bring 6 quarts of salted water to a boil.
Meanwhile, combine the mint, basil, parsley, arugula, tomatoes, garlic and olive oil in a food processor and pulse to form a chunky puree. Season heavily with salt and pepper.
When the water has come to a boil, add the pasta and cook until done to your taste. Drain, and return to the hot pot. Stir in the sauce until well combined, and serve immediately, topped with the cheese.