Fried Green Tomatoes With Shrimp Remoulade
This recipe, a Southern classic, comes from New Orleans' famous Upperline Restaurant. The hot fried tomatoes are set off by the tangy, mustardy, chilled shrimp remoulade. The remoulade sauce can be made up to 3 weeks in advance.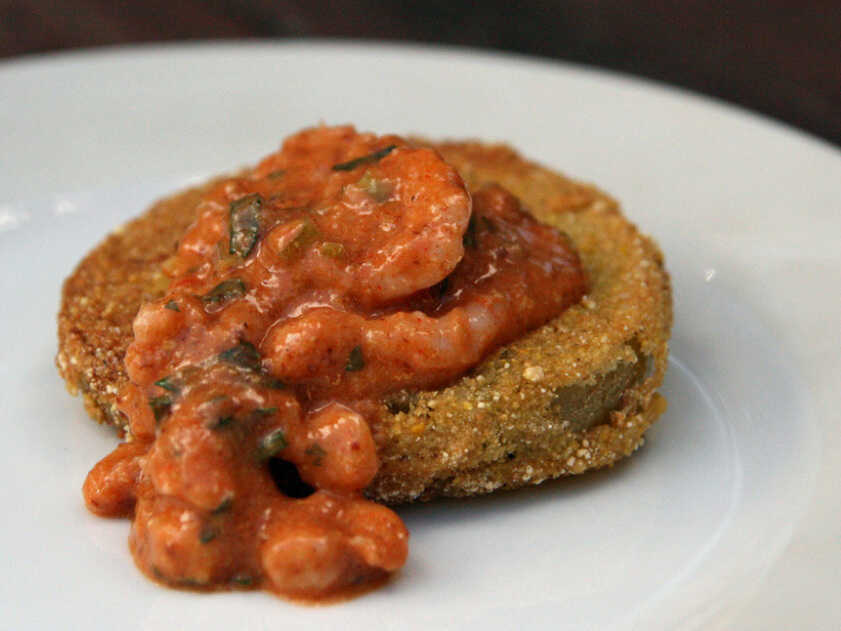 Makes 4 appetizer or 2 main dish servings
1/2 cup Creole mustard (if available; otherwise substitute another mustard)
2 tablespoons ketchup
1 teaspoon Worcestershire sauce
2 teaspoons prepared horseradish
1 garlic clove, minced
1 teaspoon lemon juice
1 1/2 teaspoons paprika
1/4 teaspoon white pepper
1/8 teaspoon ground black pepper
1/8 teaspoon cayenne
Salt to taste
2 tablespoons olive oil
1/4 cup finely chopped celery ribs (leaves included)
1 1/2 teaspoons finely chopped parsley
1 tablespoon grated onion
1 tablespoon finely chopped green onion top
Hot sauce to taste
1 cup yellow cornmeal
1/2 teaspoon salt
1/4 teaspoon fresh-ground black pepper
1 large egg
1 cup buttermilk
8 (1/2-inch) slices green tomatoes
1/2 cup vegetable oil
1/2 pound cooked and chilled shrimp (Gulf shrimp are used in Louisiana, but I substituted our smaller Oregon pink shrimp to equally delicious effect)
To make the remoulade, whisk together the mustard, ketchup, Worcestershire sauce, horseradish, garlic, lemon juice, paprika and white, black and cayenne peppers and season with salt to taste. While whisking, add the olive oil in a slow stream. Add the celery, parsley, onion and green onion and hot sauce to taste. Cover and refrigerate.
To make the tomatoes, whisk together the cornmeal, salt and pepper in a shallow dish. In a separate bowl, combine the egg and buttermilk. Dip the tomato slices in the egg mixture, then dredge through the seasoned cornmeal.
While you're dredging, heat the oil in a large saute pan over a medium heat. Place tomato slices in the hot oil in a single layer, and cook until golden brown on the bottom, about 3 minutes. Flip and brown on the other side. They will be cooked through, but not mushy.
To serve, place the warm tomato slices on a plate and top with a few shrimp and a few spoonfuls of remoulade. Serve immediately.