Confessions Of A Sriracha Fanatic
I have a confession. I am a sriracha sauce addict. This is a recent development. For most of my adult life, I have peaceably and obliviously coexisted with sriracha, overlooking it in the supermarket for Tabasco, excluding it in the kitchen as I made harissa, and bypassing it as I dabbled with south-of-the-border hot sauces. For no reason that I can think of, I ignored sriracha, aka rooster sauce — affectionately nicknamed for the rooster logo on the bottle.
This changed on a recent foray into San Francisco's Chinatown, where, on an impulse, I purchased a large plastic squeeze bottle emblazoned with a flying rooster against a backdrop of fiery red sauce. I don't know what possessed me to do it, but thank goodness I did.
I started out conservatively, adding a smidgen of sriracha to dips, or a dab to marinades for heat. I quickly realized that this was more than a one-note hot sauce. Its flavor is rounded and balanced, a magical elixir of sweet, salty, garlicky heat. Before I knew it, the rooster had me by its talons, and in a matter of weeks, I became a sriracha fiend.
About The Author
Lynda Balslev moved to Paris to study cooking in 1991. She returned to the U.S. 17 years later with a Danish husband, two children and previous addresses in Geneva, London and Copenhagen. During that time, she worked as a freelance food writer, caterer, cooking instructor and food editor for the Danish magazine Sphere. Currently she lives in California's Bay Area, where she writes about food and culinary travel on her blog TasteFood, teaches cooking and is relieved to be speaking English again.
The smidgens and dabs became double-fisted squeezes and dripping spoonfuls. The table was not fully set until the squeeze bottle was centrally placed between the salt and pepper shakers. I carried breath mints in my bag to mask the telltale scent of garlic on my breath. Any savory item at all hours of the day was a candidate for a squirt of sauce.
I ate sriracha on eggs and toast for breakfast, on meat and potatoes for dinner. Sriracha showed up in soups, sauces and dressings. It coated grains, vegetables and rice. Nothing to douse with a little sriracha? Nonsense. Even when the refrigerator was bare and meals unplanned, a little smear adorning a slice of bread called itself a snack.
I knew I had crossed the line when one day I found myself squirting a little red sauce on dark chocolate. I looked in the mirror and took a deep breath as I wiped a trail of red sauce dribbling from my mouth. At that moment, I realized I had transformed from a sriracha-ignorant food snob into a full-blown rooster addict. Hello, my name is Lynda and I am addicted to sriracha. There: I said it.
So what is at the root of all of this fuss? Traditional sriracha, named for a town in the Chonburi Province of central Thailand, is a hot chili paste used as a condiment. The sriracha that we know in the U.S. — the one with the rooster — is an inspired version of the Thai sauce with an American spin, created by David Tran, founder of Huy Fong Foods of Rosemead, Calif. Tran immigrated to the U.S. in 1980 and quickly discovered a gaping hole in the Thai hot sauce market. In anticipation of demand, and to satisfy his own cravings, Huy Fong Sriracha was born.
Since then, Tran's sriracha has managed not only to satisfy any foreseen demand from the Asian community, it's managed to create a dedicated, if not delirious, following that crosses cultures, demographics and states.
The secret is a wondrous concoction of red jalapeno chili peppers, vinegar, garlic, sugar and salt. It is simple and pure, with no water or artificial colors, and has a depth of flavor to match its unmistakable heat. For many, myself included, it's one-stop shopping in a squeeze bottle. But that's my opinion. I encourage you to give it a try and see for yourself. And I'll be waiting to greet you when you join the club.
Recipes With This Story
Sriracha-Marinated Roast Chicken With Root Vegetables
Sriracha adds fragrance and heat to the chicken and vegetables as they roast in the oven for an easy family-sized meal. Serve with couscous to soak up the pan juices.
Makes 6 servings
For The Marinade
1/4 cup soy sauce
1/4 cup sriracha
2 tablespoons extra-virgin olive oil
2 tablespoons freshly squeezed lemon juice
1 tablespoon Dijon mustard
1 tablespoon light brown sugar
1 teaspoon salt
1 teaspoon freshly ground black pepper
For The Roast
1 3-4 pound chicken
8 baby sweet peppers, or 2 bell peppers, cut in ¾-inch strips
4 garlic cloves, smashed
2 medium yellow onions, quartered
2 medium sweet potatoes, cut in 1½-inch pieces
1 small cauliflower, broken into 1½-inch florets
2 tablespoons extra-virgin olive oil
1 teaspoon salt
1 teaspoon freshly ground black pepper
Whisk all of the marinade ingredients together in a small bowl and set aside.
Preheat oven to 400 degrees.
Rinse the chicken and pat dry inside and out with paper towels. Place in a large bowl. Pour the marinade over the chicken. Coat all over the chicken, including inside the cavity and between the skin and breast meat. Transfer chicken to a roasting pan, breast-side up, leaving any excess marinade in the bowl. Add vegetables, olive oil, salt and pepper to the same bowl. Toss to coat. Scatter the vegetables around the chicken in the roasting pan. Bake in oven 30 minutes.
Remove pan and, using tongs, carefully turn chicken over in pan, breast-side down. Continue roasting 20 minutes. Remove pan and turn chicken over once again, breast-side up. Continue roasting until thoroughly cooked and juices run clear from thigh when pierced with a knife, about 20 minutes.
Remove from oven and transfer chicken to cutting board. Tent loosely with foil and let rest 15 minutes before carving. Stir vegetables in the pan with the juices and keep warm. Serve chicken with vegetables and reserved juices.
Sriracha-Baked Salmon And Kale Wraps With Roasted Red Pepper Sauce
Sriracha amplifies the flavors of the salmon and kale that are bundled together and served with a sriracha-infused roasted pepper sauce. Serve with rice to absorb any extra drops of the spicy sweet sauce.
Makes 8 servings
8 large kale leaves
¼ cup extra-virgin olive oil, plus more for coating pan
1 large bunch dill sprigs with stems
2 teaspoons sriracha
½ lemon
Salt and freshly ground black pepper
4 thick salmon fillets, halved
Roasted red pepper sauce (recipe follows)
Roasted Red Pepper Sauce With Sriracha

Makes about 1 cup
2 large red bell peppers, stemmed, seeded, roasted and peeled
2 tablespoons extra-virgin olive oil
1 tablespoon sriracha, or to taste
½ teaspoon salt
½ teaspoon freshly ground black pepper
Combine all ingredients in a bowl of a food processor. Pulse to achieve a chunky consistency.

For Wraps
Fill a large bowl with ice water. Bring a large pot of salted water to a boil, add kale leaves and blanch briefly, 15 seconds. Transfer to ice water to cool. Drain and dry thoroughly.
Preheat oven to 350 degrees.
Coat bottom of a 13-by-9-inch baking pan with olive oil. Select 8 large dill sprigs without stems and set aside. Scatter remaining dill sprigs with stems over bottom of pan.
Whisk ¼ cup olive oil and sriracha in a small bowl. Brush a salmon filet with the sriracha oil. Squeeze lemon juice over the filet. Sprinkle with salt and pepper, and top with a dill sprig. Wrap kale leaf around filet and place on dill in baking pan, seam-side down. Repeat with remaining filets. Lightly brush the salmon and kale wraps with additional sriracha oil and sprinkle with a little salt. Bake until salmon is cooked through, about 30 minutes. Serve garnished with roasted red pepper sauce.
Beer-And-Sriracha-Marinated Beef Lettuce Cups
Strips of beef soak in an umami-rich sauce fortified with beer and laced with sriracha. The excess marinade is reduced to an intense sauce for drizzling over the lettuce cups. This recipe involves advance marinating.
Makes 6 to 8 servings
1/2 cup soy sauce
1/2 cup dark beer
3 garlic cloves, minced
3 tablespoons brown sugar
Juice of ½ lime, plus 2 tablespoons freshly squeezed lime juice
2 tablespoons sriracha, plus more as condiment
1 tablespoon sesame oil
2 pounds New York strip or rib-eye steak, cut crosswise in ¼-inch thick slices
1 large carrot, peeled and grated
¼ teaspoon salt
1-2 red jalapeno peppers, thinly sliced
1 bunch scallions, white and green parts thinly sliced
1 cup fresh mint leaves
1 cup fresh cilantro leaves
1/3 cup sesame seeds, lightly toasted
2 cups basmati rice, cooked
1-2 heads green leaf lettuce, leaves separated, washed and dried
1 tablespoon peanut or vegetable oil
For the marinade, whisk together soy sauce, beer, garlic, sugar, 2 tablespoons lime juice, sriracha and sesame oil in a large bowl. Add meat and toss to coat. Let sit at room temperature 1 hour, or refrigerate covered up to 24 hours.
Prepare condiments. Toss carrot with remaining lime juice and salt in a small bowl and set aside. Place peppers, scallions, mint, cilantro, sesame seeds, sriracha and rice in individual serving bowls. Arrange lettuce on a platter.
To prepare the meat, heat peanut or vegetable oil in a skillet or grill pan over medium-high heat. Add beef strips in batches in one layer without overcrowding. Brown on both sides. Transfer to a platter and keep warm.
Once all the beef has been browned, pour the remaining marinade and any collected meat juices into the skillet. Bring to a boil, scraping up any bits, and reduce until somewhat thickened. Pour into a small bowl.
To serve, top a lettuce leaf with a few spoonfuls of rice, 1-2 meat strips, and a spoonful of the marinade reduction. Sprinkle with the other condiments and drizzle with sriracha. Roll up and eat.
Black Bean, Sausage And Butternut Squash Chili
Full of spice with the added kick of heat from sriracha, this chili is a hearty, healthful one-dish dinner or a festive accompaniment to grilled food. If you can stand it, let the chili refrigerate overnight before serving, to allow the flavors to develop.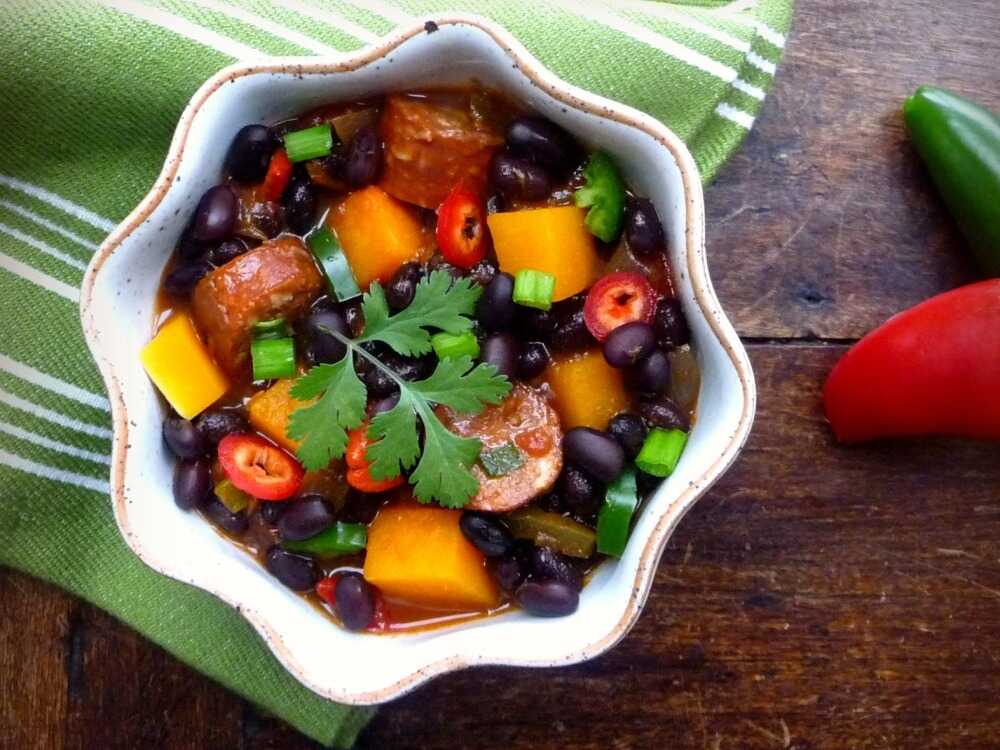 Makes 6 to 8 servings
1 tablespoon olive oil
3/4 pound chorizo or hot Italian sausage
1 large yellow onion, chopped
2 cups butternut squash cubes cut in ½-inch squares
3 garlic cloves, minced
1 poblano pepper, membranes and seeds removed, cut in ½-inch pieces
1 jalapeno pepper, seeded, finely chopped
2 teaspoons ground cumin
2 teaspoons chili powder
1 teaspoon ground coriander
28-ounce can Italian plum tomatoes
1 1/2 cups chicken stock
2 tablespoons tomato paste
1 tablespoon sriracha, plus extra for serving
1 bay leaf
2 cups cooked black beans
2 teaspoons salt
1 teaspoon freshly ground black pepper
¼ cup chopped cilantro leaves, plus extra for garnish
Chopped fresh avocado for garnish
Heat olive oil in a stockpot or deep skillet over medium heat. Add sausages and brown on all sides. Transfer to a plate lined with a paper towel. When cool enough to handle, cut in ¼-inch slices.
Add onion to pot and saute until softened, 3-4 minutes. Add squash, garlic and peppers. Saute 3 minutes. Add dry spices and cook, stirring, 1 minute. Add tomatoes, chicken stock, tomato paste, sriracha and bay leaf. Simmer until squash is tender, about 20 minutes. Stir in black beans, sausage, salt and pepper. Simmer 10 more minutes. Taste to adjust seasoning.
Before serving, add cilantro. Serve in bowls garnished with additional cilantro, chopped avocado and a drizzle of sriracha.
(Chili may be made up to 24 hours in advance. Cool, cover and refrigerate. Re-warm over medium heat to serve.)
Spicy Sweet Potato Fries With Sriracha Dipping Sauce
Keep the skin on the sweet potatoes for texture and extra nutrients. The sriracha dipping sauce also is delicious as a dip for bread and raw vegetables.
Makes 4 to 6 servings as a side dish
2 tablespoons olive oil
1 teaspoon sriracha
2 large sweet potatoes, cut in large batons, approximately ¼-inch-by-2 inches
1 teaspoon ground cumin
1 teaspoon chili powder
1 teaspoon paprika
1 teaspoon salt
1 teaspoon freshly ground black pepper

Sriracha Dipping Sauce
Makes 1 cup
1 cup sour cream or Greek-style yogurt
1 small garlic clove, minced
1 tablespoon freshly squeezed lime juice
2 teaspoons sriracha, or to taste
1/2 teaspoon salt
1/2 teaspoon freshly ground black pepper
Preheat oven to 425 degrees.
Whisk olive oil and sriracha together in a small bowl. Pour over sweet potatoes in a large bowl and toss to coat.
Combine cumin, chili powder, paprika, salt and pepper in a small bowl. Add spices to potatoes and toss to coat. Arrange potatoes in one layer on an unoiled baking sheet.
Bake on lowest rack 10 minutes. Turn potatoes with a spatula and bake 10 more minutes, or until golden brown on all sides.
While potatoes are cooking, whisk dipping sauce ingredients together in a small bowl.
Remove potatoes from oven and serve with sriracha dipping sauce.